Currently
– Projection Installations / VJing for Scattermusic Sound system, Congo Tardis#1 and the occasional I Love Dancehall event.
– Exploring panoramic multi-screen projections and projection mapping onto surfaces.
– Working on several short film storyboards.
– Continuing to explore DSLR possibilities with the Canon 7D, and lateral lo-fi uses of the GoPro.
– Wrestling Quartz Composer into allowing more flexible real-time manipulation of my video and animation.
Recent Work
Prepared motion graphic backdrops for Audego (late 2013)
Video Projection + Installation for DARK MOFO, Hobart (June 2013)
'Desert Engines' : Audiovisual performance (with Suckafish P Jones) for Wide Open Spaces Festival in Alice Springs, May 2013.
Live video for Cumbia Cosmonauts at Adelaide Festival (Mar 2013)
Audiovisual performance with The Swiss Conspiracy at the Swiss Festival, Melbourne  (Feb 17, 2013)

Developed video backdrop for YGLAM theatre performance in Sep 2012.
VJing with Gotye, massaging his collection of animated music videos into shape for real-time performance. First gig was at the Sydney Opera House, as part of the Graphic Arts Festival (which brought Jim Woodring, Scott McCloud and others to our shores!) (Photos)
Prepared live visual backdrops for both TZU and 360.
Animated a music video, 'Attack of the Cats' for Sampology.
Directed, animated and edited a music video for Congo Tardis#1.
Video Installation at Tristian Koenig Gallery for Melbourne BYOB, Dec 2011. (mapped projections onto a beach umbrella)
Made a full set of motion graphic videos for Audego, an acclaimed Melbourne (grainy/glitchy) trip-hoppish duo.
Prepared projection mapping and triple screen performace for Underbelly Arts Festival, on Cockatoo Island Sydney. With Dan MacKinlay, James Nichols on surround sound, Sarah Harvie on inflatable sculptures, (July 16 2011).
Diary video produced for East Coast of Australia tour with Scattermusic Sound System, Dec 2010.
'Floating in Spaces' – 6 x 1 minute pieces commissioned by ACMI for the first exhibition on their new outdoor pods.
Five PM, Brunswick, a one minute looping piece set on a suburban rooftop.
'Cappadocia skies' – 5 minute clip, set to music by Extraboy (Sep 07 ). Appeared on ANAT Filter mag DVD compilation.
'Animals Really Are Funny People' – 6 screen animation panorama, won the Horse Bazaar Panoramic prize ( July 07 ).
'Freddie Vs Diana' – Reworked a medley of queen & japanese TV into a 'little story' MAAP 06, Brisbane.
Produced 'Giant Idiots' music video for Potato Masta & 2 Pants Rotation.
Produced various video karaoke pieces for MAAP 06, Brisbane.
Produced video works for projection in 'Lost Garden Found' exhibit, Next Wave Festival, Melbourne, March 2006.
'T-Wrecks' a random playing DVD, filmed in a car wreckers and composited for 'The White House' Gallery's opening exhibition ( The Future is A Wonderfully Fucked Place) in Brisbane, July 05.
Elefant Traks music-video for a track called 'X-Continental' back in 2002.
'Sky Noise Polaroids' :: Global Rooftop collage, 5 mins. ( Available on DVD via www.neopoetry.org)
Osama Viagra :: 30 seconds of arousal remedies.
Rabbit Sk8 Glitch :: Early landscaped animation experiment.
ZOom ZOom One minute AV loop for Melb sound exhibition.
DNAviary Loops Loops from DNAviary, also available on DVD via www.neopoetry.org)
And a vintage VJ showreel left up for posterity.
Recent Audiovisual Performances
I like to perform a kind of live cinema, which involves real-time manipulation and mixing of recorded videos, custom animations, sample collage, soundtracks and occasional subtitles. Although I sometimes do this solo, I enjoy it more when playing with musicians such as Future Eater, Faux Pas, Dan MacKinlay, Lewis Cancut or Suckafish P Jones. Below, a typical live audiovisual set-up ( as well as sending out a video signal, I like to send out sound as well, which can be processed or not by the musician).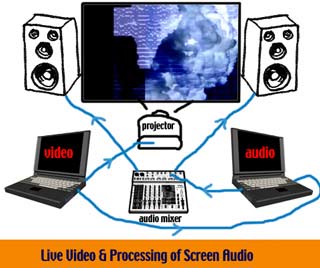 2013
'Desert Engines' : Audiovisual performance (with Suckafish P Jones) for a festival in Alice Springs, May.
With The Swiss Conspiracy and an LED truck(!!).. Southbank, Melbourne, Feb,
2012
Performed with Pattern Machine at Wide Open Space, a desert festival near Alice Springs. May.
2011
Audiovisual gig @ Bar Open, with Virtual Proximity + Zeal. July.
2010
Audiovisual gig @ Stutter, Horse Bazaar, Sep 2010, supporting film projectionists/mutators, Superflux (FR).
Live Cinema Remix for the Tim Burton exhibition at ACMI with Faux Pas.
2009
Junglevision' – AV set with Lewis Cancut, Meredith Music Festival, Dec.
Live AV set @ Electrofringe09 with Dan MacKinlay, Oct.
OK Video festival with Dan MacKinlay, Jakarta, Indonesia, July.
Live AV gig @ ACMI with Lewis Cancut, Jun.
2008
Outdoor cinema performance @ Meredith Music Festival, Dec 08.
Live Av set @ Share Outpost, late Aug 08.
Live AV set @ Plug N Play, Aug 08.
Live AV remix performance with Suckafish P Jones @ AIMIA Awards, Sydney, Mar 08.
'Around the World in 80 Minutes' – Outdoor cinema performance @ Golden Plains Festival, Mar 08.
Live AV set with VJ Nosis, plug n play Mar 08.
2007
Live AV performance with Synesthete, LPM Festival Rome, Italy. Sep 07.
AV set with Granufunk, VJ set with Artificial Eyes @ Ilmaneau, Germany, June 07.
Earlier
Monkey Beatbox Challenge : Live MC vs pre-filmed, live video triggered MC monkey, sound + MC duties by Suckafish P Jones)
Tweak & Destroy : Decades of skateboards on screens compressed to 30 mins of live triggering. (Sonic FX by Suckafish P Jones) (Electrofringe 2005)
Computer Game History Medley : Animated game levels, live 8bit sounds by Future Eater & Collapsicon. (Electrofringe 2005)
Invaders : Outerspace animations collide with introduced species running riot in oz. (+ Future Eater) (30 mins) (ACMI, 2004)
Country & Western Glitch : Cowboy mythology deconstructed. (with Sagaponic + Future Eater) (30 mins) (Electrofringe 2003)
Recent VJ Performances
2013
'Dark Faux Mo' at Dark MOFO, Hobart, June 2013.
Vjing for 'Desert Metal' (!) at Wide Open Space, a desert festival near Alice Springs. May.
VJed for the Cumbia Cosmonauts at the Adelaide Festival, Mar.
VJed for Chicks On Speed, Digital Primate and others, MONA FOMA, Hobart,Feb.

2012
Dr Seuss Meets Elefant Traks, Performance at Sydney Opera House, Graphic festival, Nov.
VJed onto Projection mapping sculptures for Melbourne International Jazz festival after parties at 'The Cave', performing artists included Hiatus Koyote and Taylor McFerrin. June.
Congo Tardis @ Bar Open, June.
Direct Influence @ Northcote Social Club, June.
Vjing at Wide Open Space, a desert festival near Alice Springs. May.
Congo Tardis @ Croft Institute, Feb.
Congo Tardis @ Bar Open, Jan.
2011
VJing for Gotye, Making Mirrors National Tour, July-Dec 2011.
Racket 16 – VJing for Mark N, Miss Libertines, Nov.
Racket 10 – VJing for OVE NAXX (JP) and others, Miss Libertines, May.
I Love Dancehall, 2nd anniversary @ Miss Libertines, Feb.
Plug N Play @ Kent st, Last Thu of Jan, Feb, March, April.
Summer Dayze Festival, Jan 1 with Scattermusic Sound System.
2010
Falls Festival Dec 2010, co-ordinated VJs, and performed for artists including Klaxxons, A-Trak, Yacht Club DJs and many more.
Meredith Music Festival Dec 2010, performed space themed video alongside DJ Mu-Gen, for 20th anniversary of festival.
East Coast of Australia tour with Scattermusic Sound System (Nov ).
Scatterblog parties at The Espy, including headliners for each show – EDU K ( Brazil ), SOLO ( UK) + Douster (Argentina), Orgasmic + Teki Latex ( FR ), Kingdomm (NY), Renaissance Man (Fi), Act Yo Age ( Syd), Jaimie Fanatic (NL) + Nadastrom (U.S.), Momma's Boy (FR), Neoteric, Beatacue, Sharkslayer.
Several 'I Love Dancehall' parties ( including one in Hobart, Tas )
Creamfields 2010 ( MSTRKRFT, Tommie Sunshine + others )
Video for Wild Crew + Elf Tranzporter, North Melbourne ( Mar )
Panoramic video @ Horse Bazaar, second thursday of each month.
Plug N Play @ Kent St Cafe, 201 Smith st, Fitzroy, last thursday of each month.
Mainstage at Golden Plains for Scatterblog Sound System ( Mar  ).
2009
Video for Data Rock, Midnight Juggernauts and others @ Falls Festival, Lorne, Dec.
End of year Plug N Play set with Faux Pas, Dec.
Video for Bloody Beetroots, Crookers & others @ Stereosonic Festival, Adelaide, Dec.
I Love Dancehall events @ First Floor : every second month for last half of 09.
Plug N Play sets : last thursday of Nov, Oct, Sep, Aug, Jun, May, Apr, Mar, Feb.
Video @ Laundry Stage, Good Vibrations, with Stanton Warriors, Deadmau5, Kid Kenobi, Rico Tubbs, Feb.
Video for Machine Translations, Gallery of Modern Art, Brisbane, Jan.
Video for Machine Translations, Thornbury Theatre, Jan.
VJ Set @ Plug N Play, Jan.
2008
VJ set for NYE @ First Floor, Fitzroy. Dec 31.
VJ set for DJ Lewis Cancut, Johnston st warehouse party, Dec.
VJ set for QUA + Mountains in the Sky, with dpwolf on LED, quartz pixels, Corner Hotel, Nov.
VJ set for Thugquota, as part of netlag 5 city event, Oct.
VJ set for Aleks & Ramps, and Slo-Mo Speedboat (AIH), with dpwolf on lighting, Evelyn Hotel, July.
VJ set @ plug n play, July.
VJ set for Qua, @ Corner Hotel, May.
8Bit The Movie After party panoramic screen video performance, @ Horse Bazaar, April.
2007
Outdoor Cinema @ Meredith Music Festival, Dec.
Istanbul Nightclub 10th birthday party with live snake handlers & circus performers, Nov.
Giant L.E.D. walls @ both the Hilton, Istanbul & another hotel in Antalya, Nov.
VJed with Pascal Lesport & 2 locals in a 2screen cinema gig with Turkish percussionist, Volkan Erkan, Garajistanbul. Aug
Rooftop terrace party with Osman Productions @ Taksim, Istanbul. Aug
Projecting onto crazy old rocks and 2,000 year old cliffside dwellings in Cappadocia, Turkey, July.
VJ set with Ricardo Villalobos, Ghetto Bar, Istanbul, Turkey, July.
VJ set with Lenny Ibizarre, Koxbox @ Black Sea, Turkey, June.
Video for album launch performance : Aleks & The Ramps, Spanish Club, Mar.
Sidestage camera assist @ Beastie Boys, Good Vibrations Festival, Melb Feb – thanks Beastie VJ – Benton C. Bainbridge~!
Ongoing Melb 06-07 gigs… 'plug n play', and occasionally 'LOOP' bar.
2006
Live Karaoke video screening @ MAAP Dec Brisbane.
Mobile Van projections – Melbourne Fringe festival.
VJ gig @ Straight Out of Brisbane festival Aug
2005
VJ for Punksi (irritant recs) UK , Jungletts ( Bris), Casionova ( Bris ) @4ZZZ Market day, Brisbane. 17.12.
VJ for Richard Devine ( Warp) & Paul Abad ( Subterran) @'Positronic' forest party near Maleny, Qld. 10.12.