Things you may already know about the Sydney Opera House:
– It is slowly sinking.
– The Danish architect behind it, Jorn Utzon, was forced from the project, and never returned to Australia.
– Anti-war activists climbed it to paint 'No War' XL in 2003.
– The legendary comic artist Robert Crumb was supposed to speak there as part of the 2011 Graphic Arts festival, but cancelled after an inflammatory Murdoch article was posted about him.
After doing live video for 2 shows there last weekend with the Gotye band, I can add to that list:
– It is a rabbit warren under the sails.
– The salad sandwiches in the green room are very ordinary.
– The elevator under the concert stage is faulty (I was trapped there with a weary tech guy for 5 tense minutes.. )
I got roped in to do live video for Gotye's tour for his just released Making Mirrors album, which has accompanying animations for most songs. There's some pretty nice work amongst it – I'll have to do a follow-up post soon with links to all the animation houses. For me, my work is mostly editing and formatting to suit the main screen and 2 vertical side screens, then while the band plays – triggering short sections of these clips to ensure the right visual moments are synchronised with the band playing live.
Despite an almost comical list of headaches – long fog delays at Melbourne airport, animations arriving at the last minute, software quirks, a compressed set-up time, hardware quirks, that elevator(!) and so on – the first shows of the tour ended up running really well. Having a crack team of musicians (and tech folk) definitely helps in that regard (including Tim Shiel aka 'Faux Pas' beside me onstage). Below, the band and my hard-drive covered laptop during sound / vision check at the Opera House.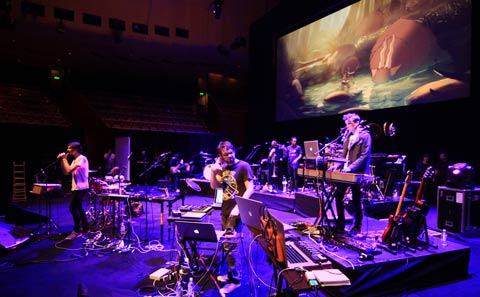 And the VDMX interface spreading its wings up on the screen briefly during rehearsal.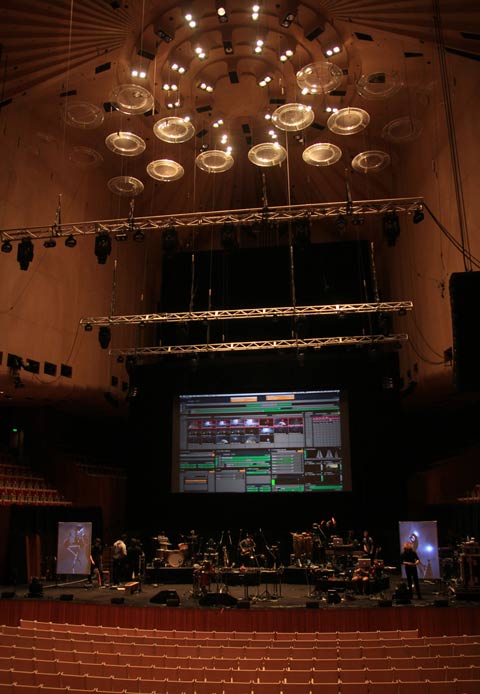 And once again, with people.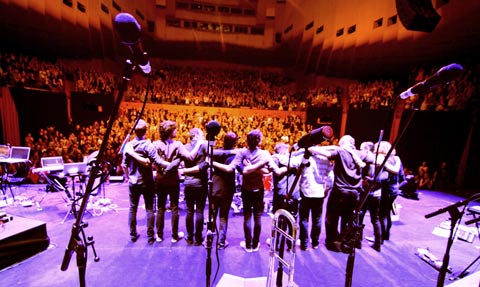 ( More Gotye gig photos )
Awesome choice for tour opener – showcasing an album and animations within a festival dedicated to comics. Graphic Arts had some great highlights this year:
– Jim Woodring, the author of FRANK, did a pretty mind-expanding talk on DEATH-CAKE apparently, and fantastic inking masterclass (attended by comic-friend Gregory Mackay (Francis Bear)).
– Tekkon Kinkreet – fantastic animated film – with accompanying live soundtrack by Plaid (Warp) + Fourplay (strings) + Synergy (robotic rubber limbed percussionists). Really luscious sound, really luscious film.
– Silent Comics – a series of comic panels projected while musicians provide a soundtrack. This included sound foley artists, Captain Beefheart-esque carnival bands, Seekae, Wally from Gotye in splinter-sample mode, and probably nailing it best, Plaid. Great idea for a session.
– Scott McCloud – from 'Understanding Comics' (also used as a multimedia bible in explaining media and visual storytelling concepts ) did a great one hour presentation, which harnessed visual support material as effectively as you'd hope a guy like him would. Lots of interesting points, though I found myself laughing at his interface observation-  "Why does Tom Cruise need a glove to do all that in Minority report?". He also ended with this pretty funny reading of a scrolling comic that involved monkeys mutating into progressively crazier proportions.
– Pete Kuper – aka the guy who did Spy Vs Spy from Mad magazine.
– An assortment of Aussie comic artists doing talks and workshops – including Mandy Ord, Pat Grant and more.
Sadly Robert Crumb wasn't part of the mix – but I was amused to learn from the Festival organiser about the communication process they had – "Yes, Robert uses email, but that involves…." –  his assistant scanning his recent emails, printing the interesting ones, highlighting the relevant bits, cutting those out and putting them in an envelope and mailing them to Robert, who replies on the back with his pen. When he's around.
Autobot Roulette: