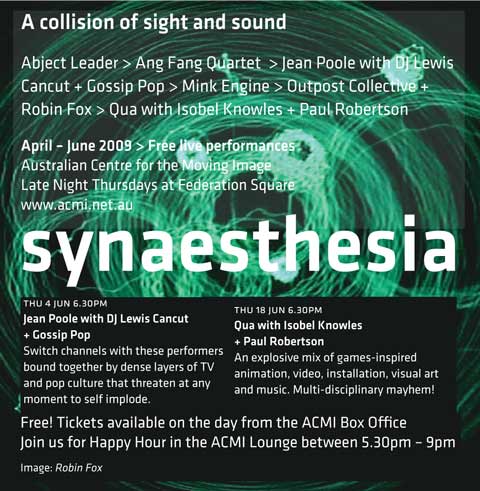 Many months of sampling and rehearsals with DJ Lewis Cancut culminate in a few days time, bringing together OJ Simpson, Prisoner, Molly Meldrum, Marshall McLuhan, Princess Diana, Jon Safran and assorted media luminaries into a 45 minute mix about television. It's part of an ACMI series called Synaesthesia, curated by Eugenia Lim ( ACMI / Share Outpost ), which has already had great sessions by Robin Fox ( rocking the oscilliscope like no other ) and Abject Leader ( Brisbane's infamous celluloid fetishists ), and with one further show still to come withQua (Jun 18, 6.30pm ) accompanied by visual work from Isobel Knowles and Paul Robertson. Great to have so many 'live cinema' events @ ACMI.
We're excited anyway, and looking forward to having the work on the big screen and speakers finally.
Thu Jun 4, 6.30 ( with ACMI recommending to arrive before then to ensure a seat in small theatre )
I'll be triggering and controlling videoclips (with sound) through VDMX ( reviews ), Lewis will be on the decks, playing back sounds and scratching video withMix Emergency (review) , and both of our signals will be going through an audiovisual Mixer: Numark AVM02 ( review ). Like so :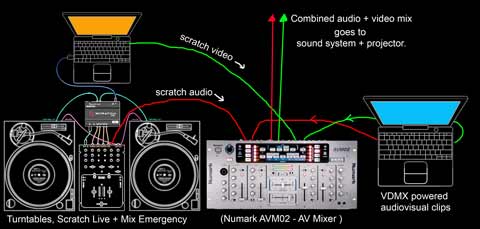 Half the work has been trying to figure out a good audiovisual dynamic between the turntables and my laptop, jumping the various tech-hurdles on the way, and just trying to figure out what actually works best in a live setting. Still a work in progress, but hopefully there'll be enough of interest on Thursday night…. Drop a comment if you manage to make it along : )
UPDATE:
And whille you're there, check out the United Visual Artists installation opening that night as part of the Light in Winter program at Fed Square.
Autobot Roulette: