With over 100 VJ programs now downloadable, exploration of live and real-time video is booming. As VJ software continues to mature, its feature lists are appealing to more than just vjs. Jean Poole profiles the cream of the crop.
Despite the relative youth of the fledgling VJ software industry, VJ coders are managing to provide many innovative solutions for real-time video, exploiting glitches and utilising clever lateral processes that are leaving some of the video rendering giants flat. With ongoing research and development matched by new hardware, new operating systems, new protocols, plug-ins and community feedback from artists – VJ software is in a state of constant evolution. Most VJ software now comes with live camera input, keying, mixing & layering abilities, easy MIDI & controller integration, audio responsiveness, BPM tempo sync, as well as a variety of live FX – all of which happens in real-time, no waiting, no rendering.
For motion designers, animators, film-makers and graphic designers, this real-time ability to test or sketch out ideas can be incredibly productive and more conducive to creativity than tweaking an editing timeline. Many VJ programs also have unique and desirable FX and processes, great for creating unusual raw material for later remixing within a traditional editor. The downside is that much of this software works with 320×240 resolution video clips – far short of broadcast standards. Increasingly though, VJ applications allow recording of real-time actions, for later rendering slowly at full-resolution. For the Vjs and installation artists wishing to control digital media in a live context however, the sacrifice of resolution is well worth the gain of real-time access to complex and powerful toolkits.
Arkaos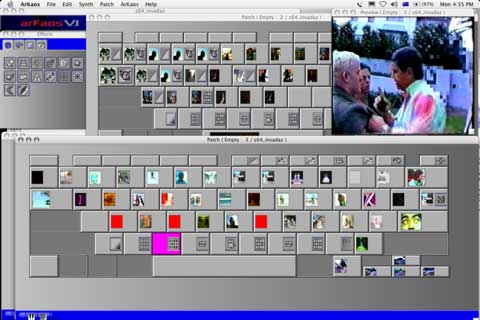 The pioneering commercial video sampler for a home computer was Arkaos, and having refined itself for many years, it boasts one of the most instrument like 'feels' of all vj software. Originally released to work with simple still images, Arkaos 3.02 can now handle many clips at once, has live camera input & BPM detection, features high quality photoshop style 'transfer mode' layering of video clips ( eg add, multiply ), has dozens of live-FX (eg movie to ascii) with FX parameters controllable by midi or mouse x/y values and includes various time-based playback variations.
"Arkaos is a versatile tool for mixing and editing alike. Being able to play visuals like music on a keyboard is amazing," says Denny aka VJ CoresNFX, a Queenslander who now spends her time videomixing at events in the UK. This attraction to Arkaos for many VJs is because of it's very intuitive and easy to use interface. Clips and FX are attached to an on-screen keyboard, and are then launched whenever these keys are pressed. With enough preparation and parameter tweaking, sophisticated yet simple to use preset keyboards can be developed for live use.
"The way I use arkaos when I'm VJing is to trigger my still images, clips and streamed live camera with transitions and effects. I then treat this as one real-time source for mixing against pre-edited dvd's and vhs."
Future plans for arkaos include a sequencing environment, more effects, further automation and playback controls. Arkaos have also announced a new Australian distributor – see http://www.elfa.com.au.
www.arkaos.net
Cost: $US 335
Platform: mac & PC
ISADORA
Honed from a decade of working with live video and dance performers, Isadoraepijlogic0.9.jpg is a 'graphic programming environment' for building your own applications to control digital media in real-time. Isadora's learning curve is understandably steep, though less tortuous than the comparable 'max/msp/jitter/nato' & 'Pure Data' video building environments. Being able to connect different 'building blocks' together to customise applications, offers rich rewards for artists seeking to process video or create interactive installations. Example customisations include 'Epij:logic' by Austrian VJ Epij, and an installation based application by Thomas Heijman used to sequence video in response to lovers arguing across two screens.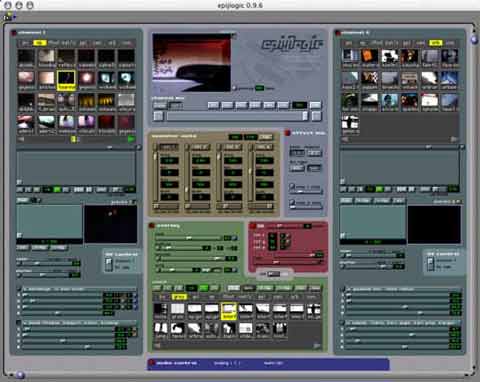 "The core idea behind epij:logic is to make the VJing process more 'feelable'. I don't use any beat detections or audioanalysis, it's all done by playing with oscillating generators and a midi controller as a quick and handy and quick interface while performing," explains Epij. On the other hand, Heijman for his SXNDRX video project uses Isadora as a video sequencer – triggering specific movies at specific moments, jumping from one patch to the other when needed. He also makes music, and uses Isadora to midi sequence video in sync with his music.
"Certain sounds are programmed to trigger certain video fragments. I'm also developing standalone installations using Isadora in combination with sensors. Isadora features loads of modules to use, inclusing abstract calculation stuff, communication through a network, midi, external video input – but it's not as abstract as Max/Jitter. It's a very intuitive piece of software which doesn't require a lot of programming knowledge from first time users, but is flexible enough to develop complex and diverse patches," enthuses Thomas.
Isadora also features output recording to quicktime, importing of 3DMax objects, a very extensive manual and great online support. Coming soon: native YUV processing ( instead of rgb ) which brings significant speed increases, and Open Sound Control support which allows communication with a number of real-time media processing applications.
www.troikatronix.com
Cost: $US350
Platform: mac & PC (soon)

Motion Dive 4 ( mac & PC )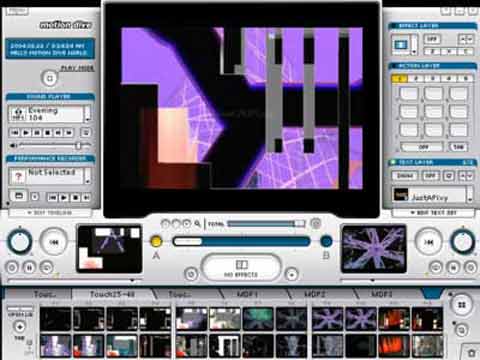 Not a culture to be left behind with tech fetishes, the gadget obsessed Japanese have an impressive array of sophisticated VJ tools available, although few with English manuals. Motion Dive is probably the most popular of these, winning over many users with its easy to use and futuristic interface, BPM tempo sync, stylised transitions, effects and mask layers. VJ Pixylight from Colorado in the States, likes Motion Dive so much he uses it on two separate computers with a video mixer between them.
"Motion Dive's ability to record A/V clips at animation codec (nice and lossless / uncompressed) means big files, but they look great," says VJ Pixylight, from the stateside mountains of Colorado, "MotionDive also has a great way of integrating audio and video, especially in MDTokyo, and I'd rank Motion Dive 3 as one of the best apps for graphic design, with it's text/flash based editor (great for motion graphics). Over 30,000 copies of MD3 sold in Japan alone must merit it as something.."
www.digitalstage.net/en
http://www.audiovisualizers.com/toolshak/vjprgpix/MD4/md4.htm
Cost: $US 349
Platform: mac & PC
Pilgrim


Gaming technology such as souped up graphics cards and game engines like the Unreal Tournament Pilgrim-edit_mode.jpgengine have much to offer real-time video coders. The makers of Pilgrim understand this well, taking great advantage of DirectX graphics card effects. And well sold on Pilgrim's code and real-time 3D abilities is VJ Technolust from Oregon in the States.
"A lot of Pilgrim's graphics processing has been moved onto the graphics card, freeing up CPU processing. The result is exceptionally smooth visuals even when layering together three or more high-resolution videos, and even when simultaneously rendering three or more 3D scenes," explains VJ Technolust, ".. and thanks to off-loading 3D processing to the 3D DirectX video card, 3D scenes can be processed in real-time, which allows the VJ to interact with 3D scenes and models on the fly, or have them react to audio. Apparently the Pilgrim Pro version is so good with 3D objects and scenes that architectural firms are interested in using it to show their 3D models of their buildings/cars/whatever."
www.pilgrim-visuals.com
Cost: 139 Euro // Pilgrim Pro 399 Euro
Platform: PC
VDMXX
The coders at vidvox.net 'write software so you don't have to' – GRID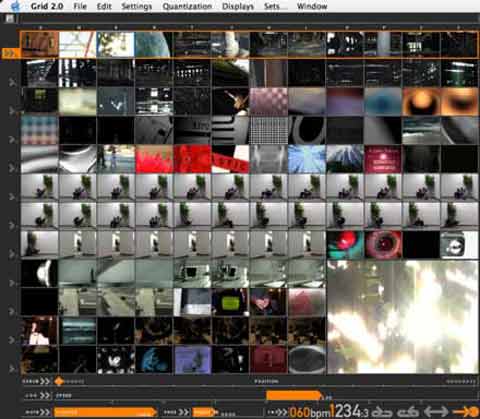 – their simple but fast and effective sample triggering software ( version 2 out now, Grid Pro out soon ), and VDMXX – a much more complex beast, meshing together time-based controls, oscillators, FX parameters and automated processes. Combining these features in VDMXX allow an impressive diversity of approaches for processing video signals, and it zips along too, considering the complexity of its tasks. Most processes can be mapped to keys or MIDI, but not individual clips unfortunately which sometimes limits it's instrument-like usage.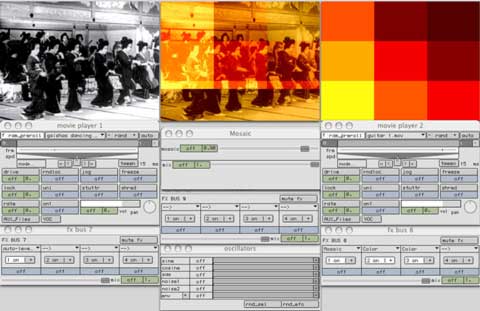 "When performing I use a number of theme-based folders of short QuickTime movies. These are loaded into the VDMXX interface, combined and affected. I like to have an audio input to control effect parameters where possible, and I assign as many functions as possible to keystrokes so that I can control the program from the keyboard," says Layla Vardo, a video artist from Melbourne, ".. I particularly like using audio to control effect parameters for VJing – it's fun and integrates sound and vision in ways not possible with traditional hardware mixers. It's colorizer and contrast functions also kick arse over any hardware mixer I've used including Panasonic mx50, Videonics MX1 and Edirol V4."
"Unfortunately for the sake of smooth playback (even on a 1 GHZ G4 powerbook) I must use 320×240 clips. On a dual processor machine it may be possible to run full size movies and maintain smooth playback, which'd make VDMXX very useful as an alternative processing studio to Final Cut Pro – I've managed to achieve some great results combining and effecting images in VDMXX that I haven't been able to replicate in Final Cut Pro."
www.vidvox.net
Cost: $US250
Platform: mac
Visual Jockey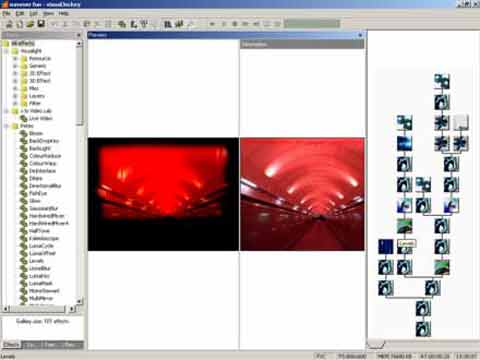 VisualJockey pitches itself as 'real-time animation software for studio producers or VJs', and like Isadora, offers the capacity to custom design your own effects and processes. This structural flexibility alongside advanced animation tools, audio-synchronisation, alpha-blending, live camera processing, and a wide platform of extensions and commercial plug-ins, have attracted a large community of PC users, many of whom share their custom FX with each other. Sample jockey fiend? Nick Ritar, one half of Melbourne video-performance duo Cicada.
"Visual Jockey is just about the only software I've used that allows me walk up with a visual idea and create it without having to compromise the initial concept. It's like After Effects for live video. You can chain an unlimited number of effect together, it's got a great range of mixing abilities, has complete midi control, live video input, video buffering and delays and it's really fast," says Nick, currently on an artist's residency in Seoul," With a nice machine you can put any basic effect on 1024×768 video without dropping frames, or build a whole chain of stuff for use at 640×480. And it's ability to render out at all sorts of res is great for when your PC starts to chug."
"VJo has two modes, editing mode and show mode. You really have to prepare a show before hand, it doesn't have the flexibility in show mode for you to go searching for new bits of video or to build new patches. We mostly use VJo for larger shows that have a budget for us to put in the work beforehand like theatre and dance productions, the more immersive environments that we do, as well as larger touring acts."
www.visualjockey.com
Cost: $US199
Platform: PC
Jean Poole is a Melbourne based writer & video producer, who regularly Vjs and & performs live AV with Future Eater & Spoole.
Artist URLS:
Epji, Vienna, Austrian VJ
http://visuals.epij.org/epijlogic
www.mediawar.com/sxndrx
Thomas Heijman
Vj Pixylight
www.spacedub.org
www.vjmud.com/Pixy/Showreels
VJ Technolust
http://vjtechnolust.home.comcast.net
Cicada
www.cicada.tv // screenshot: http://www.cicada.tv/images/temp/vjo.jpg
Other VJ Related URLS
VJ Portals Online
www.audiovisualizers.com/toolshak/vjprgpix/nato/nato.htm
www.vjcentral.com
Other Notable VJ Apps
Union *new & serious vj contender, released since writing * – www.lividinstruments.com
Resolume – popular PC software – www.resolume.com
Flowmotion – www.robotfunk.com/flowmotion
Vjamm – one of the best real-time audio & video apps – www.ninjatune.net –
Midivid – now completely rewritten to take full advantage of today's graphics cards, leveraging their power to perform real-time effects at high resolutions with quality not possible in CPU-based software. – http://midivid.jasondorie.com/
Vtrack, artmatic, videodelic – unusual video generators & sequencers – www.uisoftware.com
Freeframe – free real-time plug-ins for Vj tools – www.freeframe.org
Unreal tournament engine – lots of potential here – http://udn.epicgames.com/Engine/WebHome
Beyond off-the-shelf software…
Max & Jitter – very powerful building tools for audio & video – www.cycling74.com/products/jitter.html
Nato – Built on top of Max – http://bootsquad.com/nato/
Soft VNS – To run on top of Max – http://homepage.mac.com/davidrokeby/softVNS.html
Auvi – To run on top of Max – http://www.auv-i.de/
Vegas – excellent AV loop composer (non-real-time) by makers of ACID – www.sonicfoundry.com
Touch Designer – powerful real-time graphics – www.derivativeinc.com/Tools/touchdesigner.asp
Posted by jpoole at July 14, 2004.
**
Aside from updates to all the above software, what else to add in 2008?
Modul8 – Swiss precision real-time video mixer and compositor, mac only.
Processing – open source programming language and environment for people who want to program images, animation, and interactions.
VVVV – visual programming interface for real time video synthesis. It is designed to facilitate the handling of large media environments with physical interfaces, real-time motion graphics, audio and video that can interact with many users simultaneously.
Quartz Composer – node based visual programming language in os x ( tiger or leopard ).
Anything else, throw it in the comments, and it'll get added in..
Autobot Roulette: