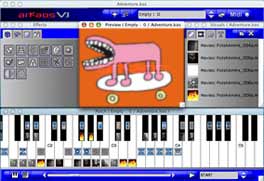 When future archaeologists try to restitch the development of the VJ, chances are an arkaos logo will feature prominently in their research. The Arkaos VJ software has been a forerunner for years, staking out new ground and becoming a tool of choice for live video artists. This gained ground has gradually turned into a swampy zone in recent years as a murky mix of VJ programs have emerged and the prospect of live video manipulation on computers has become ever more feasible. And so the biggest Arkaos upgrade in years is a bit of an event.
Nuts N Bolts
Under the bonnet – VJ 3.0 is still a souped up triggering machine. Whether arkaosweb.jpgactivated by key presses, mouse movement, midi keyboard or audio input, VJ 3.0 is essentially an app for triggering clips or images. It works by assigning clips and/or effects from your collection to keys on your computer keyboard or a mid keyboard. There's an actual image of a keyboard on your screen for you to drag and drop these clips onto whichever keys you want, and the option of adding effects on the same key. Once you fill a keyboard, you can start on another, and keep going until you have 128 of them, then switch between keyboards as you wish when playing. This much hasn't changed, it's still the same solid program – now with 32-bit colours.
New Juice
Given that effects in most video editing programs mean rendering your clip to see what the effect looks like, film students are invariably impressed when they see that the effects within Arkaos VJ run real-time. Press a clip, apply an effect and it happens straight away to that clip, and the effect parameters can be adjusted by mouse or MIDI keyboard control. Version 3 has 7 new effects and about 50-60 overall – which vary in quality / tackiness, ranging from wacky, kooky, cheesy, zany through to smoother and very useful – eg various fades, blurs and pixellations. This isn't where the significant improvements in the software lie though.
Live Camera Input
Got a firewire port + mini-dv cam? Or a webcam + usb port? Vj 3 can now take in feeds from either of these, or even both at once. I expected this to have a typically low frame rate, but it works great and suffers only a tiny time lag. Rather than live feeds, I like to play mixed down tapes through the camera that can be switched to, or layered over at any point with a keypress. You can also assign the camera to several different keys, with varied effects or masked and layering on each, and cut rapidly between each effected camera feed without the software pretty much missing a beat.
Chroma Keying & Layer Modes
Chroma keying creates transparent areas from pixels with the same colour ,and luma keying makes transparent all pixels of a specified brightness or luminosity. Which is great news if you want to then layer other colours or footage into those areas, and make like the Greatest American hero against a wobbly sky. And yes, both chroma and luma keying now come with VJ 3.0, which can allow for playful compositing or mash-ups. I prefer the new transfer modes – which layer video feeds on top of each other in a variety of ways that work like photoshop's add or multiply, screen or burn. Not as much gritty edges, although the VJ keying is pretty good.
Udder Features
Like before we get a built-in recorder to create visual remixes which can be recorded to disk and re-used, remixed again – and this can be a cool way to make quick titles for short films, or even to try out various editing ideas. And now the arkaos engine is integratible with any MIDI sequencer (OMS, ReWire, …). Automatic beat-matching technology can synchronise effects or changing between clips. The ability of quicktime to use flash files, means that flash texts let you can display on-screen messages with customizable Flash animations and editable text for on the fly control. VJ 3.0 also brings a little more control over individual clips – by clicking on the key the clip is attached to, each clip can be assigned one of these 'transfer modes', and can have it's speed, screen position and opacity adjusted – whereas in the past a time controlling effect had to be positioned there, and you can now put an effect instead.
System Requirements
299 Euros – or upgrade from 2.0 for 150 Euro.
Fully optimised for Windows XP & Mac OS X, G4 & Pentium II to Pentium IV processors.
Pros
The camera input works a treat and the transfer modes make layering so much less tacky, so more versatile. Hardly ever crashes, and tends to pump out a decent frame rate the whole time.
Cons
Some of the effects are really past their use-by date, and better live time-based control of loops is still on the wishlist.
Verdict
Arkaos VJ 3.0 is rock-solid on os9 and osx and seems to finally have hit it's stride on PC also. It's a really solid app that has just gotten a whole lot more versatile. Guesses are now that they've jumped to OSX, the next upgrades should come quicker and include even more responsive controls.
Download an arkaos VJ demo today at www.arkaos.net.
See Also : VJ Software round-up
Autobot Roulette: