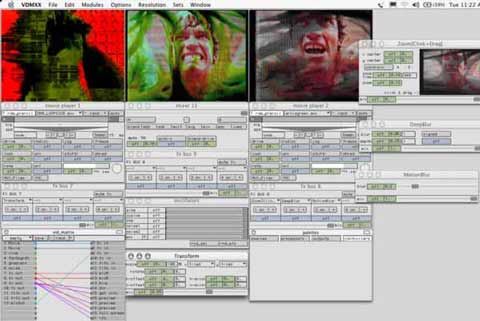 A baby has been conceived after two contestants had sex on the Danish version of Big Brother. Presumably this kid will be effected by TV ratings as much as the astrological heavens. And obviously it's only a matter of time before someone is conceived during a VJ mix. But what software for such an occasion? A leading contender would have to be VDMXX 4.0, video mixing software from vidvox.net, with an intuitive, versatile interface and fluid rhythm control.
What is VDMXX?
Advanced video mixing software that allows you to mix movies from your hard drive together, blend in live camera input, add effects and use a variety of tools (such as audio analysis ) to control the playback and style of your video. Essentially it delivers 3 windows on the top of your computer screen, with the middle window representing your mix, and what is being fed out to the projector, the left and right windows representing the sources being mixed. Below each window are a range of controls for effecting / transforming the clips.
Versatility
As soon as the new VDMXX interface loads up, you can begin to smell it's flexibility. Smooth and well-refined, the interface is broken up into several components, each of which can be shown or hidden as needed. The components come in 4 flavours:
Sources – movie players, live camera input, font, gradient & noise generators
Processors – FX buses, mixer controls ( eg cut, blend, layer modes ), & recording buffers
Outputs – preview windows, record to disk & full screen output controls
Controllers – audio analysis, motion tracking, master clock, sequencer ( vidi-yo break-beat anyone?) , shuttle pro, waveform oscillators, midi, mouse control of x,y axis
VDMXX also includes a matrixx router, which is a way of connecting the above items together, or sequencing the order they connect in. Different matrixx settings let you approach and optimise your video differently. How do you want to play today?
Fluidity
VDMXX manages a great blend of automated and manual controls – meaning you can slave certain effects and processes to auto-responsive controls such as audio analysis, the tempo or a range of event triggers within the program, and still manually fine tune other elements as you go. All of the effects, mixer and timing controls have manual controls – ie knobs or sliders on the screen – but a strength of the program is that any of these parameters can also be connected to and controlled by other elements. Almost anything clickable within the interface has a popup menu which allows you to control the parameter values by bpm, by oscillating waves, or by frequency of bass, mid or high notes. Rather than simply turning on a motion blur filter, you can have a clip which blurs in time with the music, or gets more or less blurry as slow or fast as you want. All of the effects also have wet and dry mixes ( which can also be controlled in many ways ). Time-based controls allow you to automate chop and change arrangements of a clip such as cutting to a random location within the clip every quarter of a bar, or stuttering slightly forwards then backwards every eight of a bar, or changing clip speed every 2 bars.
Udder Features
Live camera input can be used as one mixing source, and includes a nice time delay function for playing with live camera feeds. A gradient synthesiser creates dynamic gradients for blending on the fly, and the font synth cycles through text – which when using dingbats can create great masks or layers.
The audio analysis is quite advanced and lets you fine tune each frequency so you can isolate say particular kick drums and use them as triggers. Video analysis looks at one particular source and generates values based on it, which you can use elsewhere. And you can assign any of the onscreen commands to either midi or keys on your computer, customising the way you would like to trigger the program.
Performance
VDMXX comes with an exxtensive manual, including a large section on optimising your computer to deal with such an intensive video processing load. Amongst it's recommendations are to use 320×240 clips (though it can play full res if you have the speed), using a ram disk rather than running clips from the hard drive, and to use a compression codec which doesn't need to be heavily decompressed for playback such as photojpeg or motion jpeg. Bearing this in mind, VDMXX seems to crank on a 1 ghz machine even using heavily compressed sorenson clips. At times of peak load it can prioritise the output screen over the interface etc so that the output video is as smooth as possible. This can also be monitored within the interface, showing how many frames per second you are outputting, and how much processor load is being taken up, allowing you to cut FX when they are taking up too much. Another nice touch is a 'tweening' function, where if the frame rate slips low, VDMXX can blur and blend between frames rather than having jerky stop start motion.
Requirements:
$250 US, which is around 366.54 AUD
G4 Processor – MacOS X 10.2.4+, QuickTime 6, 512+ MB RAM
Verdict
It's da bomb, and now that it's stable on OSX, and includes capacity for 3rd party plugins, should only continue to improve in leaps and pixel bounds.
See also :
VDMX 2 review
Grid Pro Vs Arnold Schwarzenegger
VJ Software Round-Up ( extensive list from 2004 )
Autobot Roulette: