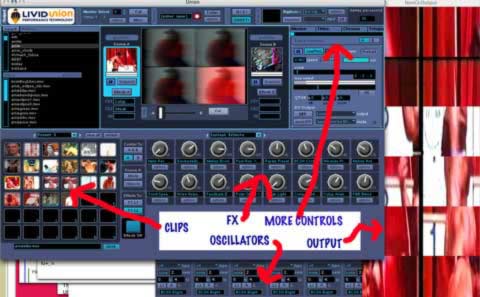 Last time sailing on seas of cheese to a Primus gig, you might've noticed a hot air balloon above the band with video projected onto it. Projections by Primus visualist 'The Ape', using a crazy real-time video app called 'Union', developed by Jay Smith & Peter Nyboer of Livid Instruments. Jay Smith'd be recognisable to some as the creator of the 'Viditar' – a midi based video control unit built into the body of an electric guitar, complete with LCD screen, clip and FX controls, and made for jumping around stage with. As expected then, Union packs in plenty of real-time punch.
Under the Union Bonnet
Complex controls, real-time triggering, advanced automation, sophisticated LIVIDweb.jpg
effects and reasonable frame_rates – how do they manage it? Being built on a bed of jitter objects helps, the video building blocks of the max/msp software shaping environment. Jitter objects are fast, optimised for real-time video modules – which bring power to the Union app, but also should mean Union can evolve rapidly alongside Jitter's development.
Functions & Features
Union is unique in allowing both quick access to triggering of multiple clips, as well as advanced automation and sophisticated time based controls. Different clips can be quickly played on various midi or computer keys, whilst simultaneously complicated video processing can evolve and unfold or be adjusted as needed. These are a few of the ways it can happen:
Clip Controls
First-up Union has a well integrated way of accessing movie folders, which allows easy change between banks of clips, and scanning of thumbnails for quick triggering on keys. Clips can then be routed through to one of two sides of a mixer for combining – with a range of blending modes for mixing in different ways. Each clip either side of the mixer can be finely tuned in relation to it's speed, direction of playing, position along timeline with easy setting of in and out points for quick loop making on the fly. Scrubbing / scratching and all of these functions can be controlled by keyboard and mouse or by midi – meaning you can control with external knobs and sliders on a midi box.
Effects
The Union FX bank is impressive and responsive, especially say – Meta-image – resizing the overall image into many smaller images which make up the whole and streak-blur which extends images fluidly. It also has a range of resizers, vertical slicers, video-on-3D object controls and considerable colour and image controls. Each effect has various parameters, any of which may be assigned to key or midi controllers, or synch-ed with oscillators which provide a few different ways of smoothly and incrementally adjusting values by themselves.
Automated controls
As well as the oscillators, there is an another auto-function which allows tempo-based ( BPM ) 'events' to happen, such as jumping to a random frame within a clip, changing clip or speed of clip. Works well, but is a little clumsy to get to within it's tabbed interface. Also buried within the tabbed interface are some masking controls, tempo measures, text titling, chroma keying, camera and audio controls & the capacity to synch it up with certain modified turntables – delivering actual terror wrist 'scratch vidi-yo-yo-yo'.
Live Camera Input & Audio Analysis
Aye, point a camera at something, or play a tape through it – and Union can treat that as a mixing source against a bank of clips from your hard drive. This also includes a range of useful camera input refinements. The audio analysis can be tuned to detect certain frequencies and then provide 'event triggers' whenever these are heard – so a bass drum might be used to change clip position or speed, or to another clip. In future releases it is expected this will include triggering of FX as well.
Requirements:
Mac G4 400Mhz OS X 256 MB of RAM – though real-time video with UNION would surely be kinda taxing on such a machine. PC version available "in the future". US$249
Verdict?
Union's unique combination of quick sample based triggering and complex automated processes makes it a very powerful and flexible real-time video processor. Has plenty of depth though, so it'd take time to get to know it's ways, and customise it to really make it a useful live video tool. Some of it's functions are a bit hard to easily access, although apparently this is eased much when using a midi device. Similarly the interface has a few bottlenecks, which are being ironed out during fairly regular upgrades. If looking to mash video, then definitely worth a test drive, get your demo keys here : .
www.lividinstruments.com
See Also : VJ Software round-up
Autobot Roulette: