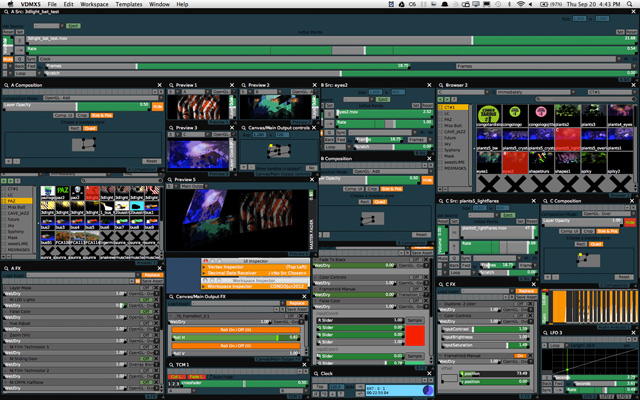 (Above, a messy example VDMX interface of mine. Click screenshot to see full version)
Here's a review brewed since I got my review copy back in 2005 (when VDMX first turned 5, says the Vidvox software museum*). Now that it's 2012 and we're at Beta version 8.0.8.1, it seems as good a time as any to declare VDMX 5 ripe and ready. Let's do this.
What is VDMX 5?
VDMX 5 = A 'modular, highly flexible realtime performance video application' developed by vidvox.net.
What does that even mean? The six word executive summary by @Protostarrr :
'A hipsters version of After Effects' is cute, but misses a crucial difference – VDMX is software built for real-time usage – ie no waiting around for rendering, it means live adjusting, manipulating and sequencing of video clips and video parameters – during a theatre performance, while musicians play on stage, within an installation, or to create some hybrid of what might be called live cinema. Just as hiphop and electronic music producers have long been playing live with audio samples, we now have the ability to shift from a studio production mentality, towards using video samples in a live setting.  This means VDMX must be capable of letting it's users adapt and respond to any unfolding events – and the importance of having that flexibility is reflected with how Vidvox define their software:
"VDMX5 is a program that lets you assemble custom realtime video processing applications. This is an important distinction- instead of being stuck with a fixed processing engine and a static interface, it gives you the freedom to assemble not only whatever custom processing backend you desire, but it allows you a great deal of creative control over how you wish to interact with your backend."
(Example search for 'VDMX interface' )
So what can VDMX 5 do? 
– Trigger separate clips for playback across different projectors ( a desktop with multiple outputs, or an external graphics card for laptop is also needed)
– Mix several clips together to create layered collages and compositions (multi-blend mode options / compositing options / cross-fade options / customisable quartz transition modes)
– Map separate video layers onto physical objects (VDMX5  has basic perspective mapping functions, or can send video layers via syphon to other mapping software)
– Organise video layers into groups (which allows composition or FX parameters to be adjusted per layer or per group)
– Re-route any video layers into other layers / compositions (enables easy creation of visual feedback loops, or addition of more organic complexity with FX)
– Adjust or control any video parameter or Fx parameter easily with an onscreen slider or button – and in turn, control these by various data sources (eg mouse / midi / audio analysis from built-in laptop microphone / LFO oscillators and wave values / midi + OSC controllers / wii controller / iOS or android controller etc ), and these values can be flexibly refined by using a range of in-built math behaviours ( eg invert values, smooth values, multiply values etc).
– Build Control Surface Plug-ins – which are ways to consolidate various controls into a a customised interface ( eg have 4 meta sliders, each of which may control any number of other parameters, when activated )
– Capture camera inputs, apply effects to these. Can also record and playback camera samples in real-time.
– Capture the visual output from a window of any other application running, and re-route this through the VDMX signal chain (eg mix in a live webcast from a browser, bring in a photoshop sketching window, bring in a skype window etc )
– Record your clip-triggering and visual FX experiments to disk (Fast and reliable, records directly into a VDMX media bin for immediate re-triggering / remixing / recording and etc etc )
– Use a built in step sequencer for arranging clip-triggering or FX over time.
– Save and trigger presets in extensive ways (global, per layer, per FX chain, and per slider. And more recently, we can cut and paste parameter settings between sliders. Very useful for quickly copying refined parameter and interactivity settings from one effect to another.)
– Tightly integrate customised quartz composer patches and FX, including customised interface elements – where each of these can be controlled by the various methods described above. (It's hard to overemphasise how useful and powerful this is).
– Use flash, text and HTML files, as well as Freeframe FX.
– New : send DMX (Artnet) data – to control / interact with lights / lighting desks… (I'm yet to play with this, but it's a great addition. Requires a computer to DMX box such as the Enttec ODE. )
There's much more, but you get the idea – it's flexible, and can be adapted to suit your project by project needs. These open ended possibilities are both a strength and weakness of VDMX – it's fantastic being able to make your own customised interface to suit a particular workflow or project, but first time users tend to find can be daunting to approach for first time users.
Below, an example of 3 layers being mapped to suit particular shapes. (The canvas controls can be enlarged for easier mapping / alignment, with pixel increment adjustments on corners, available by pressing arrow keys )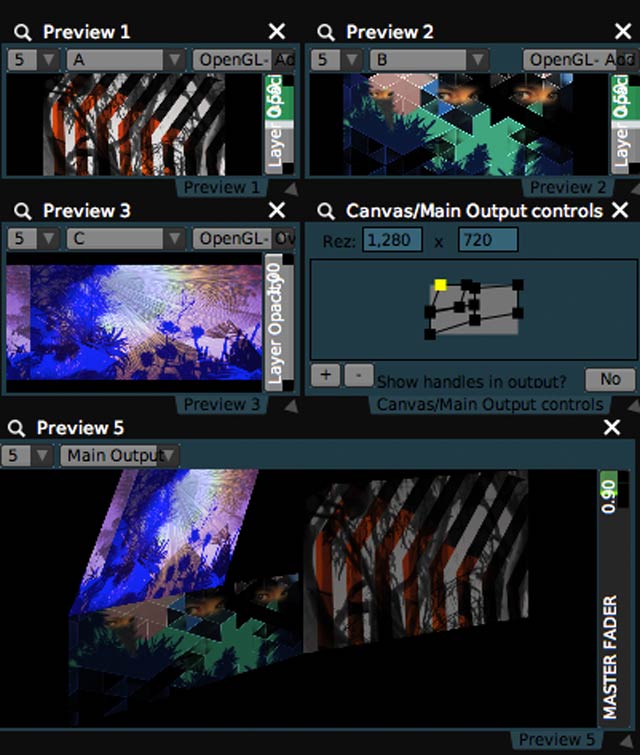 Understanding the VDMX Workflow
With the above multitude of options, getting to know the ropes is pretty important. Here's a few learning pathways:
1. Plug N Play… aka 'explore' : Even within the downloadable demo software, VDMX5 comes with built-in template projects that can be accessed through the topscreen menu. These can be easily modified and used as a foundation for your own projects. Playing with each template will show some of the features and variety on offer.
2. Vidvox Wiki : Extensive, detailed listing and explanation of the progam's various parameters. Read over, then go back to step 1 and play some more.
3. tutorials.vidvox.net : In-depth video tutorials from the pixelated horse's mouth.
4. VDMX forums : Over time, I've probably learnt more about the program here than anywhere else – as with any software of depth, the possible solutions to any particular problem posed, are multiple and varied, and am regularly learning new ways to use VDMX through the discussions here. The developers also contribute frequently, debugging problems, clarifying how various aspects work, and helping point beginners in the right direction.
Some Example VDMX Projects
Aka – here's some links to material I've used VDMX for.
– Compositing video for 3 different projections and walls at Cockatoo Island, Sydney. ( Pattern Machine, at Underbelly performance )
– Generating and recording audio-reactive visual textures (with VDMX and quartz) (Visual backdrops for Audego)
– Generating textures and audio-reactive elements, then mapping these to suit physical shapes I'm projecting onto  (Mat Cant music video)
– Triggering live video onstage with Gotye (so the right part of each animation happena when the live musicians reach the chorus etc )
VDMX Elsewhere:
How to set up the VDMX basics.. 
Learning VDMX at the Audiovisual Academy, Videos – Part I, Part II and Part III.
A 32 minute intro to VDMX (via visual-society)
Iso50 overview of how he uses VDMX …
Connect VDMX to Madmapper (via official Madmapper blog)
How to send multiple outputs from VDMX to Madmapper… (via destroythingsbeautiful)
(Actually, Destroythings is destroying things for VDMX (mostly VDMX ready-quartz patches )
Making loops live with the Wii and VDMX ( 4 video tutorials via moongold)
VJ Kung Fu: AV Sequencing with Live + VDMX + Monome
Using VDMX to create stop motion animation – by synchronising video projection playback with the sequencing of time lapse photos. (by Zealousy )
How to use a window from any other mac software, within VDMX (eg for live photoshop painting etc / via 1000errors)
How to create a 16 frequency graphic equalizer for Ipad Lemur to use sound for controlling various FX in VDMX. (via 1000errors)
Creating a Sound Visualizer with VDMX + Unity 3D (via creativeapplications)
Experiments with Quartz Composer patches in VDMX (via Goto10 at vimeo)
Telecommuting the mix: VDMX, Syphon, CamTwist, and Skype (via noisepages)
Requirements :
Mac computer with an Intel processor
Mac OS X 10.6 or later
NVIDIA or ATI Graphics Card
4+ GB of RAM
$349US
 – Refreshingly, this licences the user to run VDMX on up to three different computers for personal use. On one level it's a very generous licence – but on the other, it's merely acknowledging the likely practices of most digital artists (across many workplaces, home, venues, installations, multi-screen set-ups etc). At any rate, very handy.
Educational pricing = $199
There's also a
'Starving Artist Discount'
– '
Put your skills to work
 helping out the VDMX community and you can get a license of VDMX5 for only $199 USD.'
Verdict?
While VDMX 5 is overkill for some people, and others might prefer the complexities of say of
MAX/MSP
or coding their own software, for me it strikes a great balance of depth and accessibility. Complex results and interfaces are possible, with relatively little mental investment. Once that initial learning has happened, it's a very versatile tool, easily refined to suit each project (eg for this gig, let's make the playback timeline fill the whole screen, so we can fine tune tiny little loops more easily – or let's create 3 media bins so it's very clear which samples to trigger for each of 3 stage characters – or let's emphasise the FX palette here.. etc etc). VDMX 5 has evolved over many years, taking on board much user feedback, as well as introducing users to better ways of approaching video signals and introducing all manner of nuanced interface elements and processes. There is a lot of significant functionality in the program, but it's in the nuanced details of those features, that the merits of VDMX 5 really come into play.
Take it for a test drive….
[[*VDMX software museum visitors and yesteryear software interface fetishists might also like: VDMX 2 review (2002) or VDMX 4 review (2003) ]]
Autobot Roulette: