Artist talk about the art practice of Sean Healy – for Making Media at RMIT, May 2023.
Links mentioned: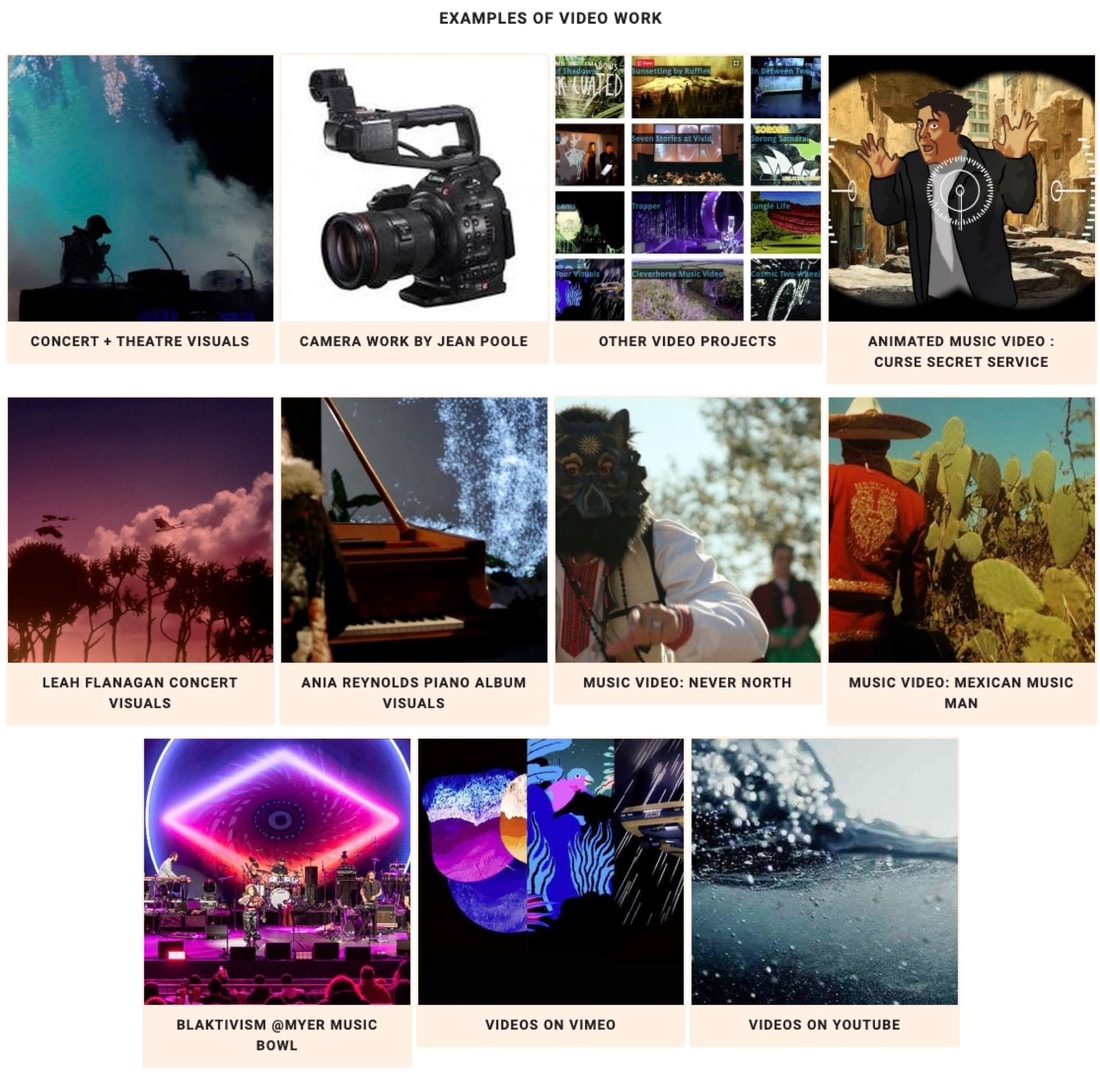 Example projects :
Animated concert visuals for Ania Reynolds (piano album tour)
Hermitude concert visuals
Mexican Musicman music video
Curse Ov Dialect Animated music video
Concert Visuals
VJ software:
VDMX (mac) (See: The VDMX manual and the tutorial series of 'Video fundamentals' )
Resolume (mac/pc)
ipad options? TouchViz, dJay Pro, Colorcode VJ
Live Cinema
What is 'Live Cinema'?
Live Cinema as a performing art
The future of live cinema
The Light Surgeons (UK) – Super Everything
Regroup Collective (Syd)
Kid Koala – StoryVille Mosquito (CAN)
Projection Mapping
Examples: Icebook theatre (mapping video onto paper models)
Max Cooper (live concert mapped onto Acropolis)
VJ Suave (projections onto environments, and travelling through a city)
Installations by Yannick Jacquet (Legoman) 
Installations by Romain Tardy  (including this botanic gardens projection in Mexico)
Software:
Madmapper  (eg Madmapper 4 demo or Mapping a building or Spatial Scanner demo (how to use a camera to map an organic shape))
Mapping With Resolume (tutorial)
Mapping With QLab
Mapping With Millumin
Mapping With HeavyM
Other Mapping Software (Disguise, Touch Designer , Dataton Watchout , VPT (free) , Smode , VVVV , Mapmap (free) etc )
Lightform
LightAct
iOS + Android mapping apps:  DynaMapper
Other Useful Video Related Links
Programmer's Guide to Video Systems  – explains why video systems have so many quirks!
Video protocols for real-time sending video between apps – NDI, Syphon, Spout
Super helpful reference articles by Blair Neal:
Survey of Alternative Displays (2022 Update)
A Creative Technology Taxonomy
How to make an installation stay up 4evr (MacOS)
Guide to Projectors for Interactive Installations
Guide to Cameras For Interactive Installations
Alternatives to After Effects (for most aspects of it):
Motion (mac)
Da Vinci Resolve (free for mac / pc – see the Fusion section)
Calvary  (mac/pc)
Figma (browser based motion graphic design)
RunwayML (browser based + machine-learning assisted. Monthly subscription, free version available.)
Related Reading
Understanding Comics – Scott McCloud
In the Blink of an Eye – Walter Murch
Live Visuals – History, Theory, Practice – Steve Gibson, Stefan Arisona, Donna Leishmann, Atau Manaka