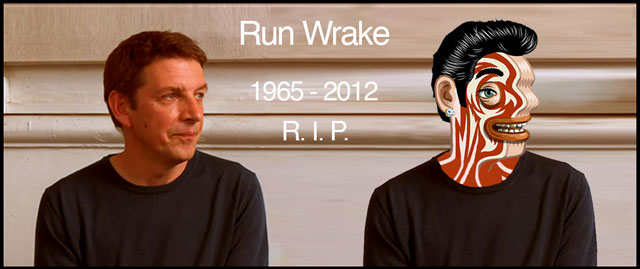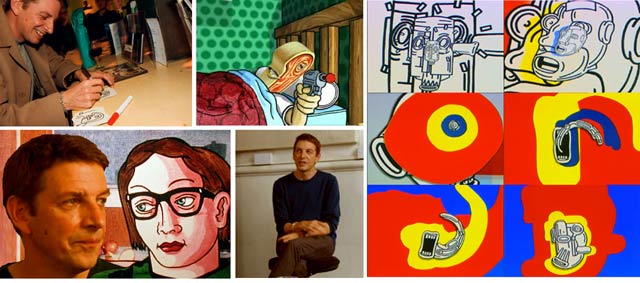 I cried last night, upon reading that John Wrake, aka Run Wrake, has passed away.
I'd first learned of his cancer diagnosis a few months ago, after wandering once again to his youtube page, and noticing a short and simple message underneath his most recent short film:
Down With The Dawn
, is Run Wrake's usual virtuosic animation, but knowing that this 8 minute short film was his response to being diagnosed with cancer, made it quite confrontational viewing. I was shocked then, but somehow presumed he was turning things around, he was on the slow path to recovery, that although tragic, everything would be okay.
Award-Winning "Rabbit" Director Run Wrake Dies, 47
The Most Talented Dude You've Never Heard Of
A Genius Gone Too Soon. British Animator Run Wrake Loses Battle With Cancer.
"It is with incredible sadness that I have to let you know that our darling Run passed away very suddenly at 5am on Sunday morning as an end result of his cancer. He had spent a beautiful Saturday with his two children Florence and Joe, his sister Fiona and myself. We left him at 7pm doing what he loved best- drawing and animating with peg bar and paper.
I was with him for his last moments. We love you Run.
Lisa Wrake."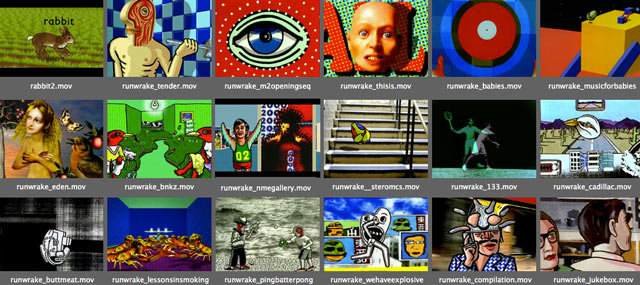 Above, hard-drive snapshot of some of my favourite RunWrake animations.
I first learned of Run Wrake around 10 years ag0, through his compilation Gas DVD, "Dinnertime". Somehow it had laid unwatched in a pile of media for a few months, until late one evening I spied it again and lazily inserted, then pressed play. What followed was dizzying and overwhelming – that mix of exhilaration and exhaustion when discovering an artist so consistently good, so relentlessly inventive, and so utterly prolific that you're left wondering if they exist under different laws of time and space.
A few years later, I was thrilled when Run Wrake agreed to an interview (published in 3D World magazine, as well as skynoise in 2006).
A snippet below:
Where did 'Run Wrake' come from? 
Actually a nickname earned whilst keeping wicket particularly badly during a game of cricket aged 11. A friend was sent in for sarcastically shouting "Run", as the ball went thru' my legs for four.
With so much animation under your belt, what has it taught you?
It's taught me that I'm very lucky to have the desire and ability to scrape a living doing what I enjoy, and that you will never make a piece of work with which you are entirely satisfied.
To what extent do you storyboard your clips? Or how do you approach narrative?
"Rabbit" is the first film that I have rigorously boarded, with a view to telling a story, and I thoroughly enjoyed the discipline.
Any desire for feature films, or longer works?
Absolutely, watch this space*.
(*As of 2012: Wrake was devel­op­ing an ani­mated fea­ture, The Way to a Whole New You, with writer Neil Jaworski for BBC Films.)
One of my questions was whether Run Wrake had ever animated a skateboarder, and Run Wrake was kind enough to add a note at the end saying that he'd done an ad featuring a skater, and that he'd attached a little quicktime movie of it for me. One of those wow moments – a favourite artist sending me something they'd made?? Below, a screenshot sequence from it, which demonstrates one of his trademark 'perpetual zoom outs'…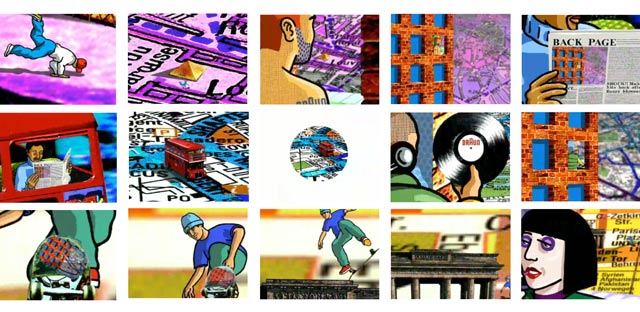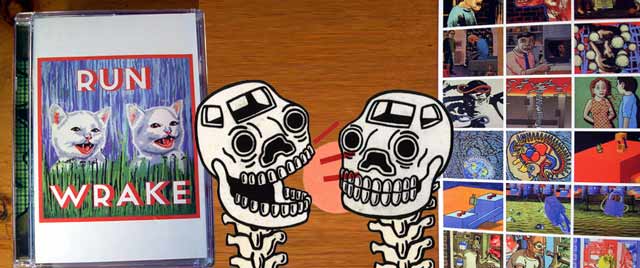 A glimpse at his biography (have you seen a more delightful online CV?), showed some of how this was all possible. Run Wrake had gone through the Chelsea College of Art and Design, and the Royal College of Art, before achieving a breakthrough with his 1990 student film Anyway on MTV's Liquid Television. With Anyway, several strengths were already evident – an eagerness to playfully deconstruct form, an ability to adapt and incorporate many kinds of media and animation styles, and an incredible capacity for fluid transitions – smoothly morphing into wildly different scenarios or character transformations.
The DVD documents the development of all those strengths, as well as introducing others  – a highly attuned sense of animation rhythm and pacing, and a flair for visualising sound and loops. That kinship with music was partially nurtured over time with his job as an illustrator for NME magazine,  (the DVD includes a virtual gallery of these illustrations, narrated by a flying turtle-armed boy.), but is most evident across his trajectory of music videos, most notably those with long-time collaborator, Howie B.

Some favourite moments?
The alarm clock sequence within 'What is that?'
How he plays with loops, one minute into Music for Babies by Howie B. (At time of writing, vimeo had just made the clip a 'staff-pick', in honour of Run Wrake's passing.)
The intro sequence to 'Jukebox' – no, actually, just all of it…
The 'Buttmeat' clip for Howie B. (All those liquid visual transitions!)
Music video directed by Run Wrake for Spacer's 2001 single 'The Beamer'. (Love the scene transitions, and the disregard for time/space conventions).
And below – a sequence transition from Lessons in Smoking (this video link showcases it better),- produced by Run Wrake  for his compilation Gas DVD, "Dinnertime".
With all that under his belt, it's easier to understand how he gets to describe his career highlights as including…
"my first job, commissioned by an Elvis suited Jonathan Ross to make a title sequence…making Jukebox, my first animate! commission, a two year slog…meeting and working with Howie B, initially on a short film to accompany the release of his album Music For Babies, and subsequently on a series of freeform promos…presenting storyboards to Roy Lichtenstein in his New York studio for U2′s Popmart Tour visuals…and the critical acclaim for Rabbit, a short film completed in 2005."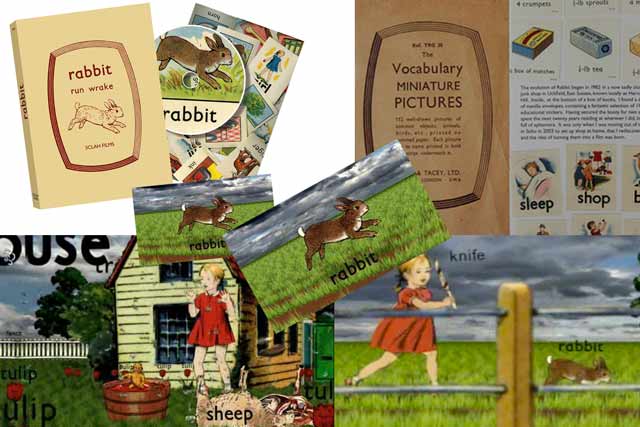 Less easy to understand is why Run Wrake wasn't better known, even amongst animators. Even though he worked on U2 tours, and Rabbit won plenty of awards, it still felt that there was an animation giant walking amongst us, and not enough recognition of how much terrain his work covered. That was at least partially remedied, earlier this year, with a Run Wrake Retrospective at the Ottawa International Animation Festival, with the title referencing one of his favourite characters:
RUN WRAKE: MEATHEADS, RABBITS AND THE DAWN

Below, artwork recently donated by Run Wrake –  as part of CEL: an online fundraising project to keep the Animate Collect online, 'On The Brink of Manhood'.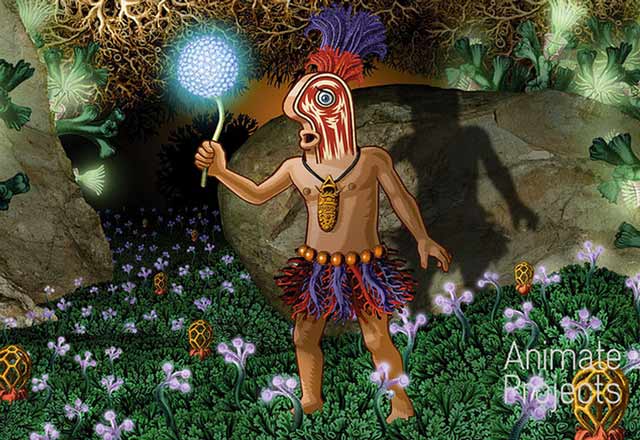 Runwrake.com
Runwrake on youtube
Runwrake on vimeo
Runwrake reworking personal home movies for live Audio Visual sets. ( Yes, he VJ-ed occasionally! )
A video interview with Run Wrake about his animation process.
RIP Runwrake…. thanks for adding your splash of colour to the world.
Autobot Roulette: