Aphex Twin played in Melbourne recently, which also meant a chance to catch the pixel mutations of his regular tour VJ, Weirdcore. After a summer of stage screens saturated with glossy, void-of-personality motion graphics templates, it was refreshing to catch live tour visuals that were ambitious, sophisticated and raw – very obviously being generated and manipulated live, mistakes and all. Probably not many other ways to approach a set for Aphex, and apparently he does improvise a different set every single time.
Below, a diagram from Weirdcore's artist profile at vidvox.net, explaining his video set-up**.
"With additional FX programming from Andrew Benson, Flight404, and Vade this is one of the wildest tour setups we've seen in a while… but you wouldn't expect anything less for the worlds most known electronic musician. Pitchfork may have said it best, "First, we can't really talk about anything until we talk about the visuals."
[[ **"UPDATE: Weirdcore mentions that diagram is now dated (was for his 2011 set-up), and he intends to shift everything to jitter, with one computer direct to LEDs, much simpler and less likely to fuck up." ]]
Above : 1 x Richard D. James + 1 x Kinect, flanked by L.E.D. Screens of the face-replaced crowd at the Palace, Melbourne.
Below : The Kinect in action at The Future Music Festival ( Bonus Melbourne software plug : kinectar.org ).
Aside from general pixel mangling and the fast and fluid Weirdcore style – I was curious to see how effective the live face-replacing would be (snippets of it in live Aphex shows have been glimpsed online for a couple of years now). The software and camera set-up seemed to take a while to tune, but when it locked in the effect was mesmerising, updating fast enough to cope with panning cameras of a boisterous crowd, all while being relentlessly modified and further manipulated.
The face-tracking was also put to work in a section of the show that is customised for each location. Weirdcore had asked for feedback on the list of Aussie celebrities he'd compiled, so I threw him a few more names, including 1 x Wally. Crowd reactions varied, but were probably loudest for the photo below of Julia Gillard, and Weirdcore mentioned later that for whatever reason – unlike most other countries, the response had been loudest for politicians at Australian gigs.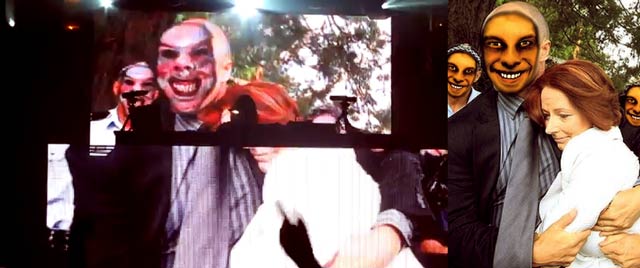 Aphex + Die Antwoord Live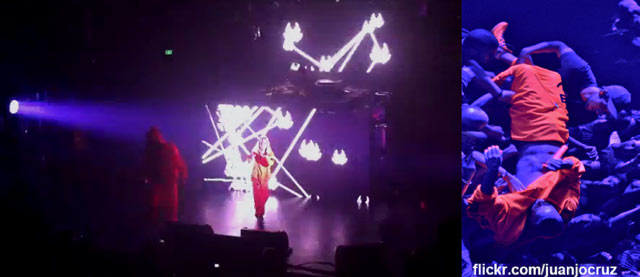 [[ Die Antwoord? If needing a crash course in South African cartoon-rave-gangsterism – spend 15 minutes of your life inside the short film, Umshini Wam made with Harmony Korine ( Gummo, Kids, etc). ]]
If the Aphex Palace gig wasn't overloaded enough, 3/4 through the set  – on top of a cacophony of Aphex – Die Antwoord burst out from backstage in orange flouro suits and rapid-fire a couple of tracks, one of which has ninja rapping from above the crowd he has stage-dived into. There are almost enough camera phones in the air, for ninja to get back onstage by walking across a bridge made of gadget. Another highpoint of weirdness is reached when ninja + Yo-landi rasp in their South African accents, 'Aussie, Aussie, Aussie' and the crowd eats it up, barking enthusiastically back 'Oi, Oi, Oi!'. Somehow it all makes sense, including the ideas that future Die Antwoord videos are to be made by Weirdcore and later by Chris Cunningham. One extended global mutant franchise. And yes, after Die Antwoord depart, Aphex still has plenty in reserve (as do the lighting and laser operators), so by the time  it's done, we can only depart exhausted.
**
Thanks to Weirdcore and his tech companion Fede for taking some tour time out to meet up and chat about pixels.
Be sure to check out  his video projects, including works for MIA, Chuck D, Cassette Playa + Simian Mobile Disco etc, and this Weirdcore video interview at the Creators Project.
( Thanks also, to juanjocruz for letting me use his zoomed in photos, the best on flickr for the Melbourne show. )
Autobot Roulette: