So a while ago I interviewed Fernando Llanos, a Mexican artist with a huge catalogue of artworks under his belt. Notably, this included the Videohuahua project – which involved a micro projector strapped to the back of his pet chihuahua. Turned out he was bringing a video blimp to Australia for the Splendour in the Grass festival, and was spending a few days in Melbourne afterwards – so we made plans to meet up.
A couple of days later, I was introduced to Gonzalo who runs the enchanting Magic Lantern Studio ( 155 Brunswick St, Fitzroy, Melbourne ), which is filled with puppets, optical illusion and vintage pre-cinema moving image devices. At some point I noticed he had a few paintings of chihuahuas on the walls, and we got talking about them – and then I mentioned Videohuahua – Gonzalo stared at me, then lead me laughing to his computer where he showed a series of paintings that feature chihuahuas with cameras strapped to their heads.
Inevitably Fernando's Melbourne visit had to include a trip to Magic Lantern, where it turned out the art and chihuahua anecdotes flew thick and fast ( mostly in fast-forward Spanish). Below, Fernando on the left, Gonzalo on the right, in front of the shop and a painting of a chihuahua with an electric shaver as head. Photographed and blogged, so I can say, no, I am not making this up.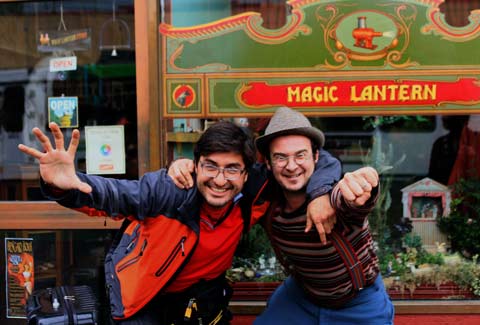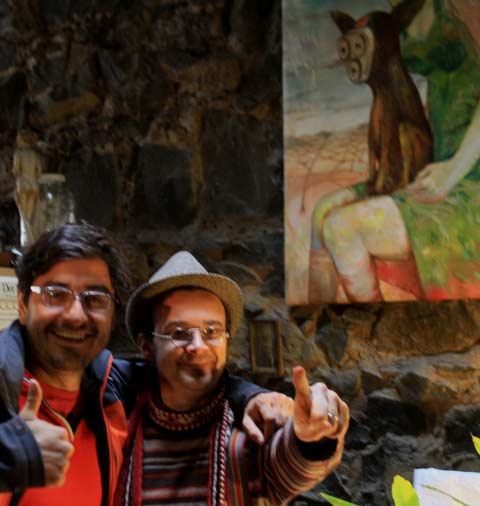 See also art, politics and the daschund.
Autobot Roulette: