A few tips for shrinking and smoothing your touring video kit (inspired by the next fortnight of touring the East Coast for the next fortnight with the Scattermusic Sound System).
Velcro + Laptops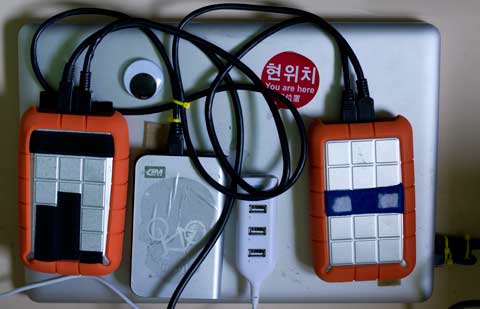 Attaching spare portable Hard-drives to your laptop lid with velcro is a super-win. Not only does it save precious performance space and avoid drives being bumped, it also extends to three, the list of questions VJs will most likely asked at venues.
1- 'Can you play a track by Another tip? Minimise external drives cutting out when firewire cables move or get unplugged, by using cable ties to tighten the firewire cable to an ethernet cable plugged into the port beside.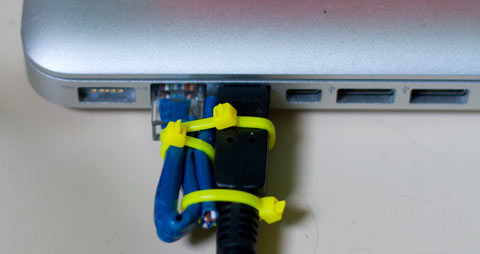 Hardware Mixer-Free Zones*
Hardware mixers have become a luxury (or an insurance policy against computer crashes) rather than a necessity, as most clip mixing and blending is preferably done through software and a midi controller. If tight on budget / space, mixers can be avoided. Need a live cam? Use a USB webcam to mix within your VJ software. Other USB capture devices open up worlds of lo-fi video capture, play-through and mixing. Portable midi controllers? My two favourites are the Novation Nocturn and the set of Korg nano controllers… which give the best value in terms of buttons and sliders per buck.
(*At least until *SPARK's tiny DVI mixer is released! )
Projectors
Projectorcentral.com is a fantastic resource for comparing different projectors, and provides a great overview of what to look for in a projector.
Lumens: (brightness ) – aim for minimum 2500 for a small room, and get as many as you can.
Contrast ratio: ( eg 2000:1 ) Higher is better, richer blacks.
Zoom range: The difference between minimum and maximum sizes, which enables flexible distance from screen.
Resolution: Aim for a minimum of 720P (1280×720), which is the smallest HD size, or WXGA (1280×768). Full HD of 1920×1080 will avoid any scaling, and delivers the best image.
Aspect ratio: 16:9 native is preferable over 4:3
Inputs: VJs will want VGA inputs, and HDMI if available. Most will include RCA / composite.
eBay offers 15m VGA cables for around $30, and if you need more distance between projector and your laptop – maybe consider entering the world of baluns ( connectors / convertors that allow video signals to be sent over the much cheaper ethernet / coax cable for much longer distance without signal degradation. )
Need to build a Projector Mount that will go anywhere? ( http://vjkungfu.com/archive/build-projector-mount ) Clampalicious! Allows a projector to be easily and very securely mounted to lighting rigs, poles etc. Before and after shots below..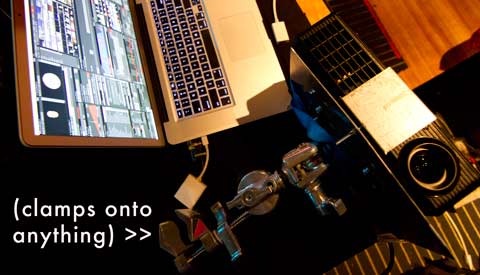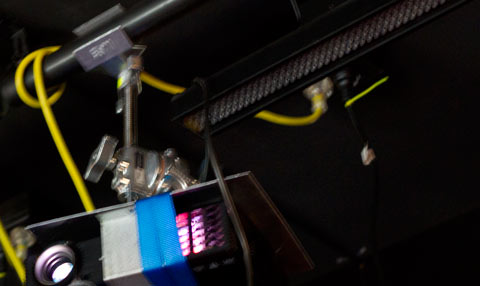 Got any other portable touring / rig shrinking / making-video-life-easier tips? Send them along..
[[ UPDATE: Extra tips in the comments:
via the well oiled touring machine-human hybrid, Filastine: "for VJ's that work from stage, or for solo audio/video performers like myself-project from stage into an automotive sideview mirror clamped to a mic stand, no ladders or long cables needed"
via uDart: a more compact solution to VJ Kung Fu's mount.
"For that reason I always buy projectors hat have a 1/4-20? camera fitting. Also the ball joint can be substituted with a 'magic arm'. That gives you countless positioning possibilities."]]
Autobot Roulette: