Congo Tardis #1 are an absurdly talented trio of Melbourne turntablists, who recently asked me to put together a micro-budget music video for their new EP. Part of their pitch was that they already had some green screen footage of the guest vocalist (hula-hooping extraordinaire: Marawa the Amazing), so 'hopefully a quickly composited clip wouldn't take too long'. The green screen footage, of course, turned out to be a drunken ninja fest: most shots cut off part of Marawas' head, or featured the camera wobbling on the tripod (when the cameraman wasn't busy zooming in and out). And yeah – it featured juggling of *green* limes. There was enough gold slithers to make it work though, and making it reminded me how useful VJ tools can be for video production today.
Integrating VJ Software Into Post-Production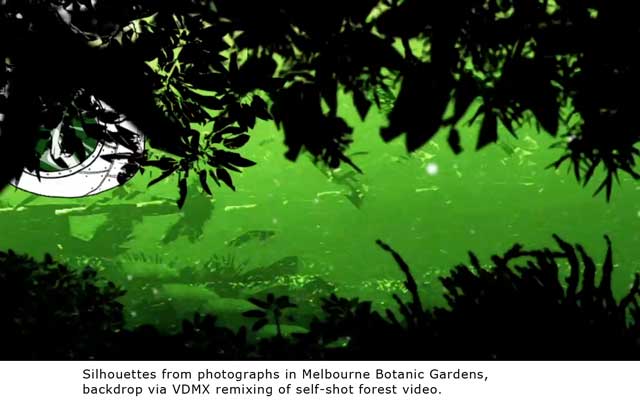 Congo just wanted a series of composited scenes cut to music, rather than any narrative, so given their tropical flavour I set about designing some lo-fi cosmic jungle compositions. Typically that'd involve playing with images and video files in Photoshop and After Effects, but being easily able to record HD video with Syphon suddenly makes software like VDMX all the more useful for generating customised textures / timings / visual effects.
– Play music track. Adjust visual parameters with the knobs and sliders of a midi controller and record as you go.
– Playback instantly, see what worked, then rinse, repeat and refine. Or remix that video for a more layered effect.
– Throw these recorded clips into After Effects for some 'mastering' / fine-tuning / colour grading etc
The current Adobe Premiere + After Effects integration is another great contributor to an improved video workflow. Using what they call 'dynamic linking' many rendering steps can be cut out and this can make a great difference for putting together a video. It allows precision editing a clip within Premiere, easy offloading into After Effects for parameter adjustments, then re-importing the newly adjusted clip back into Premiere – all without needing to render. Or work on a complex composition in After Effects, then import just this composition into Premiere for timeline cut-up. And of course, the end result of these processes can be exported and used within the likes of VDMX for further real-time splicing, remixing and layering, and easily recorded – for reintegration into… etc etc. THIS MAKES ME HAPPY!
The Sweet Lime (FT Marawa the Amazing) is available now on the Number 1 EP as a 7″ Vinyl, or digital download via congotardis1.com or scatterblog.com.
[[ PS. Thanks to Pineapple Donut, Skynoise now has a dedicated and dynamically updating projects page, so there's a place I can put stuff like this Congo Tardis music video…  without it getting lost in the archive-ether. Or you can release your comment hounds, while viewing it directly over at vimeo ]]
Autobot Roulette: