Even as the VJ software market matures, it's refreshing to see with releases like CoGe – that there's still room for new players and perspectives. From deep in his East European code-bunker, creator Tamas Nagy was kind enough to provide a review copy and an interview.
Features
"CoGe is a semi-modular, Quartz Composer® powered VJ application for Mac OS X®, designed for real-time media mixing and compositing."
So – aside from the usual playback and manipulation of clips, what distinguishes CoGe? At first glance, the VDMX-like modular framework is immediately obvious, enabling CoGe to be easily customised for different performance styles or needs. Of the modules available, of notable merit is the very easily used sequencer.
A comprehensive wiki outlines the structure and approach ( the rendering chain / how the modular structure works / various automations+ mappings etc ) / clip synths, and a useful forum is fleshed out with fans eager to push it forward (At time of writing, CoGe 1.2.1 was just released, with significant performance increases ( lots more FPS on HD clips).
Quartz Composer is also quite deeply integrated into the software, which makes sense – given Tamas has developed a whole range of QC plug-ins which can be used within CoGe – eg PSD Brushes  / PSD layers Textfile readers / Webkit ( rendering webpages within CoGe )Beat Detektor / GPL reader ( reads GIMP palette files ) / Mouse co-ordinates etc. As well as possibilities for integrating customised Quartz files and effects, CoGe allows use of  3D animation meshes (Collada .dae format) and flash files alongside any movies and stills used for mixing and compositing. Want to build your own CoGe module using QC? Tutorial – how to create a simple effect for CoGe with Quartz Composer. And yes, rendering is through the graphics card for maximum performance, and double yes – syphon is well integrated too, for easy sending or receiving video to and from other applications.
Interface
It only took a little while to adapt to the CoGe world, and what initially seemed quirky, now makes some sense. The interface elements are easily moved, re-arranged and intelligently grouped together using what CoGe calls 'aligners' to "arrange other windows together into manageable organizational 'buckets'". It might look a little ravetastic, but it makes for easy navigation and visual feedback while performing, and the sequencer action is great.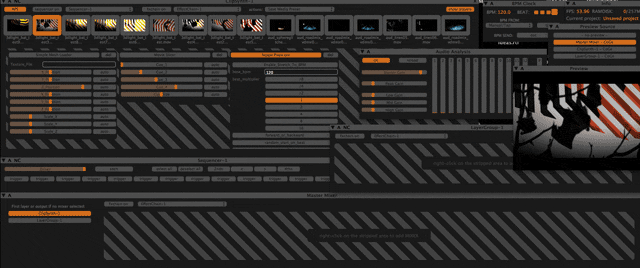 Overall?
A welcome addition to today's VJ software library, it'll be interesting to see if CoGe manages to continue developing in some interesting directions, given what is being covered elsewhere.
Requirements:
$US99 (custom + educational pricing also available)
A Mac computer with 10.6.7/10.7 or later with a dual-core CPU and at least 1 GB of Ram.
**
Interview with Tamas Nagy, creator of CoGe VJ Software
Given there's quite a range of existing VJ software – what inspired you to build CoGe?
It's a kind of funny story 🙂 I saw a first vj gig in 2001 in a music festival, and I fell in love with that thing. Never thought about being a vj, I made music before, so I'm from audio land. Then, when I got my first Mac in 2006, and saw Quartz Composer and saw how Quartonian works, I just think I can do something funny_ – never thought about to make a commercial application, haha 🙂 – with a kind of sync with the music, so just tried it. It was the early version of CoGe, called LovQC, haha 🙂 You can find some test videos made with it on Youtube.
Then I spent more time on the software, added lots of new features, and with 2 friends we just created a VJ team Luma Beamerz and CoGe was born. Anyway, the first version of the app was a 50mb QC composition with just an interface, then I started to learn Cocoa, Obj-C, OpenGL and other stuffs – Vade helped me a lot with the GL stuff, so CoGe now is a "real" application.
Anyway, I never used any other VJ softwares, I just created my own for my own wishes: triggering different points of movie on beat, sequencing still images, etc.
So, I think the big difference between applications is the workflow, so it depends on how you, the user think about creating things. All VJ software has a bunch of same features, triggering files, change speed, colors, etc., the big difference is the workflow, so I think an artist will choose software which works like his/her workflow. For an other example, modularity is a great thing, but a lots of users happy with built-in features in apps and never thought about it can be different.
It's integrated into your app quite a lot – but what attracts you to Quartz Composer?
The great thing with QC is very easy to learn the basics and use for non-programers too, you shouldn't be a coder to do a simple image rotation for example. On a developer side, the system integration – using QC stuff inside an application is easy – is a very important thing in my opinion.
It also have a lots plugins, and great media handlers, so a lots of things is possible with QC – basically, CoGe just connects QC stuffs under the hood, nothing magic.
What impact does Syphon have on how developers might approach VJ software today?
I think Syphon has a lots of potencial and its a very great stuff – connecting different sources into other applications is really opens some doors, just think about "sending" images from Max and Processing, and you can mix them in CoGe in a very simple way. That couldn't be possible before Syphon.
Do you have opinions about whether VJ software should provide more advanced audio controls? And sequencing controls? Or is it better to sync VJ software to something like ableton?
I really like sequencing, using clips and stills in sequencing can provide really good things. With audio controls you can have some fun, but the really good choice is syncing with an audio host if you would like to make real AV things.
What are the challenges of making a good performance interface?
It depends on your workflow and what you wanna do in the performance. I recently just using 3 layers with a lots of media presets and some simple effects. If you using a lots of things the new Aligner stuff helps you to make smaller groups on the screen, I think its a very important feature.
What are you happy about in CoGe today?
CoGe 1.1 release makes me happy, i got a lots of positive feedback on it, and saw some really nice things created with CoGe. Also happy because i have a lots of ideas for the future 🙂
Thanks Tamas!
Autobot Roulette: