No Swiss passport stamps for me, but Lucy Benson ( VJ Nosis / Melb – Belfast – Zurich – Berlin etc ) who has recently migrated to the Northern hemisphere, and is rad, found herself at the Mapping festival. And so, it seemed more than a good idea to let her have my technoscape column over at 3Dworld mag this week. Below is the edit to fit into print, over yonder, there are many more words, many more photos.
**
Over the last 5 years, Geneva's Mapping Festival has earned a solid reputation for showcasing the world's preeminent 'Visual-Audio' artworks and technologies, maturing into a lengthy 10 day event with a strong emphasis on live performative acts and VJ culture. Some highlights in 2009 :
Kine TXT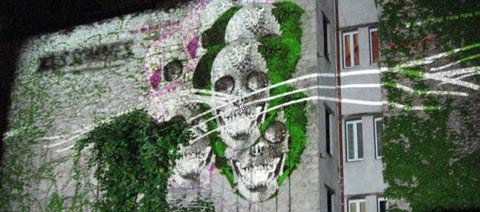 KineTXT is a live story-telling collaboration between *spark and another UK outfit, Novak that allows live-generated illustration, text and poetry to be composited together in realtime and manipulated via a wii remote to develop a meaningful progression of narrative. It's a beautiful project and despite some last minute technical difficulties – including rain, the show delivers and the six busily active artists and live soundtrack make for an absorbing spectacle.
KineTXT's live camera action turns out to be indicative of a clear trend at the festival. Performers from all parts of the world embraced the potential of a live feed, human involvement celebrated on stage rather than hidden away behind screens and consoles and bringing to mind the emergence of a certain folk-like inclination amongst the artists. It also signified a lovely return across the festival to a human perspective of time, the most real real-time there is; the time it takes a body to move, breathe, think and react.
Visual Feedback?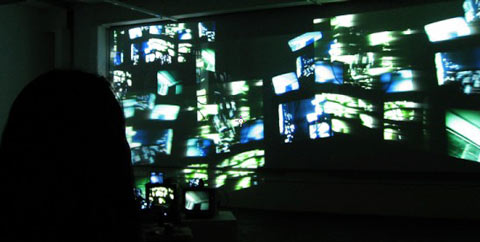 The deceptively simple work, Inside/Out, by Croatian artist Klif is made up of 3 computer controlled cameras, eight monitors and five projectors. The cameras, feeding into the monitors, pan and zoom across the installation sending glorious cascades of feedback across the large room. The open mechanics of the work provide a fascinating centre piece to the installation and lend themselves to a variety of spontaneous interventions from visitors to the exhibition.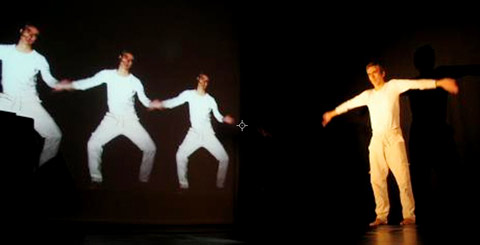 Reflexus is Spanish audiovisual processing software developed in Open Frameworks for theatre productions, and allows live camera feeds to be processed with a variety of effects, linked to an audio synth (currently the project uses Reaktor GUI components) and played back to stage. Not exactly groundbreaking, but it allows dynamic manipulation of up to 80 or so(!!) layered video feeds. Without a single dropped frame. Impressive. And the hour long showcase performance, featuring seamlessly integrated dialogue and action between ten or so versions of an actor, was mesmerising and a real highlight (despite being delivered entirely in French).
Collectif Akrylonumerik, France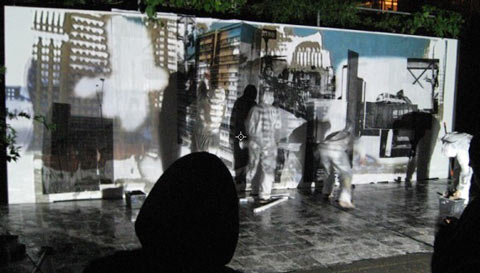 A collective of four or five street artists, dressed head to toe in white, a dj and a visualist on laptop projection. Starting with a blank white-papered wall, the artists build a foundation of graffiti and paste-ups for the projected illustration and video, creating a series of beautifully composed, continually evolving, hip-hop meets punk mise-en-scènes. The show is incredibly good at times, with an infectious street-party atmosphere and some mind-bending transformations between the physical artwork, the projections and the white-suited artists themselves. The real strength of the work however was in it's thoughtfully constructed progression over the show's duration.

VJ performances
The beautiful control and pacing evident in many of the performative artworks was sadly lacking here. Perhaps VJs are so used to their work being backgrounds that the tendency towards flashing, eye-grabbing graphics and technique, at the cost of meaningful imagery, is so ingrained it's hard to break away from. One exception was Poland's PussyKrew who built a controlled and considered show, utilising a restricted canvas area to great effect.
Overdosing
Noticed a surprising tendency for cheesy, overly-sentimental or effects-reliant material – often from an artist who a moment ago had been displaying something truly captivating. Perhaps as artists we all have our particular stylistic achilles heels – aesthetics that for some reason resonate with us, but leave everyone else scratching their head. Maybe something to be reckoned with as long as we are asking for a genuinely personal experience from these performers.

Outdoor Projections
Impressive video mapping technologies? French artists Exyzst certainly delivered with their closing night performance mapped to the riverside Façade de l'Usine. The piece was sonically and visually synchronised to that extent that stops you noticing either individual medium and simply transports you temporarily.
Germany's Videogeist also stood out, breaking the mould with some painterly generative art and an augmented version of the building that differed from the neon neo-futurist vision inextricably bound to this technology at present. Another French team, Digital Slaves, also went for a more organic aesthetic with some particularly nice moments, however were let down by the lack of synchronicity between the sound and vision – unfathomably for each of their short sets the audio abruptly cut out before the visuals.
VIDEOHUAHUA
Videoman (Fernando Llanos, Mexico) brought his own take on the festivals tagline 'deviant electronics' with his invention: the Videohuahua. That's a chihuahua with a mini projector attached. Of course! Fernando and the Videohuahua (a very cute fellow named Chamacos) were an unmissable pair at the various evening events as well as the clubs and parties backstage. Little Chamacos won many fans, tottering alongside Fernando, beaming his art into the night and lighting up more than just the Geneva streets.
(( Thanks to Lucy for the report, try her full version ( twice as long))))
Stay tuned for another report, the next one from the home of mozzerella de bufala, over at the LPM festival in Italy. So many festivals, such little time~!
Autobot Roulette: