Recently carried home a Numark AVM02 Audio/Video Mixer strapped onto my bicycle rack with a $2 ocky strap. It survived.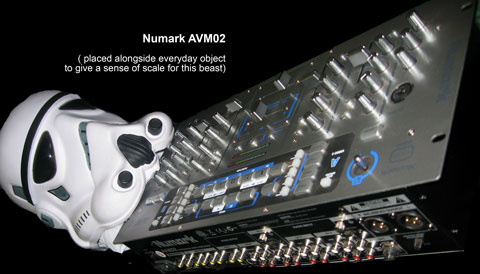 Why?
There are video mixers, there are audio mixers. Combining them into one unit mostly makes sense if you want to mix both simultaneously. One smooth crossfade that leaves your other hand free for shaking a tambourine / zooming in on the sword swallowers contact microphone / scratching OJ Simpson video / making figure 8 patterns in the air with a wii controller / swirling the mike above your head / sipping your coconut juice or you know, clicking your mouse. And it's just nice to have the option of that easy A+V sync.
Strengths
– In short, there's not much else like it. 4 audio inputs, 4 video inputs ( of both S-video and composite), separate cross faders for audio and video, but a button click allows both to be controlled via the one cross fader for easy audiovisual mixing between 2 sources ( eg a DVD playing a clip with sound, and a laptop source, or any other combination of video and audio happening).
– Solid. Robust. It really is Schwarzeneggeresque. The cross-faders can be replaced anyway, but everything on the unit feels durable, weighty, responsive.
– 2 video outputs ( 2 S-video / 2 composite ) and 4 video preview outputs.
– Adjustible mixing slopes
– Chroma keying and Luma keying
– Comprehensive audio in/outs too : Seven stereo inputs and two microphone inputs with audio cueing section, 1/4″ and 1/8″ headphone outputs, master balanced, unbalanced, and control booth outputs.
Weaknesses ( aka AVM 03 wishlist )
– The biggest omission is no master fade-down option for the video. Let alone the option to fade down both audio and video simultaneously.
– No midi ( or OSC ). Would've made the unit so much more versatile.
– No blend modes (add, multiply etc ), just stock-standard 1988 video-mixer style wipes and effects.
– The size. ( (LxWxH): 482.6 x 228 x 105mm, and we're talking 5kgs ) It's quite huge and deskspace hungry.
– Others will bemoan the lack of HD mixing or HDMI inputs. I'd prefer the above first.
In The Wild
Immediately, you'll notice deskspace is an issue. Is big. Where do you put it? Behind those turnables and between that laptop? Maybe sideways next to that midi controller? Spot sorted, the large number of inputs is great. Buttons allow easy sorting of which video input goes to which channel, and each audio input can be associated with either the left or right hand side of the cross-fader ( eg it allows the cross fader to mix 3 audio channels across to one channel ). The keying works well, the wipes allow some degree of compositing ( but hey, it's 2009, what about some zoom/scale/positioning options for each layer), and the option to engage or disengage the A+V sync to one cross fader is great. And generally, all controls feel good.
Verdict
If you're wanting to mix audio and video, and don't mind the size, it's a great box to have. Does all it's bare bone functions really well, and feels reliable, trustworthy. At around $1500 Aus, it'll only appeal to certain users, but they'll enjoy the added audiovisual flexibility it brings.
Autobot Roulette: