Part 1: The Hustle
Hassle Canon to sell a 7D at cost price in exchange for review, knowing from using the camera, and seeing online videos, that this is a most desirable camera for shooting video.
Part 2: Zoom In
Focus the review on the video qualities of the Canon 7D, knowing that the Canon 5D MK II has much better photo image quality, and that while other video cameras are on the horizon, which promise similarly large sensors but better video handling controls ( eg the SONY NEX range), the 7D holds a unique position for video capture at this point.
Part 3: Dirt, Meet Fingernails
Run around with the camera a bit, see what it can do ( it sucks light in! ), see how it feels ( sturdy, solid, well built). Think back about shooting video with it, and analyse each component.

The Body
Jumping inside, the camera's sensor is APS-C sized which means the focal range of all lenses used with it need to be multiplied by 1.6 ( eg a 50mm lens which gives a natural perspective on a full framed camera, will look like an 80mm lens on the Canon 7D – 50×1.6 = 80mm = a lense which gives a slightly zoomed in perspective.) Lenses are separate, and not something being considered here, but the camera itself feels great. Controls are precise and reliable, built to last. That said, this is not a traditional video camera, with ergonomic focus and zoom adjustments within reach. The small size ( relative to a big video camera) also means stabilisation is needed to prevent too much wobble-cam. There is a smorgasbord of companies rushing to supply supporting rigs, but the cost of these also needs to be considered up front if video is your goal.
Software
– Highly customisable interface ( hardware buttons can be re-defined / has 3 custom global settings for easy access to specific settings to suit particular shooting conditions )
– Saves files to a Compact Flash card, in the H264 codec. (Good quality, but needs transcoding into editing software)
Image Quality
Utterly gorgeous. Induces giddy laughter in low-light. It's not without issues ( google 7D + jello-cam, rolling shutter, moire and aliasing ), but if you've come from any other video camera in the same price range, you'll mostly just be slack-jaw amazed at what the camera is capable of.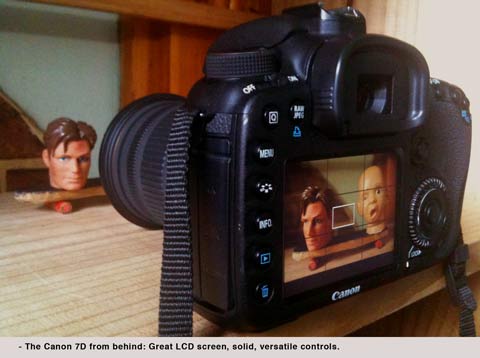 Audio Quality
As lame as might be expected for what is essentially a photographic camera slowly morphing into becoming a video camera. A work around? Record using an external recorder such as the Zoom H4N, and use PluralEyes software to auto-sync up your high quality audio files with your lower quality ones, within your video editing software. Once synced, delete the bad audio, and your filmic masterpiece now has rich sound to match.
Part 4: Duel at Dawn
Compare the 7D with the 5D Mk II, the 7D's only true competitor in the field.
5D: Full frame sensor, greater image quality, more depth of field. Better for wide shots. Use up to 25600 ISO ( ie great for low light). 3.9 FPS for photos. 1080p at 30p only. ( ie 1920 x1080 HD progressive / non-interlaced footage at 30 fps ).
7D: Smaller APS-C sensor ( means less image quality, but also means closer to 35mm movie sensor size and possibility, after adding mods, of using cinema lenses ). Better for telephoto shots. Use up to 12800 ISO. 8FPS for photos. 1080/30p (29.97), 1080/25p, 1080/24p (23.976), 720/60p (59.94) and 720/50p ( 50p + 60p footage can effectively create slow-motion footage at 25p and 30p ).
Aside from the above specs, the 7D also has a dedicated video record button, a better LCD screen for viewing in daylight, and better ergonomics for handling. Plus, this guy recommends it for video.
Part 5: Signing Out
When offering some final words of critical acclaim for this most desirable video camera, don't forget to crowdsource, and point to the huge range of support material online developing around the 7D and it's enthusiastic fanbase. People like to see it for themselves.
vimeo.com/groups/eos7d
vimeo.com/groups/canoneos7d
See also:
The skynoise intro to DSLR cameras and an overview of
steadicams and video stabilising systems DSLRs.
Thanks to Canon Australia, and to 3DWorld for printing the review.
Autobot Roulette: