Considering cinematography as a dynamic flow through time and space, it's hardly surprising that skateboarders often demonstrate a flair with the camera. Most are familiar with the skate background of Spike Jonze, but let's tilt the hat to a few other skate creatives.
What's Up, Stacy Peralta?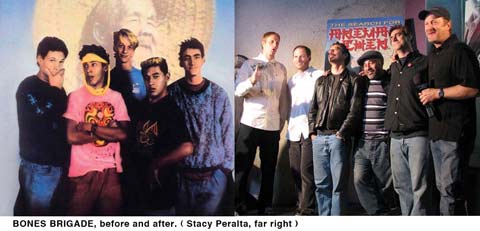 After developing a public profile in the 70s as a sponsored skater with long blonde Californian hair, Stacy later used this to form the influential skateboarding company Powell Peralta ( with George Powell). As a marketing move, they gathered some of the best skaters ( such as Tony Hawk, Steve Caballero, Lance Mountain etc, to represent the company as the Bones Brigade. Crucial to their wild success was a series of videos directed by Stacy, which fruitfully combined 80s skate gymnastics with collaged graphics, cleverly repurposed weird locations and artful editing. The Search For Animal Chin probably reigns as the most notorious of those, as the skaters wander between skate locations trying to find the kidnapped grandfather of skating, ending their search at a giant custom built ramp when they realised Animal Chin represented the true spirit of skating, and was within everyone. Further refined, Stacy's technical skills were again well employed on his first feature, Dogtown and the Zboys ( a history of early Californian skating), then Riding Giants ( about big-wave surfing ) and Crips N Bloods ( a history of racial violence caused by segregation in Los Angeles ). From there, apparently he went onto sell hamburgers : whoppervirgins.com.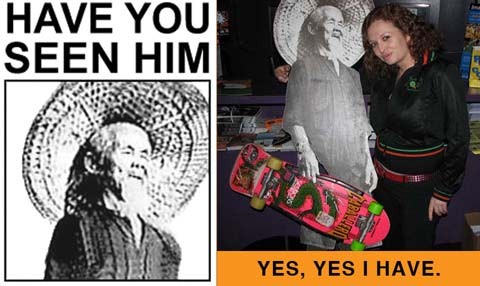 Breaking News from image above: Animal Chin found by Ilana Taub.
Macho Tail Drop
Pitched as a Michel Gondry influenced Charlie and the Chocolate Factory for skaters ( If that sounds implausible, check the trailer ), MachoTailDrop zooms out from the celebrity skate circuit and tries to examine the skate stardom making machine and it's impact on a young skater. While this terrain is covered by Stoked, The Rise and Fall of Gator ( a true and sad story of a skater succumbing to the pressures of the public limelight ), MachoTailDrop explores this from a wildly imaginative perspective. It's a promising feature debut from co-writers and directors Corey Adams and Alex Craig, who won a $1 million prize to shoot their flick, and a teaser click will have you watching flaming riverside halfpipes, underground caverns, horses wandering inside a mansion and some quite decent skate tricks.
Paper Cut Grinds
Tilles Singer has fantastically reimagined the classic skate magazine photo sequence, by cutting out skaters in each stage of their tricks, then having them perform as stop motion animation skaters on his table top, alongside or on top of various props. It's a gorgeous effect and well worth a few replays.
Pool Dreaming
I had a dream ages ago that involved skating a curved pool – that was full of water. It was easier to balance underwater – you could lean away from the pool wall while riding up it, and could really carve up towards the edge of the pool in a really controlled way, kind of like skating in slow motion. At some point my underwater skating brain thought it'd be good to get some air ( as in the skateboard move, not oxygen, I seemed to be able to skate fine without needing to breathe ), and I started skating towards the surface. Do you know what it feels like to grasp your right hand on the edge of a skateboard as you approach the top of a pool, then burst through the water surface, rise like 3 feet in the air, turn 180 degrees and then dive down again, splashing through the water, letting the wheels hit the pool wall just under the edge, and riding through the pool again? Let me tell you, it feels AMAZING. Watch Bob Burnquist if you need some help imagining. (Found via coolhunter.
Even More Skate Flicks
Cannonball by California is a place, via good.is. Apparently there's a lot of newly empty pools in California these days, while people re-boot the American Dream. If the Trans-Siberian railway is more your flavour, 10,000 Kilometers is a skateboard documentary that documents the two-month-long journey of skaters who travelled from Moscow to Hong Kong by train, skateboarding the unique architecture of various cities in Russia, Siberia, Mongolia, and China along the way.
UPDATE: A timely tweet by William Gibson, points to this "Tarp Surfing" video ( which, yes, features skateboards.. )
UPDATE 2: Ok, so I'm not going to update this post with every single new weird skate video, but this was too good to pass up: Flaming skaters in Mexico, via Dangerous Minds.
Autobot Roulette: