Once you've figured out your DSLR camera, the next problem for shooting video with it, is going to be removing shakiness. Walking around with a handheld video camera generates jerky footage, especially with smaller cameras such as a DSLR. It doesn't need to be this way.
The Cheap Option: Steadycam.org
Johnny Chung Lee has an infamous tutorial for building a steadicam with $14 of parts and needing one hour of your time – or you can order a kit for $39.95 if you wish. Bingo.
The Even Cheaper Option
A 'string tripod' is an old photographers trick, which simply involves finding a bolt in a hardware store that fits the underside of your camera, and attaching a 1m or 2m piece of string to it. Carry this around in your pocket, and when needed, attach bolt to camera, let string fall to ground, step on the string, and pull the camera upwards until the string is taut. Instant stabilisation.
The Bling Option: Steadicam.com
Aside from their Hollywood rigs which effectively turn camera people into stormtroopers, Steadicam also deliver smaller systems for smaller video cameras, and even a version for the iphone – the 'Steadicam Smoothee' ( though you'd really have to question spending any money on that rather than getting a better camera). For smaller cameras though, there's a whole new range of emerging players coming through.
Given the armies of DSLR wielding hipsters roaming the streets, an inevitable side industry has spawned to fit them in thin exo-skeletons for their auteur adventuring. A few of the key players include :
Redrockmicro.com – handheld, shouldermount and cinema style rigs.
Glidecam.com – These have nice 'gimbals', a kind of gyroscopic ball bearing system, which allows movements to be transferred to the handle, rather than the camera. Found one of these on ebay for $250.
Zacuto.com – Aside from a range of DSLR rigs, they also make add-on viewfinders, which can make the mobile filming process happen much more smoothly.
Cinevate.com – Large range of rigs
There are a quite few other manufacturers too ( eg The Blackbird Camera Stabilizer
The CB 105 counter balance video camera stabilizer), but in general these kits tend to start at around $1000 for anything vaguely useful, and spiral upwards quickly. A recent addition to the list is slightly cheaper. The "Indi System", made in U.S. and distributed in Australia by Dragon Image – is $950 for a complete rig, including focus follower, shoulder mount, adjustable handles, and rail sections for attaching externals ( lights / monitors / microphones etc ). I was able to try one out recently at the Camera Expo – felt good, solid, reliable.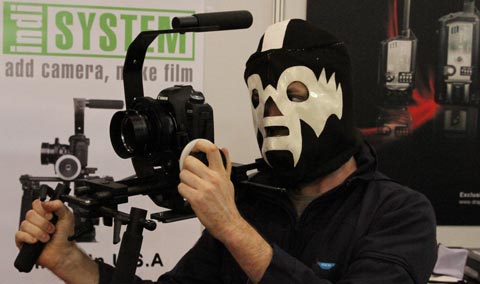 Still Need More Camera Movement?
A dolly is a wheeled platform that rides on a track or smooth floor – which generally means a lot of weight and volume to carry around for shooting. There are a couple of interesting alternative solutions around though. The Wally Dolly and Track System is a portable and minimal weight rails system made in Australia. Another option is fitting a rails system on top of a tripod, allowing the addition of smooth motion to framed shots – eg Glidetrack. Or a DIY Dolly? Sure. Built with skateboard wheels if you want. And when it's time to graduate to a motorised dolly system, you'll be ready to shoot the next ash spewing volcano…
See also: steadishots.org – "Where the skills of the men and women responsible for some of the most memorable shots in television and cinema history are put on display."
How Steadicams work – see how they eliminate shaking and rolling..
Autobot Roulette: