Japanese audiovisual performance that takes in Super-Collider, NES emulators, circuit-bent Pikachus and custom iphone controlled sound synthesis programs and video sampling systems? Ah, that'd be Craftwife. They play "70-80's style techno pop music in the special costume that may remind you (of) a German band (.. in a miniskirt)." Takeko Akamatsu took time out from touring Australia's East Coast, to answer a few questions.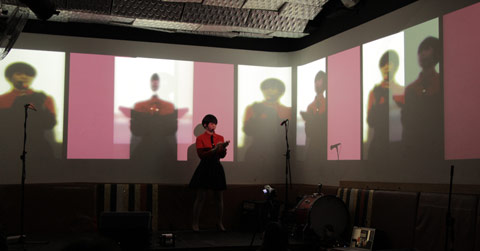 [ Above, Craftwife @ Horse Bazaar, Melbourne, Wed Jul 28, 2010. ]
How do you describe your show?
It's an audio-visual performance and it looks like a techno pop music live. But I combine many elements in a show with many thoughts. So I'm very happy if audiences can see my performance in different, various way.
Kraftwerk liked machines playing notes, claiming it freed them up for composition… What have Craftwife been freed up to do?
Making music with computer is something special for me. I found many musicians are still following the traditional way, i.e imitating a physical phenomena with machine. I'm not interested in it, I've been trying to find the new way to play music with computer programming and technology. I really don't like keep on doing a same thing, "Practice". So that I'm happy I don't need any sweaty practice to perform as Craftwife.
How does a circuit bent Pikachu fit into your show?
I have a project called "Craftwife + Kaseo + ". Kaseo (is the author of Pikarumin – bent Pikachu) plays powerful and loud noise music. The style of our music is very different, but we have common thoughts about the sound and music. And visually, you may find some Japanese "Kawaii" or "character" culture. Also I love the contrast of my "clean" programming, software and his messy, physical hardwares.
What has been your favourite / ( or would be your ideal?)  place to play a Craftwife gig?
Craftwife plays everywhere if audiences are waiting for us. I had played in different places such as a small cafe to a nice club or fashion museum  even at an academic conference. I cannot choose which was the best, we're going to have a show in planetarium of my small town in this September and I'm really looking forward it. Hopefully, it must be fantastic if we can play with my favourite German band someday.
What do you enjoy about super collider?
It's difficulty. Memo: sometimes people are used….. to be used by technologies. bababa .. too sleepy…..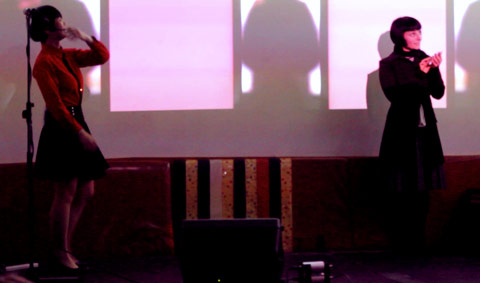 [ Above, Craftwife + Super Collider + custom software + iphone + bonus Kristin… ]
[ Side-note: First discovered Craftwife via a blog post by David Lublin, one of the VDMX head-coders. Popped off an email to see if Takeko would like to do an interview. As well as agreeing to one, Takeko mentioned she was touring Australia soon. Which later turned out to include Melbourne. On my birthday. Thereby continuing the weird sensation that VDMX pulses somewhere near the centre of a cult universe, an electromagnetic conduit for a small but growing band of dispersed pixel gypsies.]
Autobot Roulette: