[Guest post by the esteemed Lucy Benson ( VJ Nosis / Melb-Belfast-Berlin-Zurich etc ), for my Threeworld column, full version and more photos over @ Lucy's. ]
4 days. 378 performers from 26 different countries. Almost 300 performances, workshops, talks and demonstrations. An open exchange of knowledge, inspiration, technology and live audio-visual experiences, events running nonstop from mid afternoon 'til 5am each day. Quite an achievement for the organisers, who run LPM as a non-profit and have managed to grow the event steadily over the last 6 years, whilst maintaining a clear emphasis on making the artist connections the most important outcome of the event.
The heart of this year's LPM was it's central meeting room, a space large enough to act as a workplace and rendezvous for artists as well as the site of various installations, open-platform discussions and presentations. The atmosphere in this room was great – friends and strangers alike shared bench space, laptop chargers, offered technical advice and eagerly enquired about your work, your performance and whatever hardware/software you were playing with at the time.
Workshops and performances were spread across the rest of the complex and the main AV stage boasted a serious 9-projector setup, with screens wrapped around three of the four walls, a suitably impressive and immediate visual impact for the performers, and allowing multiple signals to be distributed across the room for 'VJ clashes' later in the night – apparently a bit of an LPM tradition that sees groups of artists all take the stage together in the wee hours of the morning.
Vidi-Yo!
Mr.Monkeypresso (Hungary) used a triple-head to span his work across the whole nine screens, his performance, Serpendity, a half hour show played entirely from a custom-built Quartz Composer patch. Much of the imagery was certainly very QC-graphics heavy (think cubes, spheres, line work) however Monkeypresso deployed these elements with a rare level of finesse and sophistication, using them very carefully in combination with narrative film footage and harnessing QC's audio-responsiveness to synchronise the whole piece unshakably to it's soundtrack. Never entirely abstract nor entirely pictorial, Serpendity pulled you into it's dark, dense interior like some kind of semi-suppressed nightmare. A stunning show and for pure visceral impact remained unsurpassed the whole weekend.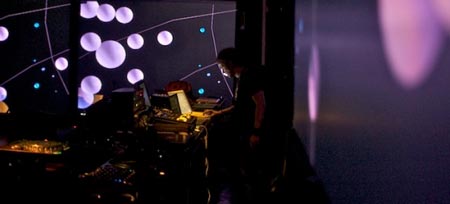 Another favourite performance, was the incredibly fun last-minute collaboration between Oigovisiones (Spain) and German video artist, e (from e-Gruppe Berlin ). Bumped along by a stellar music set from Rafa Gonzalez and Nin Petit (Spain), the combination of Oigovisiones' bright cartoon animations and e's super crisp, subversive vector backdrops was refreshingly original and watching all four crew members bouncing around behind the stage, extremely entertaining. Oigovisiones' dance moves and exuberant Spanish exclamations could have carried the show alone (I wish someone had handed this man a mic..) but the killer visuals, sublime jumpy techno-bop, and enthusiasm of the performers made it hands-down the most contagiously enjoyable set of the event. Oigovisiones said after the show; "I want people to know i am enjoying myself – that I am happy to be up there" and I really don't think anyone could've been left in any doubt.
Other highlights?
The beautifully simple video installation by Marco Calderón (Mexico ) which saw a ping-pong game variously write and erase sections of text from 'The Aleph' by J.L Borges. A theatrical piece from Italy, in which a rather bored looking femme fatale had her face and body explored with a micro-camera by a Mexican wrestling-mask clad man. Servando Barreiro (Germany ) and his techno-tambourine, a homemade 'post-music' controller, complete with accelerometer, built into a 20-pack plastic CD case. Attending an excellent Quartz Composer workshop run by Belfast artist Shakinda and having QC guru Vade (New York ) turn up for two inspiring guest lectures. The U.K's Toby *spark, during an AVIT talk pushing home our potential to create a shared and meaningful community. And hearing the artists behind RomaEuropa Fake Factory ( a subversion of an Italian arts competition that did not allow remixed or open-source content to be submitted ) explain that their version of the competition had been so successful it had actually influenced the original site to change it's entry requirements (they also had a WC installation at LPM allowing you to literally flush copyright down the toilet).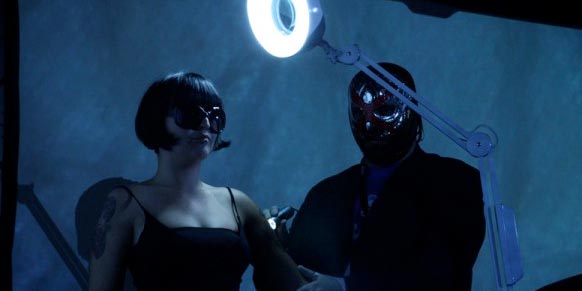 Across the entire weekend, I was struck by the complete lack of competitiveness amongst the artists. Despite the quality of the work, the performances at LPM are extremely transient, which in a sense equalizes the event for everyone. Opportunities, gigs and events were passed on happily and regardless of your medium, aesthetic or background, there was nothing but support and interest from the other artists. The whole event feels like one big overblown family get together; a sprawling party of new friends and shared experiences. And it's not just at the venue – back in the hostels and hotels provided for the artists, the exchanges continue. It's quite something to wake up in a youth hostel and find a bunch of AV artists stretched across the kitchen, twiddling knobs, jamming to music and discussing software over coffee and juice.
Sure there were bad points – the tight schedule invariably led to pushed-back timeslots, doubled-up performances and general confusion about who was on where. But given the nature of the event, you tended to just have another drink, start another conversation and soon all was forgiven. For my part, my half hour set on the last night turned into a five person mashup with my travel partner, Shakinda (Ireland ) and some new friends made at the event. But to be honest, I wouldn't have had it any other way.
[ See also, Lucy's review of the 2009 Mapping Festival ]
Autobot Roulette: