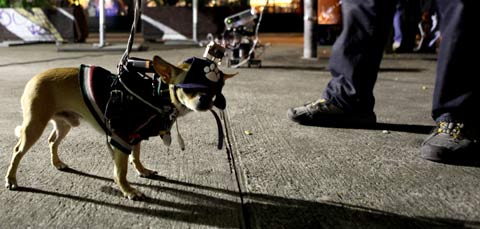 [[Update: Fernando in Melbourne, 2011 ]]
Six legged video projection anyone? You're going to need a miniature projector and cables, you're going to need a Mexican video artist by the name of Fernando Llanos, and most of all, you're going to need, a chihuahua. Fresh from their recent Mapping festival performance, Fernando explains some more.
You are sitting at an airport with a chihuahua, laptop and video projector. A Californian with long blond hair wants to know what the 'Videohuahua' sticker on your laptop means. What do you tell him?
It's a project I made as an artist, it started with me becoming a superhero, VIDEOMAN, and projecting video on the streets, like videograffiti, and now my Chihuahua projects some video too. I'm like Batman, a weird man with no super powers but some technology and lots of guts, and Chamaco is like Robin.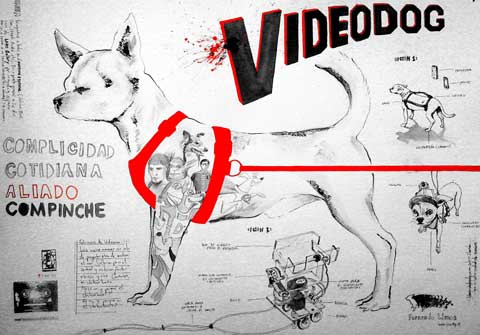 Still curious, he wants to know :  "What kinds of places you project with these ingredients?"
Different places, I have been projecting in 5 cities in 4 years. I call them "urban accupunture", they cause certains reactions, that in certain ways help heal the city or the people that saw them. For example, the first video projection I ever made was called: POETIC TERRORISM, and was the projection of airplanes having accidents on the Airport of Porto Alegre in Brasil.
Impressed that you brought your chihuahua to Switzerland, the Californian is inevitably wanting to know how difficult it is to bring a four legged creature around the world, during times of such cross-border disease phobias. 
It's easier than you thought! You just pay, have the papers ready, and that's it. Nobody told me anything in Switzerland when I arrived. When I arrived to Zurich I made a passport to Chamaco, now he is European. 😛
"And what kinds of things do you project? Do you use sound as well? How does the dog feel about all of this? Is it ever integrated into the show somehow?"
The first time we did the VIDEOHUAHUA, Chamaco got really scared, so while I was putting the equipment, he pissed. People in Europe are more sensitive to this, when they saw him shaking and scared, they started telling me things like DOG ABUSE, etc. But I didn't care, he's my dog and he has to work, it's like in a circus, there's a price the animal has to pay, in order to eat foagra in France and jamón in Barcelona.
The first videohuahua projection was called: CHIHUAHUA'S ATTACK!! And was some video of some Chihuahuas barking really mad at the camera, with sound as lound as we could play: Chamaco got that in his back so he was really afraid!
"And what other kind of art do you do?"
Drawing, Guitar in a band, all kinds of videos, I'm writing a book, published first on my blog and I also like to cook. 😉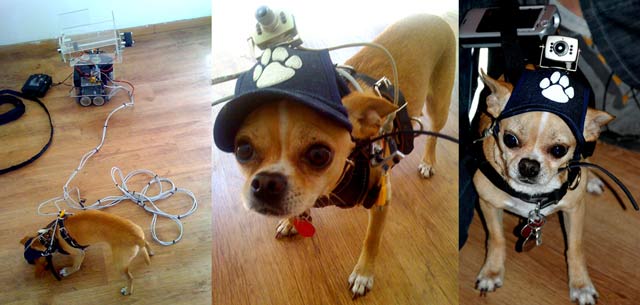 The guy at the airport fumbles for his drivers licence, and smiles sheepishly at you. He wants to point out he's from California, that he knows California and Mexico were once part of the same nation, before California shifted away to join the U.S. in 1846, and you, are not sure why he is telling you this. You receive a text message, and use this as an excuse to turn away briefly, before reading an invitation from a friend in Mexico City to participate in an upcoming show. You are excited by this, the event has a great range of Mexican artists, and a typically creative approach to how it will be happening. What is this event, and who else would be involved?
Actually today I got an email, with an invitation, and I got very excited, it's a review of the 20 years of FONCA, like the official art support institution in Mexico, they are inviting me to participate, everybody is there! 🙂
"Ahh. So who are some interesting digital Mexican artists / art collectives?"
Arcangel Constantini,
Ivan Abreu,
Fran Ilich,
Alfredo Salomon
Hector Falcon
Rafael Lozano-Hemmer
Rogelio Sosa
And if you speak spanish, check my radio programme.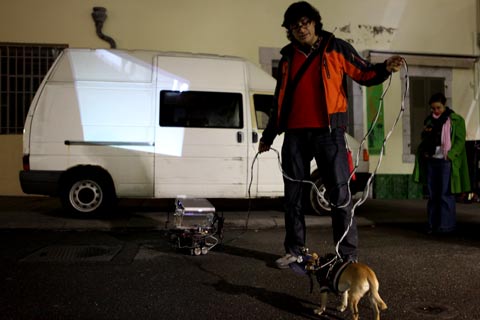 And which airport are you at, anyway, and where are you going?
I was travelling too much, Switzerland, France, Spain, Buenos Aires, Chile, Tijuana, San Luis, etc…. but now happy at home!!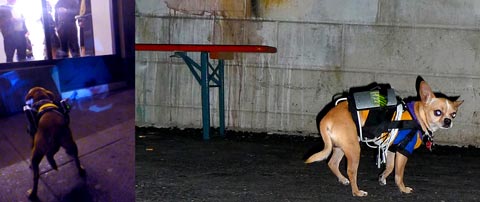 Autobot Roulette: