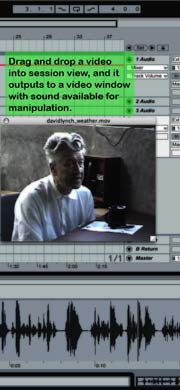 On September 29, 1997 scientists discovered a link between mad cow disease and a human brain disease. On the ninth anniversary of that fine occasion, with a nod to the gods of mutation, Ableton dropped 'Live 6' into the audio ecosystem.
Vat Ist?
Revered with a cult fever since it's first release many moons ago, and as it's name suggests, 'Live' is all about real-time manipulation of audio – whether for performance or studio work. It's latest incarnation sports a few major changes, as well plenty of minor ones, all the while building upon it's wonderful interface – which has really set a benchmark for interface design. Live has and those wondering about whether they should chase DJ software or Live – simply haven't explored enough of what Live can do for DJ and live remixing. With a little taste of Live's capacity for dragging and dropping mp3 files into a mix, adjusting pitch or tempo to suit, adding FX, isolating loops etc – all done in real-time, there is really no question about Live's superiority.
Fresh Meat
Whats New in 6? Movie playback! New instrument and effect racks ( that allow saving and control of multi-fx at once ). New Ableton devices and project management tools. Multicore & multiprocessor support. Mac Intel support. New crossfader curves. A giant instrument collection of samples. And much, much more, as well as various subtle tweaks.
Movie Import
Aye carumba~! While most people are going to want to use this long-requested feature for composing soundtracks to short or long films, the fact that Ableton 6 can play sequences of clips, and output that video to a second screen – also opens up a whole range of live audiovisual possibilities from within the one application. Drag and drop a William Burroughs narrated film about witchcraft onto the sequencer timeline ( weighing in as a hefty 90 minutes and 700mb cpu intensive divx codec ) – and bam – it's added to one of the tracks in the timeline, the soundtrack is visible and can be manipulated, and layers of sound added easily.
Instrument and Effect Racks
Given the endless variables involved with an application like Live, endless noodling can often create wonderful results – somewhere in the middle of the night, in the middle of a mix. The newly added rack feature is a way to capture and harness those combined settings for instruments, effects and plug-ins. As a bonus these can be distributed and swapped online. As usual, this has been implemented in an ultra smooth and efficient way, and it's astonishingly easy to switch between sprawling combinations without a hiccup. The racks also allow one midi controller button to control many elements at once. Live 6 comes with many preconfigured racks with both instruments and common processing tools like guitar and bass distortion, drum processing, and mastering.
Udder Assorteds
Deep Freeze editing technology : 'freezing tracks' temporarily renders multiple layers to audio to free up CPU, and in this version much editing can still be done on a frozen track.
Crossfader curves : fade between tracks in a number of ways.
Multicore/multiprocessor support : Get all the robots working for you.
New and improved Ableton Devices : Beat Repeat seems to offer a lot, there is now an EQ Eight, and the Impulse percussion sampler instrument continues to shine. Most effects seem to come with more presets than before, a huge array to explore even before considering personal customisation.
Project management tools : Easier than ever to save rich settings and related files for use on another machine.
Sampled instruments : from glockenspiels to orchestral strings, a whole swagger included.
Midi functionality continues to improve and expand.
Up to 32-bit/192kHz multitrack hard disk recording.
Tutorials & Community Support
Live's intuitive interface remains unintimidating for spontaneous exploration, but there is vastness to explore in here, and so the in-built tutorials accessible right from within the menu will help most users grasp some of this application's amazing potential. Ableton also have a thriving forum dedicated to Live, and as a measure of it's popularity, have inspired a buzzing network of external forums, bulletin boards, blogs and professional tutorial CDs available to tap into online.
Looking to warp some acapellas, synthesise some drums or handclaps, try your hand at live mash-ups, create sweeps and swooshes, isolate sounds, splice samples or split keyboards? Try these :
http://www.ableton-live-fans.com
http://abletonlivedj.com
http://www.beatmixed.com
http://www.teragon.org/wiki/index.php
http://abletonlive.tribe.net
O'Reilly — Getting Started with Ableton Live
Want to trigger Ableton Live via a handheld PSP game device?
What about playing Live with a blue toothed Mobile Phone?
What do You need to Run Live 6?
There is a free demo at www.ableton.com to give a taste. Beyond that, you'll need $499 US ( download) or $599 ( manual & samples ). Reasonable upgrade prices are available for earlier users.
Distributed in OZ by Musiclink.
Verdict :
If new to Live 6, this is definitely the best it has been, and represents a great time to dive in. If wondering whether the upgrade is worthwhile, that might depend on whether you want to play with video or soundtracks, want to better exploit your newer processor(s), and whether you want to take advantage of the new effects architecture.
UPDATE : skynoise review of Ableton Live 7, and previous skynoise reviews of Ableton Live 4, and Ableton Live 2.
Autobot Roulette: