Choose the 'Ableton Suite', and alongside Ableton Live 7, you'll receive a swagger of new audio production tools. Naturally, all of these will integrate seamlessly with Ableton's deservedly championed interface and work processes. For audio-heads, this latest bundle is truly an 'embarrassment of riches'.
The New Flesh:



Three Collections of Instruments :
Tension – physical modelling string synthesiser – which means massive variations and otherworldly string sounds are possible.
Electric – classic electric pianos with physical modelling synthesis, allowing to dive inside the guts of the instrument.
Analog – emulates the unique circuitry and irresistible tweakability of vintage analog synthesizers.
Two Drum Collections :
Drum machines – classic drum machines, sampled to reproduce, with additional features not in the originals.
Session drums ( boxed version only ) – 28 Gb (!!) of quality drum sounds, multisampled in various ways, thereby offering a studio engineer level of refinement.
Operator – a software synthesiser designed to match the best of Robert Henke's hardware synths, and integrated smoothly into Live.
Sampler – a software sampler with powerful multisample playback and import, and innovative sound design capabilities.
Live 7 Core Enhancements
Live 7 sounds better and it's timing is more precise – there's a new high quality compressor, a 64 bitmode EQ Eight, improved midi timing ( esp. when recording midi in Live ) and an enhanced audio engine. Live 6 sounded good to me, but the new compressor and EQ do sound tangibly better. Both the arrangement and session view timelines can now deal with multiple time signatures within a single live set. REX files can now also be dragged, dropped and played just like WAV or AIFF files (Recycle from Propllerheads converts audio files into REX files – which allow flexible retiming manipulations). Operator, Dynamic Tube and Saturator now feature optional High-Quality modes. Memory management has been enhanced to allow smarter use of large sample libraries ( such as those above ). And there are many, many other incremental improvements, but also some brand new pleasures.
Live 7 New Features
You can now view a spectrum analysis to pinpoint frequencies, gently nudge the master tempo ( useful for adjusting between tracks of different tempo ), insert physical instruments into the Live workflow like plug-ins, all of which is useful – but not nearly as cool as the brand spanking new Drum Rack feature. A single right-click on any audio file, offers the option of slicing the file up into different sections and instantly assigning these to a set of pads, arranged in a square like an MPC style sampler. Being designed by Ableton however, this simplicity is deceptive – each pad can actually contain a whole range of effects, instruments and presets ( meaning each individual sound slice can be treated very differently ). A MIDI clip is created for this collection of slices, and will play back each slice sequentially so the sample sounds the same. Shuffling the midi slices around however is a breeze, allowing beats and soundslices to be reshuffled in typically smooth Ableton fashion. Files can also be drag-and-dropped onto the pads, and REX files can also be used. And there's much, much more to the Drum Rack, flexibility, complexity and power densely packed in.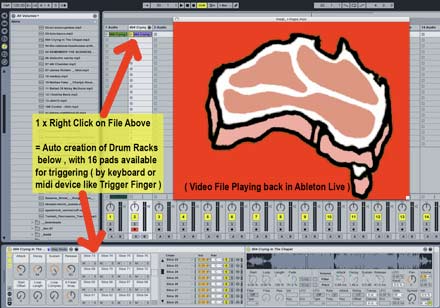 Ableton + Video
Ableton 6 introduced the possibility of importing video onto a timeline, mostly to help film soundtrack producers, allowing them to better match soundtrack elements to a videolip. Ableton 7 introduces the capacity to export video clips, including those which have been edited or warped by time – which perhaps marks the beginning of Ableton Live as a video editing or video production tool of sorts. Ableton's sequencing and timing controls also address a feature lacking in all VJ apps – decent sequencing. Real-time video software has developed rapidly in recent years and now includes many of the different flavours of crazy that audio software has enjoyed for years – but no sequencing. As a result, many synchronised audiovisual performers send some kind of midi signals from audio applications, to trigger video clips within video applications. Ableton Live is usually the preferred application for live audio and midi in this context, and the last year has seen plenty of hacks with various techniques and plugins to try and deal with the many difficulties still existing in this process.
( The CreateDigitalMutants have been steadily documenting one of the best collections of the weirder options with Live. )
Ableton Suite Requirements?
649 Euros ( or half that for students / educators )
Mac: G4 or faster, (Intel Mac recommended) 512 MB RAM (1 GB recommended), Mac OS X 10.3.9 (10.4 or later recommended), QuickTime 6.5 or higher, DVD-ROM drive
Windows: 1.5 GHz CPU or faster, 512 MB RAM (1 GB recommended), Windows XP or Vista, Windows compatible sound card (ASIO driver support recommended), QuickTime 6.5 or higher, DVD-ROM drive
VERDICT ?
The Ableton Berlin kids are still slaying with this release. They've refined and extended the features of the application, integrated new instruments and processes, allowed ever more complex workflows and at the same time have managed to retain a smooth and consistent interface. When it comes to real-time audio – there's really nothing else in town.
Ableton Live 7 Tutorials
http://www.ableton.com/tutorials ( how to rewire Live with other audio software, abundant tips, tricks, techniques )
http://www.ableton.com/movies ( useful video run-throughs )
http://www.ableton.com/pages/forum ( Giant community of Live-hackers, tinkerers and problem solvers )
http://www.ableton.com/artists ( Explore how plenty of big names are using it )
ableton tutorials on youtube
eg drum racks video.
Different approaches to using Live – 'Draggers vs. Set-freaks'.
livetweak.com host forums, as well as 'custom Live instruments' uploaded for sharing
eg "Glitch Rack – Rack Patch by 3rdordertrauma: For all the fans of glitchy random broken beat kinda sounds. And for those of us who don't have the "Glitch" plug cause we are on mac os."
remixmag.com/ableton_tips_tricks, ableton-live-fans.com/forum : Warping Accapellas, Using groove shadows to spice up drum loops, Isolating vocals and sounds using the Ableton Live Utility plugin, VST Synths with polyphonic arpeggiator?, Live with MsPinky & more. loveableton.com, abletonlivedj.com/forum, 4 hours of Live video tutorials , Ableton Live 7 – Slice to Midi video, it just doesn't end.
Useful Plug-Ins
"Just Add Music is your new powerful visual companion for Ableton live 6/7 on Mac OSX 10.4/10.5, from creation to production to performance Just Add Music takes you into the new audio visual DVJ world. All by using Ableton Live exactly like your used to."
The Smart Electronix crew maintain a good collection of donationware VST + AU plugins for both mac/pc.
The Plogue Bidule Peeps also a do a range of free VST plugins ( mac/pc ).
Mangle, glitch + FSU in Live

Via Kyle ( thanks ) – Tobybear has some fantastic ( PC only) VSTs that have been around for a while. One of his that I use a lot is Peakfreak, an audio to midi converter. Great if your VJ app does not have something like this built in (and also good for AV with Live + Video app).
AND-D-D-D – this'd seem to be the mother-lode for mac-based VST / AU plug-ins… lots of other free mac audio tools here too… +bring it!+
*Please Holler ( via the comments )* if you know of any useful / weird / great VST or AU plugins that help transform Live for you, especially any in relation to synchronisation with video and VJ software, and esp mac-compatible and I'll add them to the list here…
(Previous skynoise reviews of Ableton Live 6 )
Ableton Live 4, and back in the day… Ableton Live 2.
Autobot Roulette: