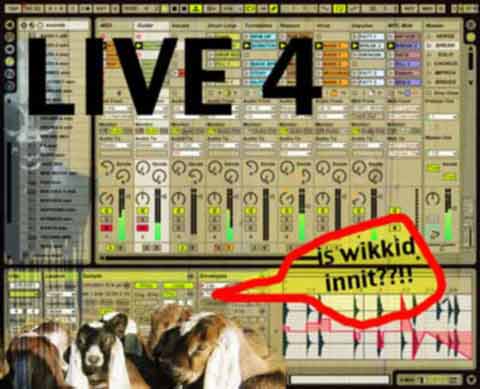 Ready to drown himself, apparently Buckminister Fuller reached an epiphany at the shore and went on to become one of last century's most famous inventors. Berlin-boys don't surf either, but mighty must've been the epiphany that lead the two musicians known as 'Monolake', to start up Ableton and become two of this century's most innovative audio inventors with their musical performance software 'LIVE'. And what a stupendous beast Robert Henke, Gerhard Behles, and their Ableton team have unleashed.
Ze Big Picture
Straight up – let's admit – compressing the breadth, depth and features of LIVE 4 into a review is an absurd task. If you are interested in producing or performing audio with your computer, the LIVE 4 demo is an essential download – and wrestling with it is the only real way to grasp how gracefully and fluidly it allows incredibly complex real-time manipulations. LIVE 4 is a powerful yet intuitive composer, sequencer and recorder and it's combined tools make it a monster of a live performance vehicle.
Another good way to scope it's boggling potential is via the extensive array of tutorials and videos at www.ableton.com which showcase some of it's real-time performing, sequencing, recording, remixing, midi and FX abilities. Stuck here in review land, best we can hope for is an overview of some of LIVE 4's new features.
MIDI
Far from the elevator muzak it conjures to many minds, MIDI doesn't have to be such a dirty word. As a protocol, MIDI allows complex instructions to be quickly exchanged between software and hardware without having to send large samples. More like – play this sample now, play that sample then. MIDI can also be used to synthesise 'virtual instruments' – which is where much of it's bad name has come from, and is great for synchronising different hardware. It has been one of the most requested features for an updated LIVE, and in typical style Ableton have delivered above and beyond – with a fantastically intuitive integration of MIDI. MIDI clips can now be easily dragged and dropped into LIVE, sequenced and combined, edited and graphically adjusted with the mouse, and even exported. Google yourself a midi clip for your favourite song, or search for 'midi' & 'name of song' in a peer to peer app, throw it into live and remix away, changing, adjusting, effecting on the fly – as it always is in LIVE. Plenty of functionality to please midi veterans, and a smooth and easy interface that'll leave them grinning.
AUDIO
LIVE 4 continues to make crazy audio manipulation deceptively simple. Double click on a loaded sample to reveal – as it continues to play – a whole range of parameters that let you time-stretch, pitch-shift, reverse and time warp your sample. Dynamically control the volume, pitch, panning or FX of a clip by drawing curves over your timeline. Access to clips is all done via LIVE's very well designed 1-window interface, and clips are easily previewed and added even as the software steams on. Built-in FX, VST or audio unit FX are also easily accessed via this interface and easily applied to individual clips or the entire mix. There's much more but you need to play it.
PERFORMANCE
Built by people who know what live performers need, Ableton LIVE absolutely cleans the floor when it comes to versatility and live performance. It's dual modes of operation – session view and arrangement view – work extremely well as ways to quickly navigate a song timeline or for zooming in on particular aspects of a single sound or sound effect. Very easy tempo changes, beat-matching, time-stretching and pitch-shifting allow fluid mixing between tracks and a DJ style crossfader has been added to the multitrack controls for this version, allowing easy fading between any number of tracks. All audio and midi files can work in synch easily, allowing a myriad of triggering and improvisation possibilities. And all audio and midi clips, as well as FX parameters etc can easily be mapped to whatever computer keyboard or mid keyboard controls you want – for instant access at your fingertips.
Recording & FX
All of the above can be recorded for later editing and refinement or playback as audio. There are plenty of editable automative controls for mixing and effects control movements and an unlimited undo allows unlimited experimentation. Even while the music is playing you can easily record parts of all of what you are playing onto a separate track for on-the-fly resampling and remixing. There's a whole bunch of Ableton FX which are pretty good with a good range of presets, but of course these can be expanded upon with VST and Audi Units & Rewire – for wiring other applications to become 'slave' applications to LIVE. Again, there's so much more, but…
System Requirements
Mac – G3 or faster, 256 MB RAM, Mac OS 9.2 or later / Mac OS X 10.1.5 or later
PC – 600 MHz CPU or faster, 256 MB RAM, Windows 98/2000/XP, Windows-compatible soundcard
& 499 Euros ( it's not cheap, but it is good ) – which also buys you a huge selection of royalty-free loops, built in tutorials and starter sets and a printed reference manual.
Verdict
The abbbb-b-b-so-lute bomb when it comes to real-time audio manipulation.
See Also:
Ableton Live 7 Suite Review
Ableton Live 6 Review
Ableton Live 2 Review
Autobot Roulette: