Above, after much hair-pulling : VDMX merrily sending out 2400 x 600 pixels across 2 screens and 1 projector, via the set-up below.
ie – 2010 Macbook Pro –> mini display to DVI convertor –> DVI cable –> Matrox Triplehead2go Digital Edition –> DVI to VGA adaptors x 3.
According to Matrox, only the Triplehead2go DP ( Display Ports in/out) edition is compatible with the 2010 Macbook Pro. I wasn't able to get that to send a signal to projectors, using display port to VGA adaptors. The DP-VGA adaptors by themselves worked fine on the ends of other cables, but when put after the TH2GO DP box, no signal. Weird science.
[[ UPDATE : Finally got Triplehead2go DP edition working with DP to VGA… with some new DP to VGA *active* adaptors. These adaptors apparently come in active and passive flavours, and active is needed. The previous batch of adaptors I'd received from ebay were supposedly active, but didn't work. I found some others locally recently, and they worked fine. Seemed capable of 3 x 1280 x 720 and 2 x 1920×1080 without a problem. Didn't try 3 x 1080P because of the projector set-up.]]
Was just about to sell the older Matrox Digital Edition, which ended up incompatible with my last machine, but aaaaaanyways. THREE SCREENS OUT. And with less than 3 hours til airport-to-Sydney time, for tomorrow's video installing on Cockatoo Island, this is a good thing. Also good – the holy software trinity of VDMX, Syphon + Madmapper all worked perfectly across the 3 screens.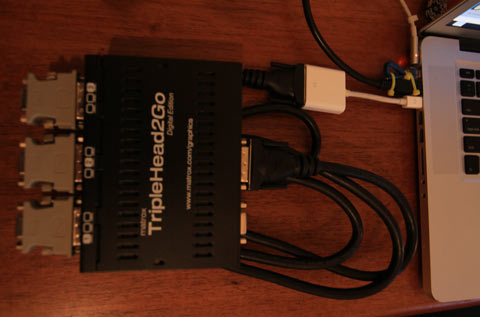 Below, Madmapper stretching across screens, even as computer leads are being stolen away from it and shoved into a bag.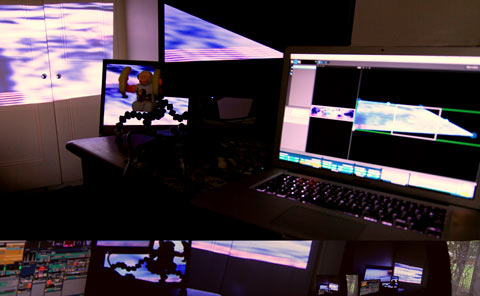 Autobot Roulette: