One makes songs about gay dentists, the other is a legendary French comedian and director no longer with us. Between them, they've delivered us this year, a pair of French feature films about serial killing car tyres and struggling magicians.
French Rubber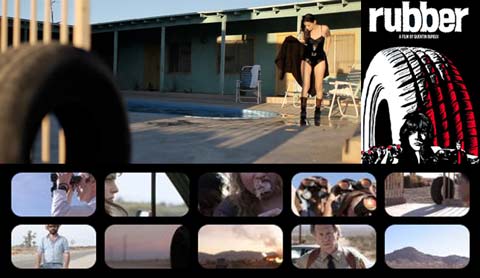 Mr.Oizo, already somewhat notorious from his audio exploits at Ed Banger records, has earlier branched out into music video and film making. Steak, a feature released only in France in 2007, had a plot based around kidnapping, plastic surgery and the fashion world, and handily, featured cameos from French artists Sebastien Tellier, Kavinsky, and SebastiAn ( who appeared as wheel-chair bound car thieves ). Apparently Mr.Oizo himself, Quentin Dupieux, is the only person who has an English subtitled version, after the French producer lost interest post-release in France.
Rubber on the other hand, is already popping up all over the web video radar, with quirky trailers available at vimeo.com, or fresh from the leathery horse's mouth at rubberfilm.com ( and as it turns out, writing rubberfilms by mistake, delivers a premium fetish gallery. Not to be confused with Rubber, the 1936 Dutch flick, or Chris Cunningham's flickerfest, Rubber Johnny ). It'd seem easy enough to think of this as a quirky road movie ( and yet another feature film shot on the Canon 5D), but this rubber tyre serial killer flick might just transcend the genre's usual offerings. Also on the soundtrack alongside Mr.Oizo, will be Gaspard Augé of Justice ( another Ed Banger ). Make of it all, what you will. See Rubber at the 2010 Melbourne International Film Festival.
And In The Other French Corner..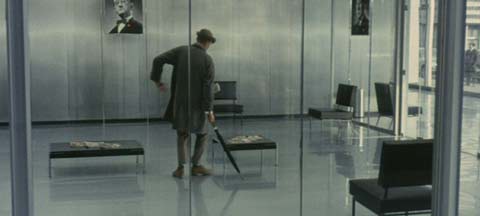 Being both a master of comic timing and carefully orchestrated cinematography, Jacques Tati's films inevitably unfold with visual charm, and an abundance of surprise for the eyes. Playtime, his most famous film, took 9 years to make, was shot on 70mm and involved a set on the outskirts of Paris which resembled a small city in itself. Like his other films, it too took a sword to modern society, lampooning social attitudes and obsessions with gadgetry and convenience, and being near dialogue-less, requires viewing to see just how funny it and Tati are. Interest is high then, for The Illusionist, an animation based on a script by Tati, and directed by Sylvain Chomet ( who also directed the gorgeous Triplets of Belleville animation feature). Tati intended to make the film as a live action film with his daughter, with the plot revolving around 'a struggling illusionist who visits an isolated community and meets a young lady who is convinced that he is a real magician.' And being a French production, naturally everything is a little more complicated.
See The Illusionist at the 2010 Melbourne International Film Festival
Autobot Roulette: