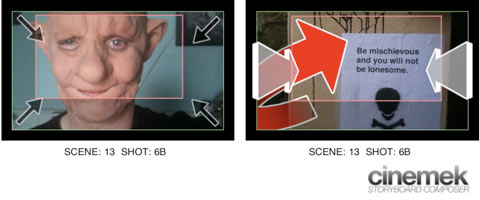 Storyboarding is fun with Cinemek's Hitchcock iphone application. (also known as Storyboard Composer )
When Cinemek's Jonathan Houser dream of 'making innovative film tools' met the iPhone in his pocket, a new mobile storyboarding application was born: Hitchcock. Utilising the iPhone's touchscreen and built-in camera, Hitchcock adds a layer of fun to location scouting, planning for films and storyboarding sequences. The app has two modes – a panel view that focusses on each shot ( gathered from the photo library ) and allows easy overlays of character stand-ins, camera and character movement and text overlays. The sequential mode allows a finger to slide the panels into a sequence, and control the timing between each shot. There's something great about the immediacy of being on location, arranging a sequence, and watching it playback to see how well it works as an idea. Hitchcock is a simple app, but executed wonderfully, with a gorgeous interface that encourages play and re-use. When done, press a button and email your completed PDF storyboard. Future developments include : drawing functionality, adding audio, ability to add custom stand-in characters, export to .mov, etc. Cinemek's Jonathan Houser was happy to answer a few questions about it below.
More : cinemek.com/hitchcock
Tutorials : vimeo.com/channels/hitchcock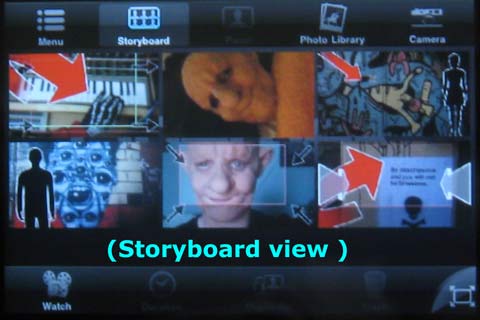 How do you feel about Hitchcock today?
I'm pretty pleased with how Hitchcock turned out as it is version 1.0. It really accomplishes what I set out to do which was create a lightweight mobile app that allows creative people to jot their ideas down in a visual medium. 
What has the iphone platform been like to develop for?
As a non-coder I was really supprised at how easy it was to design the app under Apples specifications. They provide developers with tons of tools and free API's. The hardest part for me was to find a person who had the calibre of coding necessary when you reach beyond those free API's. Jason Thane at General UI did a great job with this. 
What changes would you like in future iphones / the future iphone development environment?
There are many small things that I would like to see. The biggest for me is Apple's payment process. They are really ambiguous about how they pay you. You may receive reports for a given months sales and the actual fund paid are 20-30% less than what those reports reflect. The worse part is actually contacting them about such problems. It's pretty messy but I'm sure it's getting better. 
What's missing for you to develop Hitchcock on Android?
Right now, proven demand. We have been talking to other developers and the success rate for Android porting is very very low. We have not by any means ruled it out, we are taking it one step at a time. There are many updates to the iphone version of Hitchcock we hope to do before we port to other platforms.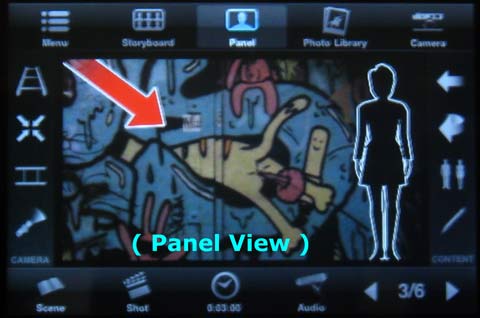 Hitchock feels like the beginning of an interesting animation sketching app – have you had any thoughts about creating an app that tilted more towards animation?
Yes, we are definitely exploring different specialized uses for Hitchcock. I think the animation community is large enough to warrant a application designed directly for that community.
Other iphone apps that impress?
There are so many – for filmmaking, the guys at Chemical Wedding just released an app called Artemis. It's a professional director's finder for the iphone. It contains just about any lens you can think about shooting on. REALLY cool. As for non filmmaking apps, Convert bot has a really cool interface. Its just a conversion app, but the UI team did a great job with the design. Shazam is still such a cool app. There are a bunch of Augmented reality apps coming out which will prove to be pretty useful. 
What aspects of the iphone are least utilised by apps?
I think the biggest aspect of the iphone that is least utilized is multi-touch. It seems like most developers design their apps as ported desktop versions of their app. The buttons are too small and do too little. I think there will be more apps in the future which utilize the whole iphone. 
Do you have a gallery of favourite storyboards submitted by users anywhere?
Not yet. But we are planning on creating a community for that. Keep checking in. 
Popular feature requests?
.mov export is the biggest request. This will be available really shortly. Possibly the beginning of December. Local PDF creation and emailing. Available in the next update as well. Sharing Hitchcock files. This will be available in the Pro version. Many people want to be able to import more PNG's for stand-ins. We are working on a slick way to exchange PNG's on a server. This will be a great tool for people who work on specialized projects. Ie car's, Zombies, Dogs, people with guns etc. 
Other iphone app areas you'd like to explore in the future?
I have a few projects which involved the ipod touch as the software/hardware interface. They are in their infancy still so I cannot go into detail, but they are oriented towards the filmmaking community. 
Hitchcock Demo from cinemek / Hitchcock on Vimeo.
Autobot Roulette: