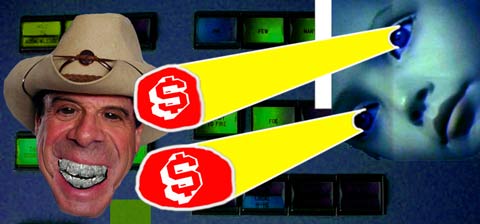 Another monthly round-up of all things pixel.
First Up, Making Pixels
Was reading a funny thread on a motion graphics bulletin board the other day, "So what are you going to do if we get into a depression and our mograph biz goes down the tubes?", which advocated waiting tables, agriculture, back to mom & dads, and new potential for work with 'powerpoint presentations for bank acquisition share holders conferences', 'more corporate clientele (pharmaceuticals and military)', casinos, pr0n, etc.
'Spaceship Earth' was a phrase coined by inventor Buckminister Fuller back in the twentieth century to encourage thinking about the ways we consumed energy and resources. Coughing, spluttery Golfcart Earth rings truer at the moment, but in that same hands-on Bucky spirit, there are still plenty of folk out there cobbling together the next generation of audiovisual gear, and as it turns out there's been some fun stuff coalescing. Let's see what survives the economic tailspin. And keep that Swedish VJ Union card in your pocket.
Software?
Resolume Avenue is now available for beta testing, and looks to have the best integration of audio and video for any real-time software so far. FreeFrameGL visual FX can be easily combined with any VST audio effects to create audio visual FX. It's mac and PC compatible, graphics card enhanced, built on the back of a decade of VJ software development, and quite exciting for audiovisualists. Full test of it to come.
Elsewhere, Quartz Composer creations continue to breed and mutate:
http://abstrakt.vade.info, http://vdmx.memo.tv, http://machinesdontcare.wordpress.com.
Photoshop alternatives online are starting to flourish:
Sumo paint – impressive interface in a browser..
photoshop.com/express + http://tinyurl.com/57mk7r
Hardware?
Oh yeah. That computer in a pocket thing is taking off, who'd have guessed? Aside from applications like OSCemote + TouchOSC, which allow an iphone to use OSC ( the modern networked cousin of MIDI ) for wireless touchscreen controlling of data ( think VJs on rollerskates, DJs on trampolines etc etc ), we're now seeing ( or hearing ) some more interesting applications being released. If having an ambient Brian Eno generator in your pocket works for you. Or you like the idea of a 'reactive music' application (RjDj) that uses software based on 'pure data' and a microphone to generate and control music based on the actual soundscape surrounding you. Maybe file those under earballs actually.
Watching Pixels?
Japanese video artist Nagi Noda died recently, most famous for being an all round champ, and well, a poodle aerobics video. Worth having a browse of her work if unfamiliar.
French VJ style, fantastically framing the video.
Worthy blog addition : infosthetics.com by Andrew Vande Moere, who gave a great presentation at Electrofringe recently. His blog explores 'the symbiotic relationship between creative design and the field of information visualization', ie is regularly peppered with visually provocative posts showcasing examples from all over the globe.
You Tube videos of the now :
Todd Diamond – shining a car sales glitz over the economy.
Schmoyoho – Presidential debates given the auto-tuned vocal treatment.
Meanwhile..
Flickr have a new vomiting panda.
Autobot Roulette: