Another year, another super-soaking of inner Newcastle with a spray of the bizarre to the sublime. Density of programming, and that everything happens alongside the National Young Writers Festival, Sound Summit ( a gathering of independent record labels and artists), Critical Animals ( post -grad theory critters), and The Crack Theatre Festival – means everyone's festival is quite different, the following of one path denying the surprises that thrilled others elsewhere. These are the shards that stuck to me.
The Vinyl Arcade by Lucas Abela* (aka. Justice Yeldham aka DJ Smallcock )
Upstairs : Sit in a dodgem car and watch the results of your steering, on a projector screen ahead of you.
Downstairs : A remote control car with record needles underneath it, zooms around a floor made from vinyl records all over the ground.
The mind's ear might like to imagine this process resulting in distinct grabs of music being pumped out of the speakers – a little Stevie Wonder here, a little classical violin there, but the actuality was more akin to a stuttering noise orchestra. Didn't seem to matter though, delightfully executed : simple, ingenious, stupendous.
* Experimental turntablism eh? Try : "stabbing vinyl with Kruger style stylus gloves, bound on amplified trampolines, performing deaf defying duet duels with amplified samurai swords, hospitalised by high powered turntables, record chance John Peel sessions with the Flaming Lips, and most recently touring the world armed with nothing but a sheet of glass." Guess we can add remote controlled cars on vinyl racetracks to that list. Toecutter in assistance below.




The Church of Pimmon
A former church is the head quarters of the Renew Newcastle project, whose 30+ empty shops now inhabited by artists and galleries certainly added to the festival's saturation of the city, and it was in this highly appropriate venue, that Pimmon delivered a beautifully surging and serene performance 'like a slow-motion whitewater torrent.. in space'. Even included some laptop microphone vocal work towards the end, albeit just one subdued layer rippling amongst the haze. Gorgeous. ( Listen to his weekly ABC radio show: Quiet Space, Pimmon on twitter, and audioboo – an iphone audioblogging tool )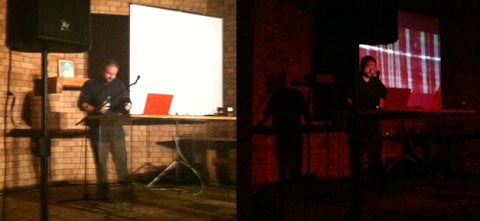 Let's Paint TV
John Kilduff's blurb:
"Host of, and genius behind, the art damaged Los Angeles public access program "Let's Paint TV". He teaches you, the viewer, how to paint, blend drinks, and keep yourself healthy all whilst jogging on a treadmill. Kilduff believes in breaking down the barriers between art and pretty much everything else, in the ultimate aim of embracing failure." Add 25 people in fluorescent clothes, buckets of paint and foodstuffs, a loud sound system, and put them all in a small glass room, and mix heavily. This happened twice daily.
Wade Marynowsky's Dancing Robots
Great to see one of these 'in person'. As well as witnessing it in action, Wade gave a great talk, aided by his electrical engineer Aras Vaichas, about the process of building 8 robots that could detect audience members, dance around them, and occasionally fire lasers directly into their souls. Or just y'know, spook people with seemingly intelligent commentary / engagement. ( More : http://marynowsky.net/ )

Screenings
The Japan Media Arts Festival 2008 animation program was awesome – virtuoso technical animations, but also relentlessly imaginative and diversely themed. ( )
Electro-Projections curated by Michael Prior and Matthew O Shannessy, featured a great selection of unusual and engaging work ( eg the humourous abstractions of Justin Kelly ). Getting a particularly strong crowd response was Skate bang by Damon Packard, an absurdist piece that reveals the power of the edit – cutting between close-ups of snipers shooting rifles, and skaters falling over on handrails, never seemed to wear out it's welcome, even if the clip is nearly all punchline. Apparently he got an inheritance sometime ago, and decided to spend it all making and remaking films, sending a few thousand DVD's of them out to random celebrities as well. Aaaaaaaaanyways…
Gig Highlights
DJ Ripley! Fave act of the festival! ( aka Larisa Mann aka PhD Candidate on the social implications of copyright aka just listen to her mixes! ) She seemed to enjoy the festival too… and plays Melbourne this Friday 9th @ Roxanne Parlour.

Bum Creek – Performance art? Music? Elaborate prank? Crowd ate them up naturally.
Qua – Featuring Laurence Pike on drums, James Super Melody and Cornel on electronic wizardry, reliably engaging, definitely won new fans over.
Not Enough Hours in the Day
Ok, so I missed the zombie rights march, the carpark ghetto aerobics ( well, it was on Sunday morning, the Sabbath! ), the zine fair ( usually such a great selection of DIY comics, books, CDs etc at this ), The DeConverters 'Witness in the Wall' project ( combining surveillance cameras and theatre ), a session about how video in theatre was bad ( ie lots of room for reinventing it ), and scheduled at the very same time as I gave a presentation about 'opportunities for real-time video', there was actually a Brazilian live cinema practitioner giving a talk somewhere else ( Bruno Viana made 2 feature films, and uses this weird circular interface beside the screen to let the audience see how his live editing process is reacting to them. Hope to interview him later on. )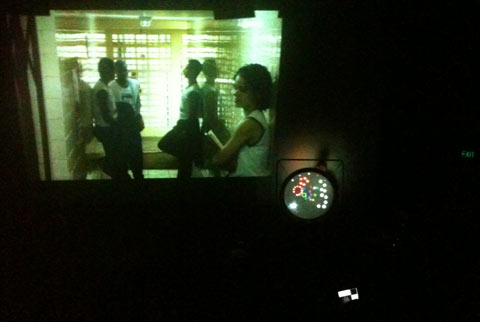 Speaking of 'blurred and frozen time', I also missed Katherine Bennett's exhibition, but over a chat with her ( Assistant Professors of Physical Computing, Rep-re-sent! ) on the way to the light-house, managed to catch Mika Meskanen's Temporary Sauna, a square roomed tent nestled amongst the sand dunes, with chimney, makeshift oven and sauna rocks.

Below, Indonesian trees testing the screen before my audiovisual performance with Dan MacKinlay ( am going to write some more about that later, particularly the Indonesian part of the set, which was based around a performance we did at the OK Video festival in Jakarta in late July 09 ). To the side, Brisvegan Tom Hall setting up for his audiovisual performance later ( which was nicely engaging for such an abstract piece ). Swiss sound artist Gilles Aubry also performed that night, a quite loud meditation on 'planes'.
Autobot Roulette: