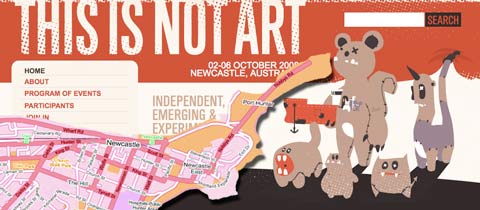 2008 marks a decade of the TINA festival, which each year brings together people from all ends of the country ( and globe) to Newcastle for a weekend of gigs, workshops, exhibitions, installations, panels and general mayhem. It's actually an umbrella for Electrofringe, National Young Writer's Festival, Sound Summit and more, and this time round is happening from Thu 2nd Oct to Mon 6th Oct.
As usual, there's too much going on ( and much of it simultaneously ) for any one person to catch all of, so best bet is prioritising those sessions you really want to attend, and remain open to being swept along by the tides of stuff happening afterwards, be it the official sessions or the impromptu jams / meanderings / debates / disc swapping frenzies spread across the unique charm ( Baghdad as country and western surf town?) of Newcastle's central business district.
Renewable Energy
Nice to note a festival in the steel city and one of the world's biggest coal ports, running a trio of sustainable energy related workshops :
Going Green: Solar Power for Electronic Arts & Culture –
Learn about benefits of solar power for artists, media makers, researchers & others involved in electronic arts & culture. Get equipped with all the information you need to assemble an environmentally responsible & creatively liberating solar power system.
Windmills workshop –
Lock-up & Electrofringe artist-in-residence Chris Poole presents a hands on workshop exploring self powered & sustained micro-projectors. Learn to use wind power for guerilla style public art. Chris will also demonstrate & explain his innovative laser based projector. ( & later – Chris will create & install wind powered micro-projectors around Newcastle over the course of the festival. Keep an eye out for kinetic light emitting sculptures anywhere a little breeze might be blowing … )
The End of Travel?
Peak Oil's coming; time's running out to jump on a plane & see the world. How will this affect our relationship to place? What literary possibilities are afforded by a radical change in pace? What will it mean for the processes of globalisation that inform travel writing today? (( Cheery, eh? Luckily there's also bicycle repair workshops happening @ the festival. Really! ))
Gigalicious
Aye. Many. There. Are. Including, in venues such as The Anti-Social Social Club, the following acts in various states of emotional and literal undress :
Antony Milton, Ben Byrne, Cotti, Curse ov Dialect, Hosebeast, KK NULL, Lucky Dragons, Maruosa, Rose Turtle Ertler, Western Synthetics, Birchville Cat Motel, Tranny Cops Rave Safe Team, b12shot, Ultra Violet MC, Oojah & the Trash, Fannyfighters, Pig & Machine, Press Eject, DJ Svensimu, DJ Baku, Pikelet, Fabulous Diamonds, Jim Denley, Kim Myhr, Matt Hoare, Naked On The Vague, Mt Eerie / Microphones, Subsketch, Boxed Voices ( and yes, more.. ).
What Else?
Solder Girls is a soldering circle with a whiteboard, for those who got a doll instead of a physics kit for Christmas. Take a spoken word tour of some of Newcastle's most fascinating hidden locations. Tired? Chances are you're suffering from 'Artistic Fatigue.' Come to the NYWF doctor's surgery. Checkout an overview of Interactive Cinema Projects from the iCinema Centre for Interactive Cinema Research at University of New South Wales. Explore ways computer based systems can interpret, track & relate movement through a camera. Quartz composer? Two workshops. ( see also workshops for pure data, reaktor, ableton live etc ) Soda_Jerk launching Killer Mix Vol 2 & discuss their remix-based art practice. A midi controlled animatronic penis mask. Join Lucky Dragons (U.S.) as they workshop ideas on collaboration & theories behind participatory art making. Flipbooks & locked groove vinyl? Tick. Publishers from Neural.it (Italy) & Metamute (UK)? In the house. Large slabs of white plasticine to create depth & distortion for a projected image? Uh huh. Interactive video installation reframing real life as a classic noir comic book? You know it. Information Aesthetics? A chamber recital for robots? A chorus composed for 16 bluetooth enabled mobile phones? Japanese festival screenings? Etc etc etc…
Autobot Roulette: