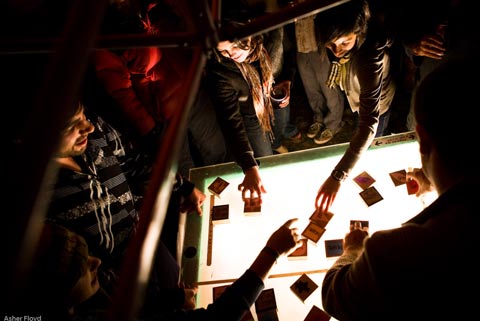 Fusing together contemporary interface design with a love of early dub pioneers such as Lee Scratch and King Tubby, James Nichols has cleverly cobbled together an interactive tactile mixing table which has been wowing crowds at events around Sydney.
Describe your 'dubtable' to a bus full of ice hockey players.
It's like an adult version of one of those Fisher-Price musical toys that you give to young children. You know the ones with big coloured buttons that make fun sounds? It's a large musical toy. You place blocks on a table and music happens. You move those blocks around and mix and match them and crazy sounds happen.
And to a tech-music nerd, what software and hardware do you use to put it together?
It uses a high precision camera that's inside the table looking up at the surface, the notorious reacTIVision software to do the recognition of objects that are placed on top of the table (the "fiducials"), and an audio component written in the PureData environment that does the synthesis of sounds, reacting to the objects as recognised by reacTIVision.
How did the idea come about? What seeded it?
The inspiration half came from the reactable, which a friend showed me a few years ago and that Bjork toured with recently, and half from Lee Scratch Perry/King Tubby. Those original dub pioneers were essentially making new music through such simple manipulations of sound – by turning up the bass on a track, making hectic echos etc etc… I figured the simple interface presented by the reactable system would apply so well to making dub, and would give this technology a chance to do something a little more organic sounding. The original reactable is mainly aimed at making glitch techno.
What have been some different ways you've used it live, and what seems to be an optimum number of collaborators using it?
I've both used it as a performance tool, kind of like some live producer, and as a pure interactive experience where I'm not touching and just barking at people, telling them to experiment and have some fun.
Do you tend to encourage any audience involvement?
Yes, see above. I originally intended it as a tool for people who've never done music production to have a go, without having to learn the ins and outs of a large mixing desk or recording system.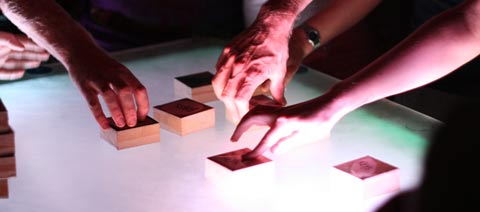 What kind of interesting audience reactions has it had?
Some interesting ones. You really get a sense of different levels of curiousity that people have. Some people will get immersed in the table, comprehend all the possibilities, and start experimenting crazily. Others wiggle some blocks, see a few things change, get bored and move on. It's about 50-50 I think. Maybe some people just don't like the music…
What've been some surprising aspects to using it?
The whole philosophy of interface design has suddenly come to haunt me. It has made me incredibly jealous of Apple and google. How do you make something that is perfectly intuitive? See, some people just don't get the dubtable, they can't understand it quickly enough to be able to experimenting right away, others do. I'm constantly asking myself the question – how do I make this readily usable for *anyone*?
The dubtable has been an unexpected pleasure. The best bit has been the chance to turn things around and make the audience the performers. As a musician, I'm always asking for people to be an audience. Some times it's tiring to always be an audience member. It has been such a great experience to see it turned around and let people perform and collaborate at a show.
Have you been using it to control both sound and video?
I haven't done any video controlling yet. It's quite possible, but this project is only about 8 months old, and I don't have much time! Somewhere in the future I guess. I'd love to get it integrated with the Figureight surround video dome and make a really immersive experience. One day. If I ever get the money together.
What sorts of ideas has the dubtable given you for future development?
There's some projects on the way. Check www.dubtable.net for more info!
Autobot Roulette: