Swimming in images then, or if you prefer, lieing back in an inflated tractor tire and drifting downstream with the sky set to slideshow.
Your New Swimsuit
Whether it's a technology divide, lack of awareness or interest, half of my friends remain oblivious to the charms of having their own personally customised internet delivered to their doorstep. Or to the their RSS reader more specifically. Which bewilders the other half, who wonder how anyone manages the deluge of information without the filtering and auto-update and delivery options of RSS.
At least as people become used to the likes of constantly updating Facebook status updates of friends, or twitter feeds, it gets easier to explain RSS in those terms : RSS allows you to subscribe to the parts of the internet you like, and then instead of going to say Facebook, you can just open up your RSS page online ( eg google reader ), or better, open a dedicated RSS application ( eg netnewswire ) and see articles / images / postings from whichever of your favourite sites have updated recently. ( How to use RSS? The BBC guide to rss, or 'rss in plain english' if you prefer video explanations. )
Aside from world news from your preferred sources, blog postings from your favourite authors, mp3 postings from your favourite musicians, notifications from forums you are on, ebay auctions etc etc – you can also use RSS to subscribe to a steady stream of imagery, which can be a perfect mid-work break to dive into. Most of the photo and image storage sites such as flickr have RSS feeds that allow you to subscribe to everything by a person, by a group, or even by a certain tag or keyword ( inventing unique keywords thus enables lots of people living remotely to easily contribute to the same pool of imagery and easily stay up to date with anything added to that group ). Add a subscription to your RSS reader, and then when you next browse your RSS collection, you'll see any new image additions and can let them flow past, stopping only for what really grabs, just as you might with a barrage of Facebook status updates.
Infinite Paged Coffee Table Magazines
There are also a wide and wonderfully eccentric collection of dedicated image blogs, lovingly ( or dementedly ) curated by photographers, illustrators, artists and others with the twitchy thing behind their eyelids when the lights go off. These are a few recent additions I've been enjoying diving into lately.
Ephemera Assembly man
It was the collection of Tibetan anatomical paintings that hooked me on this, a series of vividly coloured alterna-clown skeletons complete with cosmic medicine colour coding. Mostly vintage imagery collected here, but it's a fine pair of sharp-eyes to borrow if it's yesteryear you're after.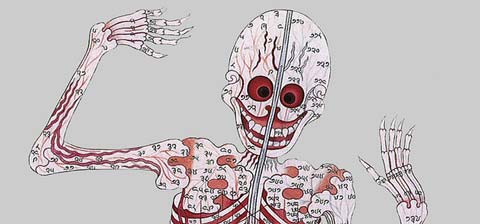 Skull Swap
Aight – this ladies a comedian – and not just in the -look at how many netspeak hooks i can pack into 140 characters kinda way – but an actual stand up on stage full of nerves and swagger and try to make people laugh by saying things into a microphone kinda way. By the comments under each photo, and the mutant clan of jpegs themselves, I'd imagine she's probably pretty good at that microphone thing too.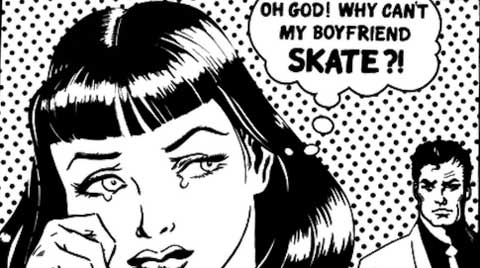 Bodyworld
Well, mostly, this blog is subscribed to in case *anything* at all is published by the creator of the Bodyworld, a 12 chapter comic online in full, and dripping in equal parts with the apocalypse, psychedelic inter personal relationships and quite crazy layered imagery. His tangents, experiments and off-cuts that appear in the blog are well worth the price of admission.
Abandoned Places
What is it about urban decay? Maybe growing up in Newcastle has something to do with my fascination for it, and you've likely seen photo collections of the once thriving Detroit going around, but if in need of more, this site seems to have an army of contributors the world over, whose mission seems to be to document every broken window, every moss covered spiral staircase and every graffiti covered haunted theatre space they can find.
Awkward Families
Painfully funny. No matter how weird your upbringing, there's something to outdo it here.
And Ye Olde Regulars
ffffound.com – an image bookmarking site, whose members keep it eyepopping.
Drawn.ca – the illustrators blog, that illustrators want their work published on.
http://riotclitshave.livejournal.com – Enchanting, bewildering, ever-fresh.
http://www.woostercollective.com – Street-art the world over.
http://www.ektopia.co.uk/ektopia – Well filtered graf + street art.
http://bibliodyssey.blogspot.com – what other eyes have seen long ago.
http://www.vvork.com – like all of the above, except these self-identify as 'art'.
Variety in the diet is nice though, drop a line if you have any recommendations…
Autobot Roulette: