Monkey Marc's renewable energy powered beats go back a long way ( Combat Wombat, LabRats, remote Australian desert tours and workshops, festivals the nation wide ), and the upcoming release of his long awaited solo and solar album debut, provided a good excuse to visit his portable shipping container studio in Melbourne (@ the Collingwood children's farm).
In The Beginning
To trace some of Monkey Marc's pre-solar-studio history, we need to go back to the Lab Rats Solar Sound System (Monkey Marc + MC Izzy ), which was formed to bring music to the Jabiluka uranium mine protests in 1998, transported there by a diesel van converted to run from vegetable oil ( "We actually get more miles per gallon on veggie oil than we do on diesel. Also all the oil we get is old oil so it's all recycled and free. We've done just over 20,000 km's around Australia for basically nothing, and it puts out much less pollution than a normal diesel" ).
At the same time, the Lab Rats van was also fully equipped as a mobile studio running off solar panels on the van's roof. Which made it perfect for post-Jabiluka desert nomadics – the Lab Rats "travelling the country working in many remote Aboriginal communities across Australia with indigenous kids creating socially conscious hip hop, conducting cultural preservation workshops and oral history recordings".
Add DJ Wasabi and MC Elf Tranzporter to the mix, and Combat Wombat was born, a super-charged political hiphop group who eventually released a very well received album on Elefant Traks Records ( Unsound System – which was written and recorded using renewable energy ). ( Download music, videos and more )

Powering Up
Cut to the Collingwood Children's farm, and nestled in a corner is Monkey Marc's fitted out shipping container, with nearby horse trailer from which 6 solar panels provide the energy to keep everything running. Inside the container, his dub weighs a tonne, one end entirely filled with shelves of vinyl, the other end dominated by a large mixing desk ( RTW / Telefunken Broadcast mixer / Mackie 1604 ), and a second hand basketball floor (!!) has been cut up and attached to the floor, walls and ceiling to improve the acoustic properties and make the studio a bit more liveable.
Monkeymarc need 4 panels to complete his ideal set-up, and any would-be solar panel donors are encouraged to contact him. In the meantime, his 6 solar panels provide 5.5 full days of continuous energy in summer, before the 12 x 2 volt ( 1100 Amp Hour ) Deep Cycle Batteries need 1.5 days to recover before repeating. In winter the panels give 4 days of power running before needing 3 days off to recharge capacity. There's also a 400 Watt Airstream Wind Generator on the roof for topping up the batteries too, and an 1800 Watt sine wave inverter allows all the energy to flow compatibly into the studio equipment.
Electricity Eaters
Aye, the power, it flows to a wide range of gear : an Akai MPC 3000 ( signed by Public Enemy no less! ), EMU SP 1200, EMU SP 12, Studio Electronics ATC 1, AKAI S3200 XL, Rhodes 73 Electric Piano, Roland TR 808, Casio F2-1, Publison Infernal Machine, Roland Space Echo 201, Radar 24 recorder, a laptop running Ableton and that Telefunken Broadcast mixer / Mackie 1604.
And So:
Currently gigging in Europe ( Glade Festival in UK, Paris end of July, see www.myspace.com/monkeymarcbeats for venue details ), Monkey Marc launches his solo and solar album 'soon' with a series of gigs around Australia in the months to come. Beyond that, the studio can be easily transported for 'around $200' to remote parts of Australia on a project by project basis, so who knows what the next renewable powered chapter will bring?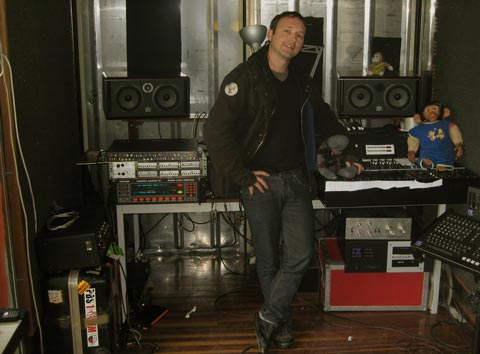 Autobot Roulette: