"It's like someone who understands and values technology and the Internet was elected President."
David Weinberger ( Small Pieces Loosely Joined, Everything is Miscelleanous, hyperorg.com)
Extraordinary week, seeing U.S.A. and the rest of the world embrace Barack Obama's claiming of the U.S. Presidency. Optimism abounds, for the country which currently effects others the most, finally seems to have a switched-on leader at the helm. What might this mean for green technologies, the internet's evolution, and most importantly (coughs), real-time video software?
It Ain't Easy Being Green
Yes, he's just the leader of a party within an overall system of power. Yes, there are 6.3 billion people living elsewhere than the United States. Yes, power seems to be shifting to Asia ( and reasonably enough given one in every 3 people in the world is either Indian or Chinese ). And, yes the U.S. economy seems to be imploding. Despite all this, if the country with the largest environmental footprint can be steered in better directions, this has implications and flow on effects for everybody.
To re-energise the U.S. economy, Obama proposes a shift to 'green collar' jobs, investments in solar, wind, biodiesel and more controversially 'clean coal' technology, and 'safe nuclear power'. Concretely, there is $150 billion promised spending over 10 years to create 5 million new green-collar jobs, and a target for to cut carbon emissions 80% by 2050.
"There is no better potential driver that pervades all aspects of our economy than a new energy economy … Thats going to be my No.1 priority when I get into office."
( Time magazine, Oct 08 )
It's also difficult to imagine George Bush ever saying :
"'We can't drive our SUVs and eat as much as we want and keep our homes on 72 degrees at all times… and then just expect that other countries are going to say OK'."
We'll see what transpires. Australia, which has only recently begun to acknowledge it's climate responsibilities more earnestly, might have to restep up it's efforts. Get Up's climate campaign is a good resource for tracking the latest in Aussie climate politics and machinations, the latest leverage points available.
The Internet
First up – net neutrality. ( via wikipedia : "A neutral broadband network is one that is free of restrictions on the kinds of equipment that may be attached, on the modes of communication allowed, which does not restrict content, sites or platforms, and where communication is not unreasonably degraded by other communication streams. ) The threat here is of having a two tiered internet, where ISP's might provide certain channels at a faster rate, overtime leading to a more centralised delivery of key channels. As might be expected, given the savvy use of the internet to energise and mobilise their campaign, team Obama not only strongly supports net neutrality, will be vamping up U.S. broadband and net research, and advocates more access to government data online. More: http://change.gov/agenda/technology
Audiovisual Obama
Video mixers and bicycle powered sound systems in every school. All media given creative commons licences through the newly founded Department of Remixology. At the very least it'd seem a new administration eager to support research and development, innovation, science and technology, would make it easier rather than harder for armies of people to survive making new audiovisual radness. A potential pair of first nominees for future funds?
Bill Etra : Co-designer of the Rutt/Etra analogue video synthesiser + video special effects system.
Anton Marini : aka Vade, NY VJ, coder, + developer of a Rutt/Etra plug-in for OS X.
Mr.Etra, now 61, lives on disability, and remains artistically ambitious, holding patents for 3-D television and text-based (versus time-code based) editing of video. Says Bill :
"The dream was to create a compositional tool that would allow you to prepare visuals like a composer composes music. I called it "the visual piano", because with the piano the composer can compose an entire symphony and be sure of what it will sound like. It is my belief, that this will bring about a great change and great upwelling of creative work once it is accomplished. This software is one step closer to that since, once we're on the computer, things can be developed and repeated reliably.

I now live on disability and we no longer have corporate budgets working on this development. I would like to spend the rest of my existence working on the project that I thought I would finish in 1972. if you find this software useful, please make a donation in whatever amount you feel is appropriate."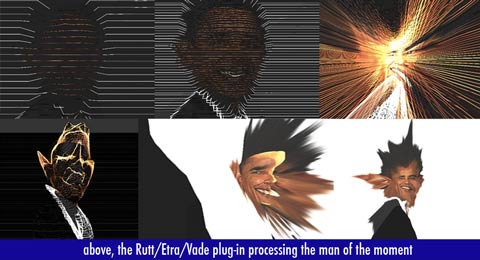 Autobot Roulette: