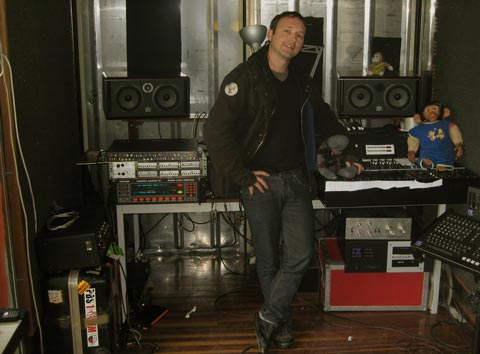 Want to directly support a very legendary local musician, who recently had his solar powered studio broken into?
The unfortunate recipient of the break in was Monkey Marc (Lab Rats, Combat Wombat, esteemed solo artist, and relentless workshop and gig organiser – read more about his technicoloured musical history at monkeymarc.com, or in a previous Skynoise interview).
"It took several months or hard work, a bit of a crazy idea and some help from friends to make the solar powered studio dream come true, and now its been going from strength to strength (despite a few 'electrical' issues) for nearly 2 years. It takes six solar panels on an old horse float and almost one tonne of batteries. The studio itself is built inside an old shipping container."
– Monkey Marc's website, describing his studio at Abbotsford Convent Artist Community in Melbourne, Australia, where he recorded all of the music for his latest album using solar power.
Solar Powered Monkey Fundraising
http://monkeymarc.bandcamp.com will let you specify whatever price you want for Monkey Marc's most recent album (solo instrumental hip-hop, dub, future dub and dubstep) as an 'immediate download of 11-track album in your choice of 320k mp3, FLAC, etc'. It's a pretty good deal – gain a pretty fine album, and the knowledge your donation is going directly towards replacing stolen recording and musical equipment. Help a monkey in need!

Autobot Roulette: