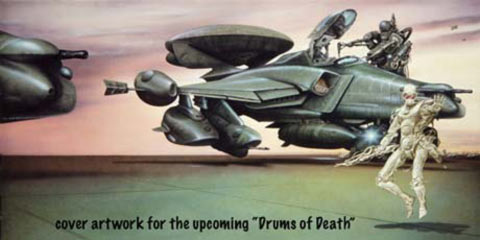 Hip-hop's wheels of steel might soon need to become the reels of steel – what with all them high-falutin DVD scratch-mixers, and laptop AV brats around. Dr. Rhythm Science, Paul Miller, aka Dj Spooky, is of course, on the case. Sydney audiences would've witnessed his 3-screen fitness by now, a live remix of the controversial 'Birth of a Nation' film. Melb_peeps will have to content themselves with his free talk @ Readings Bookstore (Lygon st, Carlton) on Thu 3rd Feb, and his DJ set at the Hi-Fi Bar on Fri 4th. Keep a look-out for Slayer in the audience!
What'd you find challenging about applying your DJ skills to remixing the 'Birth of a Nation' film?
Basically the whole vibe of the film is to think about why America still has the kind of amnesia that would let a an election like the last two happen. "Birth of a Nation" is the first film to show a corrupt American election. Plus, its got the added bonus of being crazy racist. Combine the two, and it makes for a sad reflection of contemporary America. Dj-ing breaks these things down, and that's what I do to the film. Kind of highlight the fact that there's multiple situations going on. That's why I'm "Dj-ing the film."

What seems to work and fail, in the transition of audio techniques to video?
It's all an experiment, so "failure" isn't an option. It's either fun or it isn't. I like to do fun stuff.
Is your show real-time AV or a live soundtrack to pre-edited film?
I composed the music for the film based on Robert Johnson's blues, but mixed with hip-hop. The whole piece is remixed live, so I have alot of the video clip elements that I remix live, and edit live. The rest is all hip-hop.
Why the decision to use multiple screens?
It's more immersive. You're kind of in the flow of the multiple stories.
How has the New York art & music scene responded to 9-11, the Bush re-election and your continued blend of politics within music/art ?
The city is kind of jaded about it all… The music scene is essentially numb, people really are kind of Bush-fatigued.
For the DJ as curator – name 3 headphone tracks for a slow,downhill, cliffside skateboard cruise?
1) Lee "Scratch" Perry – Blackboard Jungle Dub
2) Pete Rock & C.L. Smooth "The Creator"
3) Sonic Youth "Goo"
Any Novel ( Flow My Blood the Dj Said ) timeline updates?
My next book "Sound Unbound" is coming out on MIT Press. It'll be out late this year. The fiction stuff is taking longer than expected, so I think I'll pull a Bush move on that one and say "weapons of mass distraction have made this one slip…"
& Future music?
Next album "Drums of Death" with the folks from Slayer and Public Enemy, comes out in April.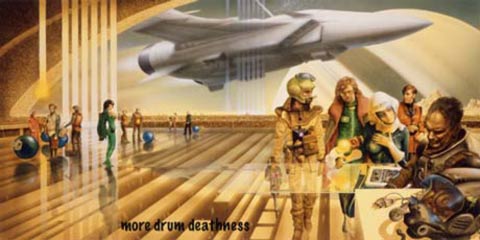 Australian music you've enjoyed?
I like what I've heard of J-Red's scratch routines on some on-line mp3 downloads, and there's a compilation that I thought was cool called "15 OZ: 15 Years of Australian hip-hop" on Crookneck Records that came out last year.
More fingers in more pies : www.djspooky.com
Autobot Roulette: