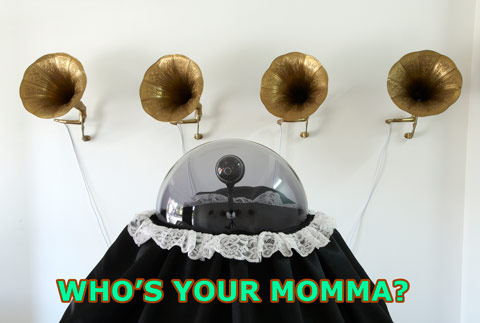 Soon to be (multimedia) Dr.Wade Marynowsky, aka Spanky, aka AC/3P, aka The Old Sydney Town 8 Bit Gimp, aka Mr.Mutantric Australiana, has an exhibition coming up. With dancing robots. 'The Hosts: A Masquerade Of Improvising Automatons', extends Marynowsky's development of custom-built robotics and interactive, performative media and opens Thu Aug 13 @ Performance Space / The Black Box, Bay 19, CarriageWorks, Redfern. Wade kindly took time out from arc-welding arduino units, coding his pirouette routines and cracking whips on the robot assembly lines, to feed our robot fetishes some more.

The local bingo organiser wants to know what your show is about. Your quickest bingo-friendly explanation?
Its a masquerade ball for robots, people are intruders (party crashers) into the space from another dimension. It consists of 5 larger than life autonomous mobile robots, which we have developed programs / behaviours for. The programs also allow the robots to avoid collision and naviagte the space, follow each other. The intention here is to develop robot choreography, the bots can spin trigger lights and sound (voice) and hopefully dance togther.

What would Freud say about your desire to build 5 life-sized robots wearing ball-room gowns?
Uncanny….How freudian , you must love your mum.

You work references 'The Uncanny Valley*', which suggests that "in designing humanoid robots one should not aim for total human likeness, but for an alternative to an uncanny appearance". What drew you into this territory? Or should we say, where were you exactly, when a robot spooked your spine?
(*According to Japanese robotic scientist Professor Masahiro Mori, the Uncanny Valley effect refers to when "…familiarity increases with human likeness until a point is reached at which subtle differences in appearance and behaviour create an unnerving effect." )

I am actually more interested in making the uncanny experience, I hope to give people the opportunity to be afraid or sightly unnerved like the experiences I had as a kid a various theme parks and wax museums.
Which robots have exhibited the most signs of life to you?
Hmm most are kinda quirky and you get over it real quick. I like David Hanson's Phillip k Dick robot head that you can talk to.
(( "Somewhere on a shelf in a cavernous warehouse in Alabama rests the life-like noggin of Philip K. Dick, quietly dreaming of electric sheep. Or maybe the robotic head of the legendary sci-fi author got blown up. These are among the possible explanations for the bizarre disappearance of an artist's homage to Dick." ( more on Robot Dick's head, over @ Wired )))

How've audiences responded to your previous robot installations? Did they react in any ways you didn't expect?
One older lady put her scarf around the robot and had her photo taken with it. People have been convinced that I was inside the robot and that the robot was intelligent in some way.
Autobot Roulette: