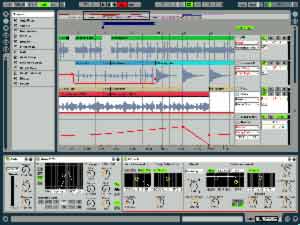 Birds as big as humans have flapped our skies. Giant wings in slow motion through a nectar haze. Sometimes we glimpse these times gone by with our modern pollution enhanced sunsets. In downtown Berlin for example, the Ableton software company would no doubt stare out their windows, lamenting the lack of winged beasties feathering the horizon. Luckily they manage to keep themselves busy, coding one of the best audio applications to emerge in recent years. Founded by Monolake, Ableton have tried to provide flexible software which accurately reflects the needs and processes of contemporary electronic music making – and with Live & now Live 2.0, they've hit the jackpot.
Droppin' The Live Sequencer Bomb
Late last year Ableton updated Live to version 2.0, their crankin' audio sequencer for Mac OS9, Mac OSX, and Windows. Live 1 & 1.5 both offered excellent capacities for live music performance, and were also recognised as fantastic studio tools because the quick and flexible ways ideas could be executed and recorded. Live 2.0 continues refining the performance and jamming features, and adds multitrack recording and editing, making Live even more suitable as a tool to use both in production and performance.
Features
Best bet'd be to browse the online manual for Live 2.0 at ableton.com to get an idea of just how flexible and powerful this baby is. Even better? Try the demo version also available at the site. At a snap, some of Live 2.0's key features include:
– the addition of multi track recording and editing, advanced automation handling
– DJ-like cross-fading
– easy tempo 'tapping' during performance or recording to adjust tempo on the fly
– easy ability to assign most software parameters to midi or your computer keys
– new FX and plug-ins
– presets to save and recall effect settings
– and what Ableton term 'elastic audio'.
Elastic Audio
Elastic Audio refers to Live 2's unique ability to treat audio as being totally malleable and to independently control tempo and pitch. This feature allows tempo to be set at anytime during recording, performance or playback. In addition, users can drop in recordings, loops and complete songs that will play in sync direct from disk. Live 2 makes it possible to synchronize loops and recordings of any length at any point in a session or performance. Time stretching is no longer limited to loops but can now be applied to any audio material.
Data Be Smooth
From the seamless way Live accesses files on your machine without missing a beat, through to the way it handles real-time effects, loop control, tempo warping and recording of sounds to be re-used almost immediately, everything happens fluid, everything happens fast. The interface is very well thought out and very effectively allows quick access to files or the programs various ways of treating samples or your arrangements of them over time. When you use Live, it's easy enough to understand it was developed by experienced computer music makers, but you also get the impression this has been well coded too – it works fast, and it's yet to crash on me.
Requirements
Mac: – Any G3 or fasta, 256 MB RAM, OS 9.1 or later, also OS X.1.5 or later.
PC: 400 Mhz CPU or fasta, 128 MB RAM, Windows 98/2000/XP
Windows compatible soundcard (preferably with a DirectX or ASIO driver)
And you'll needing around 399 Euro to grab Live 2 from www.ableton.com. Alternately you can get it from it's Australian distributors, majormusic.com.au. (02) 9545 3540
Verdict
Completely fun to use straight out of the box ( or modem). Samples are easily looped, matched, mutated, it's simple and quick to record directly into the Live window and start playing with this material. Easy mapping of parameters or samples to your keys, means for easily customisable and very flexible performance. Great for jamming and mutation, great for composition and recording. And it all *really* works. Fun, fun, fun.
See Also:
Ableton Live 7 Suite Review
Ableton Live 6 Review
Ableton Live 4 Review
Autobot Roulette: