Albert Einstein – grinning bicycle lover, scientist and fond of reminding people that 'imagination is more important than knowledge'. Were his animated head floating in a jar on a shelf somewhere today, no doubt it'd be smiling at the lateral ways the bicycle is being harnessed.
Two Wheeled Energy



Bicycle on a stand = an easy pedal powered generator, and an idea often seen powering fruit juice blenders at outdoor festivals. At the 2007 Coachella festival in the states a group called Global Inheritance took the idea a step further, providing 24 bicycle generators to power some stage equipment, and also making the bicycles available for recharging mobile phone batteries. Instructions are available for building your own with a bike trainer stand, bike, car alternator 78″ belt and other parts, or there's an "email us to buy one" option as well.
In other random Coachella news, Scarlett Johansson joined the reformed 'Jesus and Mary Chain' on stage for backup vocals on "Just Like Honey," a combination that does odd things to my brain. Supposedly shes got a covers album of Tom Waits songs up her sleeve too, but back to bikes…
Bicycles, Projectors, Amplifiers
DIY high performance bicycle lighting system? No problemo. ( via metafilter ) Those after a bit more light might enjoy The Magnificent Revolutionary Cycling Cinema, UK touring bicycle-powered cinema who transport their cinema to festivals and events by bike, and then power it by bike while there. Plenty of inspiration on their site, including details of a recent gig which featured The Jelly Royale, 'a five piece which in sound check were pulling around 250W from four amps at their loudest… all three bikes are fired up and there's a queue of people ready to jump on the bikes if needed. As it turns out, the band probably averaged around 170W continuous, so there wasn't much need for 'change-overs' on the bikes.' They were supported by Pedalo Folk who sings and plays guitar through a pedal powered amplifier – while he rides on stage at the same time~! ( "Apparently it's a bit like patting your head and rubbing your belly at the same time" )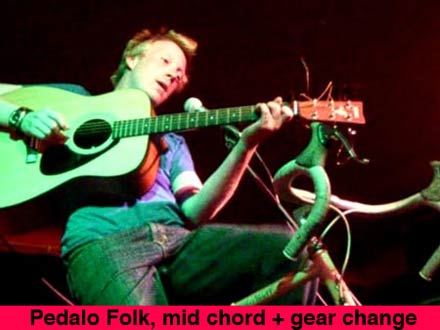 Just Weird Bikes
Couchbike : the true story of Brent and Eivind's travels through Maritime Canada on a human powered couch in the summer of 2002. Worth it for the pictures alone, but the story is funny too.
Sideways Bike
: A bicycle that is ridden sideways and is balanced by using human Front to Back balance, rather than side to side balance, and also uses Front and Rear steering. Mind boggling pictures, can't imagine what this would feel like to ride. The Author asks to think of the difference between skiing and snowboarding : where the latter's use of front-back balance allows more refined and expressive movement.


Sharing Bikes
Bicycles are the ideal way to get around large, flat, congested cities. Even more convenient is being able to pick up and drop off a very cheap rentable bicycle from lots of locations all over the city. It's an idea that has been adopted in many European cities before, and is being scaled up in Paris, where they are currently installing over 10,000 bikes at 750 stations. The Paris program is being funded by an advertising company in exchange for 1,600 billboards around the city and is computerised and credit card driven. Swipe a card, release a bike, and buy in for a day, week or year. Across the Atlantic they're giving it a go in New York as well, where a credit card or cell phone can unlock the bike for riding, until finished with and another swipe at a bike rack returns it to the available network. Via comments @ the ever entertaining BLDGBLOG, someone from Washington wished them well in NY, mentioning their city had tried the same but half of them had ended up in the river within a year.
Bicycles & Windmills
Malawi in Southern Africa is home to 19 year old William Kamkwamba, who has used the bicycle to enhance the efficiency of a windmill. Admirably though, this was a windmill William had made by himself – with locally found parts, a book on electricity and despite having no formal qualifications and having to leave school at 14 because of poverty. His first windmill was used to create light in his house for his family, but this second windmill, enhanced by the bicycle, is able to generate electricity for his village, providing a capacity to recharge car batteries and mobile phone batteries. His success story has been
widely circulated, which introduced him to the internet and email for the first time at a conference in 2007. Initially impressed with the speed of search engines for getting information about 'windmills' and 'solar energy', he now has a month old blog clocking plenty of hits. Donations welcome!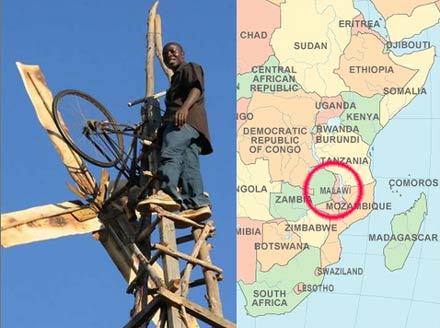 Autobot Roulette: