How about that golden era of Turkish Cinema, the 1970s & 80s?
'Remix culture' and 'alternative copyright' ideas might be popular now ( and why not – with mediamaking tools becoming so easily available? ), but a glance back at Turkish Cinema two decades ago reveals a whole other world of homage techniques. One of the key directors was Çetin Inanç, who apparently owned a cinema (makes integration of "source material" much easier), and often mixed in dozens of sources into his feature films, which were generally action films, remakes and featured masks.
Turkish 'Star Wars' (1979 )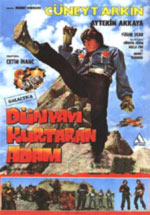 ( Dunyayi Kurtaran Adam, full length google video )
Rocket science presumably extends even to making models of space ships, which is no doubt an endlessly complex and complicated endeavour. Better then, to just lift entire sequences from another film and cut and paste them into a film whenever spaceships are needed. Close up of Turkish skywalker chatting into some galactic intercom, cut to sequence of ships fighting from another film, cut back to Turkish skywalker – easy! Part of this movie's fun is noting just how many sci-fi audio and visual samples they have managed to 'borrow' in completing their epic adventure.
Bizarrely choreographed fight scenes are enhanced by near random editing cuts and large sonic jumps in volume. And how about that mid-film training in the desert sequence, which seems to involve large paper rocks being tied to the feet of the heroes as they spring through the air from trampolines just below the camera's view? Worth watching for proof of alternative and parallel universes.
imdb.com sez Turkish Star Wars now has a sequel: Dunyayi Kurtaran Adamin Oglu (The Son of the Man Who Saves The World). See also : Brazilian Star Wars (1978) ( www.imdb.com/title/tt0195360 )
& Italian Star Wars ( 1979 ) ( Star Crash : youtube.com/watch?v=pzfuNSpP0RA )

Turkish 'Star Trek' (1973)
( 'Turist Ömer Uzay Yolunda' – aka Omer the Tourist in Star Trek. clips @ google video )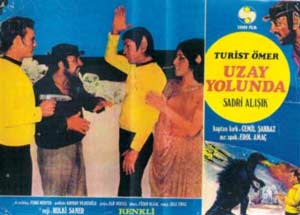 Turkish Captain Kirk gets attacked by a dozen roaming tarzan robots, and the only inhabitant of a 'remote planet' turns out to be a female who will literally kill so that she can lick salt from the skin of humans. Or vulcans – there's a vulcan Spock of course, who seems to be intimidated by the arrival on board of a Turkish human from the past. All the usual Star trek sounds effects are in full force, albeit not always used in the most consistent of ways, the uniforms evoke the enterprise efficiently, and the set-design seems to take advantage of Turkish scenery as well as cardboard cut out IKEA spaceships.
Turkish 'E.T.' ( 1983 )
( 'Badi' – youtube.com/watch?v=Tl3a6-sxPqQ )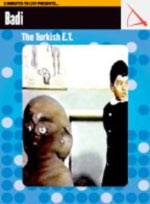 Sure Spielberg has lots of fancy effects, but the unknown mysteries of space and intergalactic species are just as emotive when channeled through a small man inside a large brown garbage bag with painted on bulbous eyes and oversize rubber gloves. The lack of subtitles on this one aren't an issue – the plot doesn't stray far from the original. There's even a repeat of the infamous bicycle chase scene where a boy on a bmx bike pedals his little heart into the skies to escort E.T. to safe ground. Replace bmx with shopping trolley however, pushed by a bunch of screaming kids, and then superimpose the trolley against the sky so it is half transparent, and for further realism jiggle it around a little to simulate realistic motion. Works a treat.
Turkish 'Spiderman' (1973 )
( 3 DEV ADAM aka 3 mighty men aka Captain America and Santo vs. Spider-Man )
( youtube.com/watch+weep )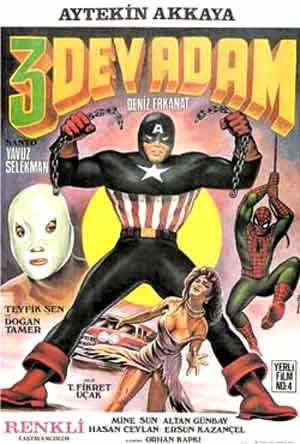 Who'd have thought the maker of Evil Dead would go on to making Spiderman? Those two worlds are much closer in this epic, Spiderman's evil persona revealed from the very opening scene. On a secluded beach a man is buried in sand up to his head, and is being interrogated by Spiderman and another character. It's fairly typical thuggery until the camera zooms out a little and we see a speedboat parked on the shore, complete with outboard motor, which of course is started, and the boat is moved back slowly, while we get a close up of blood splattering all over Spiderman's face.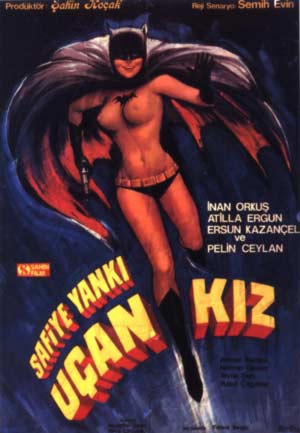 Turkish 'Superman' – Supermen Donuyor (1979)
Turkish 'First Blood' – remains at large, but is allegedly one of the more violent Turkish remakes.
Turkish 'Wizard of Oz' – Aysecik ve sihirli cuceler ruyalar ulkesinde (aka Aysecik and the Bewitched Dwarfs, & Aysecik in the Land of the Magic Dwarfs) (1971)
Seytan (aka Satan & Turkish Exorcist) (1974)
Khooni Murda (aka Indian Nightmare on Elm Street) (1989) &
Superman (aka The Indian Superman) (1987)
sound tempting…

Turkish 'Batwoman' – still eludes, but hopefully lives up to its amazing poster, send a link if you have it.
UPDATE:
From Batboy in the comments ( thanks! ) :
"Turkish BatWoman is called "Uçan Kiz ". http://www.imdb.com/title/tt0184983/"
and more here..
Autobot Roulette: