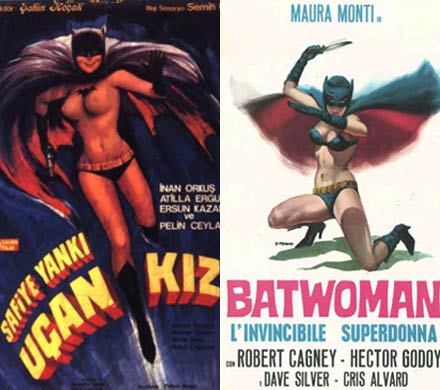 Last few weekends have been spent rooftop VJing in Istanbul ( hello Ghetto bar ), and then wandering the brain-melty landscapes and liquid rock buildings and landscapes of Cappadocia. That's not to suggest the quest for Turkish Batwoman has stopped by any means. In fact there have been several important leads.
1. Via comments from Mike Best, a treasure chest of Mexican Batwoman links & youtubery. Sez Mike, this poster ( above right ) is adapted from a painted centrefold from playboy/penthouse (sorry can't find a link but I saw it reprinted in the 80s). ( Thanks Mike~! : ) And Mexican Batwoman = Maura Monti – is as great a super-heroine name as ever I've read.
2. Turns out that Turkey's golden era director of such films as Turkish Rambo, Turkish Star Wars & The Immortal ( featuring Turkish Bruce Lee! ) Çetin Inanç*, has his very own myspace. Or dedicated fanpage, run by a chararcter with whom I hope to trade many films, even if Turkish Batwoman is unfortunately not one of them. The page notes that Inanç made an incredible 138 movies between 1967 – 1986, including the notable 'Psychedelic action cult movies with our great star CUNEYT ARKIN 1981 – 1984'. Links on the site lead to a funny Turkish Superman review, another dedicated Turkish cult cinema page, a Turkish movie poster site with a bundle of irrestible jpegs, other cultmovie sites, and the owners Sinematik blog ( in Turkish ).
3. Have been flashing a digital camera image of the above left Batwoman poster to the bootleg DVD people in little alleys sprawled around Taksim + BeÅŸiktaÅŸ. Without success so far, but only a matter of time.
( *thanks to the freshly broken wristed Synesthete for pointing out how to switch on Turkish alphabet characters within os x )
Autobot Roulette: