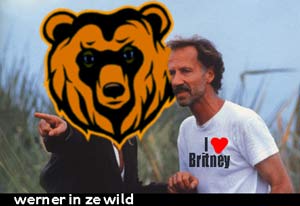 Grizzly Man (2005), is the most recent eye-opener to hit the screen from Germany's renowned and relentless documentary maker Werner Herzog. With his trademark ability to zoom in on the most eccentric and obsessive of characters, Werner crafts a compelling tale of a Canadian bear-lover who camped in the wilderness each of 12 summers to 'protect' the bears. Werner's task was helped in no small part by the 100 hours of video footage recorded by the bear-lover, up to and including the sound-only of his eventual mauling by one of the bears. One line from Werner stays ringing in my head, who in typical style, fades down our bear-lovers narration to interject with his own Germanic tones: " … I beg to differ with him here… I do not see any kinship with the bears, only the cru-elle indifference of nature." He continues at times to offer his own perspectives on nature, and the chaotic violence it can unleash. A thoroughly intriguing film, compiled with respect, packed with insight. And if you've already seen it – enjoy Werner chatting about the making of it, in a Pop Matters interview, including how he stared the original proposed director in the ye and said "No, I will direct this", and how he made the whole thing in 29 days!
Werner's obsessions are as noteworthy as those of his film subjects however, with a trail of over 50 features under his belt. Some highlights include Lessons of Darkness (1992) – an abstract visual exploration of the post-Kuwait oil fires after the first Gulf War, Even Dwarfs started Small ( 1970 ) – an entire cast of dwarfs running riot, Heart of Glass (1976) – an entire cast hypnotised while being filmed, Werner Herzog Eats His Shoe (1980) – where Herzog cooks and eats his shoe after losing a bet with then fledgling director Errol Morris, Wheel of Time (2003) – a meditation on the Tibetan buddhist creation of sand mandalas, The White Diamond (2004) – a mad scientist exploring the Guyana rainforest canopy with a novel flying device-the helium-filled 'Jungle Airship', Incident at Loch Ness (2004) – a mocumentary exploring the myth of the Loch Ness monster, and The Wild Blue Yonder (2005) – a cine-poetic sci-fi collage of outer space imagery and scuba divers under the ice-sheet of Antarctica. Werner is currently in post-production on Rescue Dawn (2006) (post-production) – a US Fighter pilot epic struggle of survival after being shot down on a mission over Laos during the Vietnam War. Busy boy. And watch out for Werner's hilarious cameo in Harmony Korine's 'Julien Donkey Boy'. Werner @ imdb.com
Update: Check this Grizzly Man movie parody ( 37mb, via WFMU ).
tags: werner herzog, grizzly+man, documentary
Autobot Roulette: