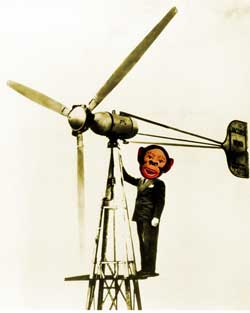 "He is to science what Gandhi was to politics. And his central notion, that the planet behaves as a living organism, is as radical, profound, and far-reaching in its impact as any of Gandhi's ideas."
– New scientist.
James Lovelock, the scientist behind the above Gaia theory has just published a controversial article in the Independent (UK) – which argues that, as a result of global warming, "billions of us will die and the few breeding pairs of people that survive will be in the Arctic where the climate remains tolerable" by the end of the Twenty First century. He also suggests that "we have to keep in mind the awesome pace of change and realise how little time is left to act, and then each community and nation must find the best use of the resources they have to sustain civilisation for as long as they can."
It's a bleak read that packs a certain punch, coming from a scientist with Lovelock's status. With a projected population of 9 billion people by 2050, it's clear we have our work cut out to provide food and energy for all whilst retaining as much biodiversity and quality of life as we can. In some ways Lovelock's argument ( a prelude to his upcoming book : Revenge of Gaia ), global warming and the recent 'Peak Oil' movement, merely provide a convenient framework for helping us to understand the scope and scale of the overarching sustainability challenge we face as civilisation in the 21st century.
Some however, are disappointed with what they deem as Lovelock's pessimistic approach, preferring to frame our situation in terms of what we can and should be doing now to alter our destiny. Lovelock's sobering article is well worth a read though, and contextualised by the heated debate over at the slashdot trenches ( in betwween the usual mac-pc-linux flamewars ), and the constructive rebuttals over at World Changing. Maybe it's time to run some data through Sim Earth and figure it out once and for all.
Now Listening to: It's the End of the World As We Know It (And I Feel Fine)-REM
Mood : 'Need Some Shopping Therapy'
tags: apocalypse, lovelock, peak oil, 21C
Autobot Roulette: