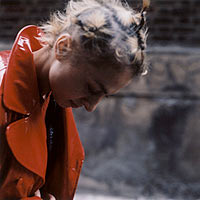 Kubrick saw it too. That Ultra Freaky Orange you get when zooming in 15 Levels of Magnification at a Small Fish with Spine. While it set off a Strawberry Alarm Clock for Stanley, helping visualize the light travel sequence for 2001, it signalled for Riz Mazlen, that it was time to nail a film to a resume already bulging with 3 CDs on NinjaTune. Her job interview with Jean Poole:
((Interview previously posted on the now defunct octapod.org/jeanpoole, in May 2002 ))
What was the seed that started 'La Prochaine Fois'? (neo's latest CD & film)
I'd been reading Kerouac"s 'On The Road' and found so many parallels with his accounts of travelling across the vast USA. It was an inspired read and got me on the road to making the album/ film. I'd also been a big fan of films like Baraka and Koyaanisqatsi.
What's the film about to you?
It just started as another facet to my live shows as I've been incorporating my slides/ film for some time. I've always been a bit of a bedroom film maker and over the years had quite a lot of interesting footage, so I decided to edit the best moments. It's very personal to me, the places included in the film have a special place in my heart whether it's the people I met there or just the great experiences I had visiting.
How did the process of making the film and soundtrack relate?
I made the film a few months prior to really getting down to writing the music. Some of the tracks were sketches and needed finishing. Once I had the film it gave me the inspiration to finish the soundtrack. I wanted it to been seen as one piece rather than separate entities.
How has making the film changed the ways you approach music?
My film making is very much produced in the same way as my music, I guess with film you have to have some solid foundations in place, but I feel a lot of my previous music is very much influenced by film. It's inspired me perhaps to further pursue a soundtrack career.
What soft/ hard-ware r.u enjoying at the moment?
Just got a new i-book, which I call my handbag, it changes my live set up considerably. Reason is a great programme, and works with cubase vst, which I can recommend now, as it has so many great improvements, with the likes of virtual instruments/samplers etc. I'm also learning to work with lisa, a live sampling/processing software and great for live improv stuff. Still like to mix through my analogue mixer just to keep that warmth.
What director would you like to work with?
David Lynch, an incredible personality and a great director. Twin peaks is classic and I'd love to get inside his head to find out where on earth he gets his ideas from, and I imagine him to be completely off the wall too.
What is the last dream you can vividly remember?
Too scary to print, but it was about me beingin a car and going extremely fast with my dad at the wheel, driving like a maniac and i was shouting at him to slow down, I think we crashed, but then I woke up!
Last music that made you cry?
The theme from sparticus, every time I hear this music I just well up, also another fave film of mine.
What peeps are pressing audiovisual buttons for Riz at the mo?
3 guys I've done shows with called Khoutek, who have a conscious approach to film making. They have fresh ideas, and use a lot of political agendas like prague/seattle/ may day protests, but not in a pompous way, more of a down to earth approach. I've also been working with a female director Melonie Poole, and have scored a short film of hers which is currently doing the rounds. She writes touching stuff, beautiful to watch.
How has the acceptance of women in electronica changed over the last 5 years?
We're still very much in the minority, but there are a lot of us out here, it's just harder for some woman to get the press they deserve. I have many contemporaries more involved in the avant garde scene, but this gets so little coverage in the music press.
What've u noticed about Australia & it's music in your last few visits?
I have a great love affair with Australia – it has a wealth of original talent and I've met some great people, Creative Vibes, Earwax, Seb and Luke, Ebony, Maya too many to mention. Like the UK, there's far too many house/trance techno clubs and not enough alternative events, but even so, it's always encouraging to see people out there trying to educate and spread the word.
Whose voice would you love to have conjured up in a musical seance?
Nick Drake, just for his sense of melody and his words, such a great poet, I'd expect him to be extremely shy and maybe a little hesitant in doing some tracks with me, but you never know!
& your next film will.b on?
I'm researching a documentary based on my grandmothers life, she unfortunately died this year aged 94. She spent a lot of time in Burma before the war and had to flee after the Japanese, her father was an engineer on the Burma railway, they went back to India where she's from and she came to Britain soon after. An appropriate film I think in view of our current media attention to asylum seekers here, and how they must feel like my grandmother must have felt when she came to a strange country and had to deal with its rules on immigration. (and a timely film in OZ, 2 eh? – jp)
(( neotropic contributed at one point to a collaborative rooftop film I organised, sky noise polaroids ))
Autobot Roulette: