Like a David Lynch soundtrack waiting to happen, Amon Tobin has consistently managed to weave menacing bass, intricate sonics and exotic rhythms into a dark and jazzy-cinema of sound. Unsurprisingly then, when espionage game makers Ubisoft went hunting for an audio sculptor, Amon got nailed.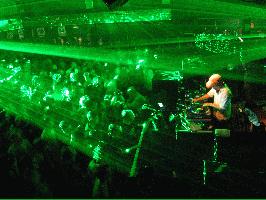 Your Mission ( if you choose to accept it ) : scrub those precious eyeballs across a fan-laden re-enactment, dripping with the usual hyperbole and superlatives, of a brief 15 minute phone call to the Montreal home of 1 x Amon Tobin, somehow stretched out across an entire page to cover Amon's recent mission to infiltrate the headphones of gamers worldwide by soundtracking the Tom Clancy's Splinter Cell Chaos Theory computer game – itself a sprawling monster of an action thriller framed against a backdrop of International espionage, global surveillance and information warfare. Stick to the keyword for the piece – 'soundtrack' – and you'll be fine. And for matters soundtrack, we've gotta head back first, to the ninja womb.
As well as their audiovisual pioneering with Cold Cut, NinjaTune label founders Matt Black and Jon Moore have long prioritised audiovisually infused works at the Ninja HQ – witness their AV fitness : Neotropic's film & soundtrack 'La Prochaine Fois', The Cinematic Orchestra's soundtracking of 'The Man With a Movie Camera', Funky Porcini's AV noodlings, the ninja ZEN-TV DVD and their ongoing piratetv.net AV streams. Given these cinematic leanings, and the downtempo flavour of the mid nineties, inevitably a boy from Brazil who combined a flair for such dark movie-scape beats, lush instrumentation and splintery-jazz – was always gonna be attractive.
Five progressively darker, heavier and increasingly processed album-beasties later, and now with a shapeshifting game soundtrack under his belt – both Amon and the Ninjas must be well pleased at the way things have rolled (outselling the likes of Bjork and Massive Attack in the US last year, probably doesn't hurt either). From his initial offering as Cujo with 'Adventures in Foam', the beats have flowed thick and fast, traversing bossa-nova and batucada to jungle and electro, always imbued with what has become a trademark mood of menace. That capacity to conjure richly evocative moods with his music, no doubt helped tune Ubisoft into the merits of having Amon soundtrack their spy-thriller – but even they probably underestimated the extent to which soundtracks have formed a backbone of Amon's sampling and musical inspiration.
"Working on a game soundtrack was very challenging, very different – as you have to adapt with what happens in the gameplay," offered a relaxed and softly spoken Amon. As the gameplay in this case mainly involves tense camoflauged night vision wanderings, stealth manoeuvres around darkened corridors, and hand to hand combat with various military personnel – it obviously called for a different approach to game soundtracks than the retro blips on Amon's favoured games – Galaga, Aztec Challenge and Ghost N Goblins. And while admiring the phasers on 'Defender' and the lateral use of music within Grand Theft Auto, it was clear to Amon that the challenge for this was to produce tracks which were malleable enough to work with the game's unfolding sequences and in-built sounds, whilst still providing an adrenalinized accompaniment to the onscreen tension. Which meant revisiting the masterworks of favourite film composers to study how their arrangements helped keep that tension tingling.
"It's my first love really. Most of my records are soundtracks, as are the records I buy, the old vinyl I collect," explains Amon,"and I guess I was really aiming for the '70s horror classic thing, a really vintage sound, you know… Dario Argento, Bernard Hermann, John Barry, Lalo Schifrin. It's got a kind of a classy sound to it that I wanted to transpose into this." Lalo Schifrin himself was approached initially by Ubisoft, and then the possibility of working together with him was hinted at, a prospect relished by Amon, but unfortunately this didn't eventuate. Nonetheless Amon continued to carve 'an occasionally slightly camp homage to the great soundtrack composers', whilst attempting to create the genuine article himself – creating tracks almost entirely from acoustic instruments, then thoroughly processing each sound before slotting them into his arrangements. It was only from web-scouring rather than our brief phone call, that I discovered the extent to which this homage went – his recruitment of a live band to create those samples included a Mexican bass player and composer of the crazy surrealist 1971 flick 'El Topo', a pair of Italian brothers on Hammond and Mellotron, and a Japanese flutist.
"I paid a lot more attention to production than usual with this because I was aware of all of these other sounds that were going to be added on later as part of gameplay, and I had to have all these tracks which could unravel differently depending on what the player does," says a voice from Montreal, obviously living in some dark underground cavern, judging by the background rumble and the occasional jolt of old electrical cables sparking over swampy waters. "At first it seemed a distraction from how I usually work with paying attention to arrangement and melodies, but I got more and more into separating the frequencies, and the mix in general and ended up learning a lot from it. The CD is the full arrangement of those tracks, but depending on what happens in the game the tunes unravel with different layers and transitions."
While the end-result works well by itself, it's true merit shines when heard as part of the game and the onscreen action. Splinter Cell movie soundtracks are laughed away, and for now Amon is back hurtling along with his own material again, with another 'proper' album possible before the end of the year. The Splinter Cell game soundtrack is also due out in a full 5.1 surround DVD mix, the surround mix-down process enjoyed by Amon very much, given the wider spread to separate sounds ( rather than with stereo). And he's excited about milking the fruits of that experience during upcoming DJ sets booked in Los Angeles, Brooklyn, Paris & London with full 5.1 surround sound. After his last bass-milking, full spectrum and Final Scratch bootleg attack on Australian shores, let's hope he wanders south again soon.
Amon Tobin's soundtrack for Ubisoft's Splinter Cell Chaos Theory is out now, and in 5.1 surround sound too – believe dat~!
Jean Poole
Autobot Roulette: