A recent major upgrade at the good ship Resolume, takes both Resolume Avenue + Resolume Arena to version 4.1.
Resolume Avenue 4.1
Pitched as a HD video mixing desk, this does everything you'd expect of modern VJ software. Detailed specs listed here.
Strengths At a glance?
– Instrument like interface  – built for performance. The screen layout simplicity that avoids complex navigations. It's built for quick and easy triggering…and gives an easy visual overview of the overall composition, selected layers, and selected clips. There are plenty of nice interface touches – eg click columns for all clips in that column to play on each layer ( makes for easy switching between combinations of clips ), or adjust transition timings for new clips in each layer to trigger as fades or cuts, and custom dashboards for quick viewing of FX parameters.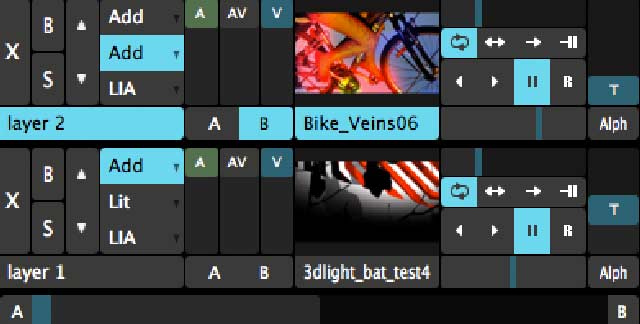 ( Above : the tightly arranged mixing section )
– Solid playback of video, audio and image files. ( Includes very fast custom codec, DXV, see below for codec comparison.)
– Audiovisual effects and integration – many features including VST FX for audio, easy combining of audio and visual effects, and the ability to easily crossfade just the video, audio, or both at once.
– Plays back interactive compositions – eg quartz composer, and flash animations including AS2 and AS3 scripting. It also handles FFGL plugins eg the IR Mapio plug-in which can be used for mapping videos to projection surfaces.
– midi / osc – use any hardware or virtual controller – and nicely, it includes preferences for starting clips an adjustible few milliseconds further in the timeline to deal with delays that midi triggering can incur.
– BPM Tempo + Snapping – Everything can be linked to the global (Beats Per Minute) tempo to create a fully synchronized audiovisual performance. Automatically pitch the audio and video and synchronize parameter automation. Use the beat snap function to trigger clips in sync with the beat.
Audio analysis – Utilise environmental sound to bounce any clip parameter to the music.
New to 4.1?
– Native Syphon support on MacOSX. This means you can re-route Resolume into other video apps, and vice versa. ( hello madmapper, VPT, quartz, jitter, VDMX, Modul8, Unity Game Engine etc )
– Layer Routing – 'create a clip that takes the input from any layer below'. ( All kinds of remixing and compositing capacity )
And The Flipside?
Some complexity and versatility is lost with the design decision to streamline the interface performance. eg You can't easily preview, compare or adjust effects on 2 or more layers at once. I also asked a group of Australian VJs who've used Resolume much more than me, what they'd like improved:
– some still prefer earlier versions for stability reasons (V4 crashes – with V3 decks loaded / when too many notes are fired in Ableton)
– lack of a search function in the file browser + effects list
– needs a text tool
– needs an audioreactive timeline like v2.0
– midi can sometimes be inconsistent
Generally though, people seem pretty happy with the evolution to version 4.
( Thanks to VJ Zoo / Richard De Souza / Vdmo Kstati / Simon Kong for input )
Avenue 4.1 Requirements
– € 299.00 Euro for 1 computer. (50% discount available for staff/students) ( Includes all 4.x.x updates, eg 4.1.1 that came out just as I got ready to press publish)
– Windows 7 or XP: ATI Radeon 9600 or better. NVIDIA GeForce FX 5200 or better. 2GB RAM.
– Mac OSX 10.4.9 or later. Intel processor. Quartz Extreme graphics card (Resolume is not compatible with integrated Intel graphics processors). 2GB RAM. DXV Codec.
Resolume Arena 4 Media Server
Arena has all the features of Avenue aaaaand..
– Screen Warping & Video Mapping  – In the advanced output window you can now create as many slices from your composition and position and transform them to your liking – good for multi-surface projections. New – route layers directly to slices, masking and cropping now added to the Advanced Output of Arena – and use bezier curves to map video onto curved screens.
– Soft Edge – With soft edging to seamlessly project 1 widescreen image with 2 or more projectors. Or wrap around the composition for 360 degrees seamless projection.
– SMPTE Timecode Input – "With SMPTE Timecode input you can run you clips in sync with anything you want. Lights, lasers, even fireworks!"
– DMX Input – Control Arena from a lighting desk using DMX. It works similar to MIDI so it's very easy to configure. Input can be done via ArtNet or an Enttec DMX USB Pro.
These features will appeal to some ( esp perhaps PC users who don't have access to the easy mapping capacities of the mac only Madmapper ), an interesting option compared to much more expensive hardware media servers.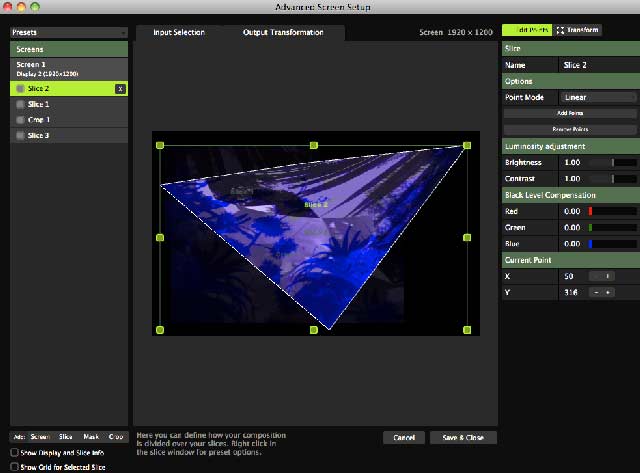 (Above: the mapping related bits inside Arena's advanced output. )
Arena 4.1 Requirements
(Same tech requirements as Avenue 4.1)
€ 699.00 Euro for 1 computer. (50% discount available for staff/students)
BONUS ROUNDS:
Check out the Resolume Manual / Resolume forum and the Resolume 'Stock Footage Shoppe' which now includes customisable quartz patches alongside stock footage.
"We're always saying generative content is the future, so it's about time we proved it! The original Quartz Composer patch is included to create endless variations yourself"
DXV + High End Codec Comparison
H.264 helped popularise web video with it's intensive file shrinking while maintaining a lot of visual quality. It's terrible for real-time VJ software though, because of the relatively painful CPU intensity required to decode it. I do use it sometimes ( the Canon DLSRs record natively as h264, and sometimes I'll just throw a clip straight in, and it'll play fine, but it's generally best avoided. Photo Jpeg at 75% seems to work nicely on most platforms, though Apple Pro Res and AIC give a slightly better image quality when a gig / clip needs more detail. So where does DXV fit into this?
"Regular video codecs require the CPU to decompress the frames before they can be pushed to the videocard for display. With our DXV Codec video frames are decompressed by the videocard's GPU which can do this much more efficiently than the CPU. The DXV codec can also store the alpha channel. This is essential for preserving translucency in complex video compositions.Hardware accelerated playback is only done when played in Resolume – the video will play in any other software but it will not be hardware accelerated."
A quick lo-fi test for comparison's sake then?
1 minute 1920 x 1080 / Pro Res video in Resolume Avenue 4.1 with no FX.
(On a 2010 macbook pro running the usual hundred apps / million browser tabs open)
| | | |
| --- | --- | --- |
| Codec | File Size | CPU Playback |
| Pro Res | 1.41gb |  116% |
| DXV | 1.37gb | 54% |
| AIC | 380mb | 126% |
| PhotoJpeg @75%quality | 405mb | 96% |
| H264 | 50mb | 170% |
(Note: Pro Res + AIC plays/encode on mac, only play back on PC)
Other high end codecs worth a look at? AJA software codec / DNxHD / Cineform HD / Sheer codec by Bitjazz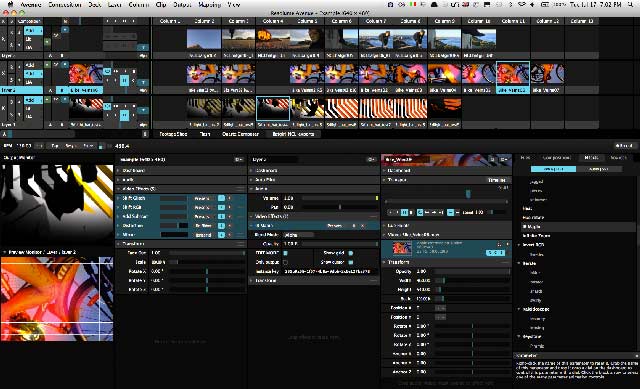 Autobot Roulette: