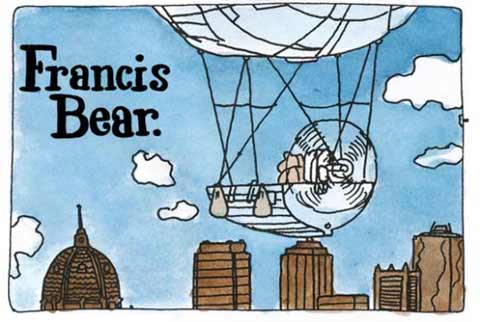 Wandering back down that print on demand sidestreet, Francis Bear is a fantastic new graphic novel recently published by Melbourne comic veteran, Gregory Mackay, using the print on demand facilities at the Melbourne Uni bookstore. Though it was originally commissioned by the French group 'Hoochie Coochie / Turkey Comix', through the (economic) magic of machines that can print and bind professional books one at a time, this means the quirky metaphysical adventures of a suburban bear are now available to English speakers, months before the Francophile version hits their cobbled streets. Cultural advantage with a click!
As with all self-publishing though, technical hurdles are only one part of the challenge to survive, and while their are some self-publishing success stories, getting word out there can be incredibly difficult and time consuming. It'd be great to see Francis Bear become a self-publishing phenomenon ( if only so it means we get to read more of these books ), so I offer a twin pronged attempt to convince you to purchase: In one window, stare into this image, and with your credit card ready in the other window…
(See also: Francis Bear reviews Scott McCloud's Making Comics, Francis Bear reviews Larry Gonick's Cartoon Guide To Physics, and Francis Bear takes on Sylvester Stallone.)
Also hailing from Melbourne's Silent Army era (it's comic veteran day at skynoise), Clint Cure ( Q-Ray) and Kieran Mangan are in the midst of raising funds to produce a short video series for the web. Loosely framed as a John Waters meets John Carpenter / sci-fi / action adventure about the development of an anti-gay serum, at time of writing they've raised $426 of their modest $1000 goal. Says Kieran: "Why does a film cost $3 million? Well, I know why, but I also know it doesn't have to. " And something that may increase or decrease your likelihood of offering some small support – Clint recently finished a short zombie remake : 'Hanging at Picnic Rock'. And interestingly, this fundraising is all powered by the new Australian micro-fundraising site Fundbreak, an Australian version of kickstarter.
Autobot Roulette: