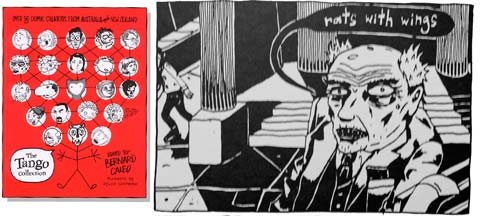 With the current rash of comics being turned into films, it's probably a good time to remember there's a fine array of Australian indie comic makers with a truckful of published inked pages between them. The Tango Collection, an anthology loosely themed around romance and edited by Bernard Caleo is the latest attempt to gather some of these in one place.
"If comics had a muse, she'd have crooked teeth and freckles and wear thick black-rimmed glases and old fraying cardigans, sensible shoes and embarrassing shirts her mother chose. She'd also have deep-green eyes and piercings galore, a hidden tattoo, a deliciously dirty laugh."
Dylan Horrocks in the foreword to The Tango Collection.
And while the above description of a muse may or may not work for you, it has to be said The Tango Collection delivers when it comes to offering rawness of spirit, ideas and execution. It's a passionate affair, featuring over 50 comic creators from Australia and New Zealand.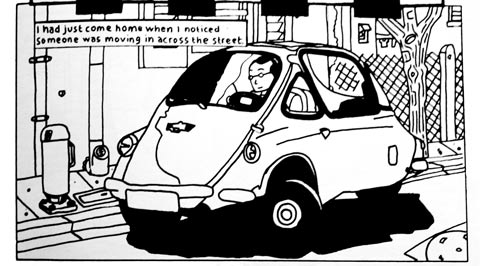 (image above by automobile fetishist, Gregory Mackay )
Highlights?
With such a diverse bunch, favourites are always going to vary, but these are mine:
Mandy Ord's distinctive stylings always stand out, Pigeon Man…(up top, rats with wings! ) and 'A Good Provider' both deliver.
Gregory MacKay's meditation on vintage aesthetics is really well timed and crafted.
Michael Camilleri's mini-creature humans (see below), Andrew Fulton's parent-son wrestling, Michael Fikaris' food thoughts and Tim Molloy's Shining Silver Path all manage to explore visual cuteness in interesting ways.
Glenn Smith + Gina Monaco take that a step further, gushing about sausage sandwiches at Bunnings and never eating sushi without each other. ( Apparently, they's in lurvvvve )
Tim Danko brings some typically avant layerings from NZ… pondering about Melbourne as the world's most livable city.
and Bruce Mutard's internal food critic is well evoked in an exploration on the difficulty of eating ethically these days.
It's an eclectic collection, though a few too many of the comics had visual styles or techniques that felt unpolished. That'll vary depending on personal taste, and given the range, it's a book well worth looking at. ( Out now through allenandunwin.com )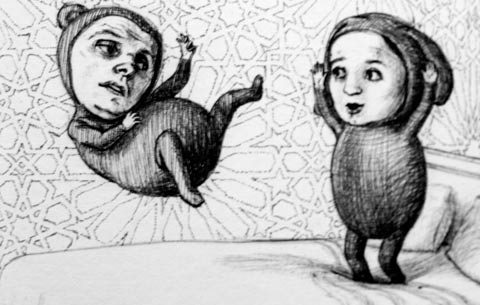 Web profiles of Comic Artists Involved?
Kirrily Schell – kirrilyblog.blogspot.com
J. Marc Schmidt – 3rdblade.net
Glenn Smith – glennoart.com
Ian C. Thomas – labyrinth.net.au/~iant
Bernadette Trench-Thiedeman bernadettett.blogspot.com
Bobby N – bluetoaster.com
Jenny Nestor – redbubble.com/people/nestor
Mandy Ord – mandyord.blogspot.com
Gordon Reece – gordon-reece.com
Daniel Reed – crumpletonexperiments.com.au
Angela Savage – angelasavage.wordpress.com
Tim Molloy – timmolloy.deviantart.com
Toby Morris – xtotl.com
Gregory Mackay – gregorymackay.com
Dylan Horrocks – hicksvillecomics.com
Jared Lane – jaredlane.co.nz
Zeldz Magnoonis – syrupcomeks.com
Scott Matthews – mediumtedium.net
Pat Grant – patgrantart.com
Nicki Greenberg – nickigreenberg.com
Edward J. Grug III – webcomicsnation.com/grug
Owen Heitmann – owen-draws.livejournal.com
Robert De Graauw – angelfire.com/mt/seymour
Michael Fikaris – braddockways.com
Adi Firth – adisillos.blogspot.com
Adam Ford – theotheradamford.wordpress.com
Mirranda Burton – pawpedaller.com
Bernard Caleo – cardigancomics.com
Tim Danko – deadxeroxpress.com
Oslo Davis – oslodavis.com
David Blumenstein – nakedfella.com
Bowb – ragingyoghurt.org
Brendan Boyd – myspace.com/boydiemusique
And Some Australian Comic Links?
http://comicslifestyle.ning.com
http://www.tabula-rasa.info/AusComics/Links.html
http://www.ozcomics.com/
http://www.rizzeria.com/about – collectively owned stencil-press printing group in Sydney
http://comicsdownunder.blogspot.com – history of Australian comics from 1930 to today.
Autobot Roulette: